His and Hers Theater
Back in 2004 when we purchased our current house, we couldn't have predicted what we were in for. Being previous renters, we had no real experience as to the ins and outs of home ownership. In New England, most houses are old. In our case, the particular house we bought was built in 1901. Granted, the house was well maintained and was, thankfully, structurally sound.
We moved in and, with little time and much fanfare, proceeded to brand the house with our own tattoos of individual taste. Unfortunately for my wife, I was not prepared to be an armchair house decorator, so being actively involved meant that we sometimes disagreed on things like design styles, color schemes, or furniture choices. But overall, I have to say we always came to either a compromise or mutual agreement. My pet project was the audio/video system—something I had long ago visualized with pumping bass and a gazillion gadgets—while hers was the kitchen.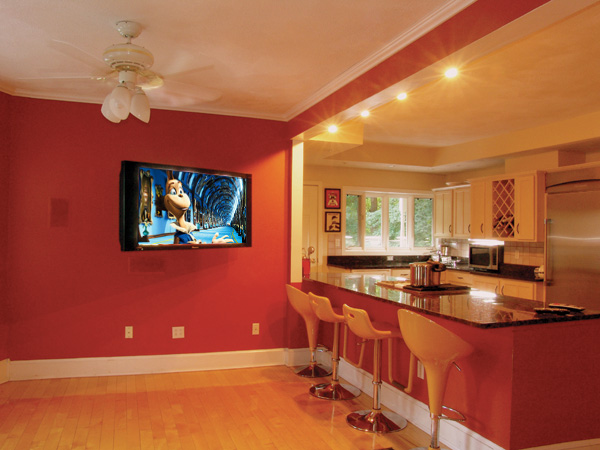 I could swear that we didn't spend the first few months of moving in lounging at home, but rather in the aisles of the local home-improvement stores as we purchased this and that. But by the time we had completed some of the major projects, there was hardly any cash left for the pet projects. I could see my little home theater dream fizzle right before my eyes. My wife (god bless her) somehow had already found the budget for her granite countertop project (kind of reminds me of those Washington earmarks written into bills), while I wondered how I was going to get the funding for the A/V project without breaking the law.
I wasn't about to give up, so I did my research. As I suspected, much of the money that goes into an A/V project gets blown on labor. That's not to say that labor is wasted money—the benefit of hiring the right contractor with the necessary skill set cannot be, in any way, underestimated.
In our case, I think it helped that I was already quite versed with the A/V universe, terminology, and such and kept active by subscribing to industry magazines and Web forums. I had also worked for an A/V firm for about a year, even though it wasn't in an installer role. That said, I made a commitment to do it myself.
My wife insisted on a clean install (no compromise there)—no speakers visible, no snake pit of wires, and an easy-to-use system. Those were her concerns. Mine were performance first, but I also shared with her the "clean and easy" philosophy. With those design goals in mind, I specked out the system within our limited, or should I say, my streamlined budget. I decided to go for in-wall speakers, despite the bad rap they get in some circles. I decided to get a high-performing TV (no compromise), a good receiver, and good components. I did all the homework on the speaker placement and TV size in relation to seating distance, and I added all the components that would make the system easy to use, as well as serve as the entertainment centerpiece for our living area. I had to make compromises on some equipment choices, but overall, I believe we got a lot of value and satisfaction—more especially since it was all 100 percent our handiwork.
To take on this challenge, I reminded myself of the quote, "If you think you can, you can. If you think you cannot, you cannot. Either way, you're right." Determined not to fail, I asked for some advice from peers where possible and read industry bulletins and magazines—just basically to keep abreast and knowledgeable.
So, one long weekend in early 2005, I assembled all the equipment. With tools in hand and draft plans ready, I proceeded to make my little project a reality. For my wife's sanity, I advised that she step out for a long time because the sight of gaping sheetrock holes would have added yet another bill (the psychiatrist) to our expanding to-be-paid pile and further puncture more holes into our already depleted resources.
At a steady clip and with resolve, I installed the equipment, ran the wire, cut the sheetrock, painted and sanded, fished the cabling (not without surprises, being an old house and all), installed the TV mount, ran the power line, connected the speakers, calibrated the audio/video equipment, programmed the remote, and much more. Even my wife helped out lifting the heavy plasma onto the cantilever TV mount.
The project came out overall as a resounding success despite the challenges and budget constraints. The system is easy to use thanks to the user-friendly programmable Harmony remote. We entertain quite a bit, and many guests appreciate the work we have put into this project.
Equipment:

Integra DTR-6.5 THX A/V Receiver
Pioneer 50-Inch Plasma HDTV
Chief PDS-2081 Cantilever Mount
Polk Audio XM Reference Tuner
Logitech Harmony H688 Universal Remote
Sony TC-WE6055 Tape Deck
Sony SLV-778HF VCR
JVC XV-N50 DVD Player
Motorola Dual-Tuner DVR/HDTV Cable Box
SpeakerCraft MT In-Wall Speakers (4)
Cambridge SoundWorks MC300IW Center Speaker
ATM Cool-Stack
Polk Audio PSW2002 Subwoofer