High Fidelity First Class: Immersifying Thyself in Pink Floyd's Remastered Legacy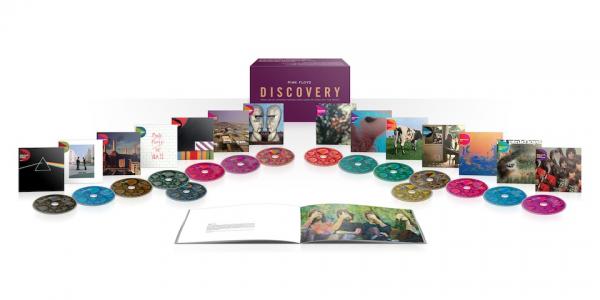 "This is one case where the record company got it right."
So assessed Pink Floyd drummer Nick Mason last night at an exclusive launch party at the Rose Center for Earth and Space at the American Museum of Natural History in New York. Mason was addressing the crowd about EMI's massive Why Pink Floyd? campaign before our select group was ushered up into the Hayden Planetarium to experience the "interplanetary playback" of a previously unreleased performance of The Dark Side of the Moon in its entirety at Empire Pool at Wembley in London on November 16, 1974. The initial installments of the Why? campaign — Discovery editions of 14 remastered albums (and a collected Discovery box set), plus The Dark Side of the Moon Experience Edition, Immersion box set, and 180-gram vinyl — are in stores today. And Mason is totally correct in his assessment: They're extremely well done, and absolutely worth your attention.
I sat down with Mason back in June to conduct an interview that's a key component of S+V's 12-page Pink Floyd cover story for November (due out October 18), wherein we discussed the band's pioneering use of surround sound in the studio and the live arena and, of course, the game-changing nature of The Dark Side. "When I think back to when we recorded it — the number of passes the drum tracks and most of the instruments on that record took, the things that were opened up and redone, and all the rest of it — the end result is truly amazing," he told me about recording the album that remains an audiophile standard.
And could there really be a better soundtrack for a Planetarium experience than actual Pink Floyd music? For a quite heady 55 minutes and 11 seconds, we were treated to a perfect mesh of, yes, sound and vision. Credit for the audio excellence must go to Floyd's live mixmaster Andy Jackson, who did wonders with the Wembley show's original tapes, especially considering what he had to do to reconstruct "On the Run" and its infamous series of sound effects. "We could hear the sound effects in the PA — racing-car noises, which aren't on the studio record, and other things like that," Jackson told me, "but we couldn't find any tapes of them. Fortunately, it was so loud in the room that they were spilling into the audience mikes; they just sounded distant.
"For 'On the Run,' I could afford to have the audience mikes up really loud, which actually made it sound very much like the record. But putting the audience mikes up to get that kind of vibe with it also made it feel like being in a big hall. The audience didn't make much noise, but they did make some. You're kind of unconsciously aware of that, and it makes you feel like you're at a gig. I thought it was important that it feel like a gig. It's a pretty accurate live performance."
This Wembley 1974 performance has been available unofficially for years, of course, but none of those releases sound remotely as good as this one does. It was beyond explosive in the Planetarium as solar systems, planets, stars, and satellites moved up and down and all around — truly a Great Gig in the Sky if ever there was one.