Hi-Fi In The Sky
Patio or yard space is always hard to come by in Manhattan, so if you're lucky enough to get some, you'd better make the most of it. For one well-to-do Fifth Avenue apartment dweller, that meant more than just tossing some outdoor furniture on his rooftop deck. As a music and movie lover, he was already enjoying some very fine audio/video gear in his living room, including a superb two-channel music system sourced by a Linn turntable and a Naim CD player and electronics driving top-of-the-line B&W speakers. The challenge, then, was to insure similarly impressive sound quality, but to do it on an outdoor patio space exposed year-round to the wrath of often brutal and sometimes belligerent New York City weather.
Enter custom integrator Accent HiFi of Mt. Kisco, NY. Operated by David and Alma Wilson, the shop has been a longtime fixture in the New York metro region, having been founded in 1989 as a high-end audio salon, and it gets most of its work by word-of-mouth. David, a native Scotsman, has always had an ear for what some might call the classic British hi-fi sound, and has specialized in supplying those brands. "Their design and engineering complement an emphasis on musicality you can hear, rather than impressive specifications—they've got a more balanced appeal to music lovers, rather than hi-fi hobbyists," he says.
Still, despite the essentially European heritage of the indoor system, getting this patio theater system to achieve its lofty sonic goals while considering aesthetic demands would eventually mean stepping a bit outside that box. Or perhaps we mean "inside the box," as the most unusual aspect of the final design turned out to be a half-dozen American-made high-end box planter speakers. More on that in a moment.
Weathering The Storm

Fortunately, a number of weather-proof and weather-resistant options for outdoor theater spaces do exist. To begin, Accent settled on an Epson Powerlite Pro G6470WU projector outfitted with a medium-throw lens, and mounted it in a Tempest Blizzard outdoor projector housing at the back of the 24-feet deep by 60-feet wide patio. The Blizzard offers an exhaust fan and vent that open when the projector is in operation, a HEPA filter to keep all matter of dust and dirt particles from entering the casing, and temperature and humidity control. The projector was located 120 feet from the rack in an indoor closet (shown at right) containing the dedicated Oppo Blu-ray player and Arcam surround processor and amps audio feeding the theater, so a Key Digital HDBaseT/HDMI extender system was put into play, allowing both video and IR/trigger control signals to be transferred to the projector enclosure via a single Ethernet cable run. System control is handled by the homeowner's existing Philips Pronto programmable handset.
The screen is a retractable 110-inch diagonal, 16:9 model drawn from Stewart Filmscreen's corrosion-resistant, weatherized Oasis line. It was mounted in front of the glass windows opposite the projector using custom brackets, and hides away to keep the window view unhindered when it's not lowered into place for viewing. "We had quite a time mounting the screen because of non-load bearing fascia," says Wilson. "My installer was positively heroic in devising brackets and ways of fastening them to the substructure behind the fascia. He also designed and installed the projector mount, electrical boxes and outdoor wiring to meet the highest standards of safety. They're concealed pretty well, too."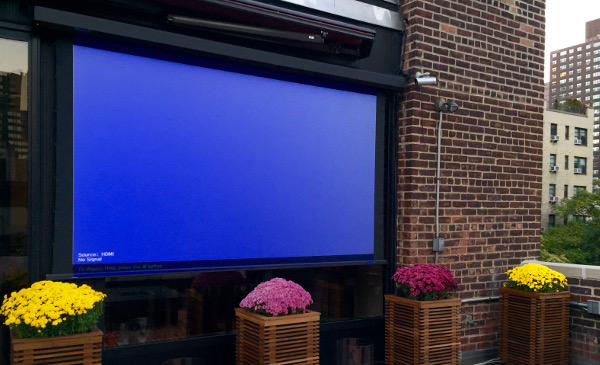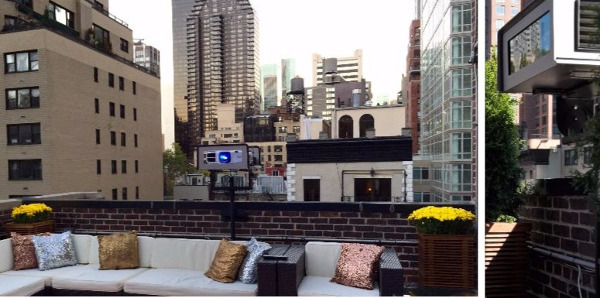 Sounds of the Outdoors
For the speakers, Wilson knew that neither garden rocks nor traditional outdoor bracket speakers would be aesthetically pleasing or deliver the required performance. So Accent spec'd in an unusual, high quality outdoor speaker system from specialty manufacturer PlanterSpeakers.com out of Bridgeport, CT.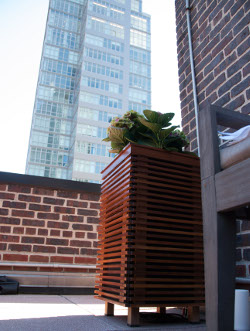 The company's Piermont model (shown at right) is an attractive slatted teak column measuring 17 inches square and 30 inches tall, and features a three-way design with a 10-inch woofer, 4-inch midrange, and 1-inch tweeter. It's rated for a frequency range of 40 Hz to 18 kHz, though, to bolster the low-end, the 5.1-system installed here uses five standard Piermonts plus a sixth Piermont with only a single passive 12-inch subwoofer that's driven by a dedicated Totem amplifier back in the rack. Additionally, two more 3-way Piermonts are situated in the outdoor dining area alongside the movie area and handled as an independent second zone from the Arcam surround processor. Then, six more Piermont boxes with no speaker elements adorn the patio and function only as planters, serving to nicely integrate the speakers with the rest of the exterior design.
"Apart from hauling their considerable bulk up the stairs, the Piermont speakers were a dream to work with," says Wilson. "They're properly designed for great weatherproof sound. I've never heard an outside system sound so good."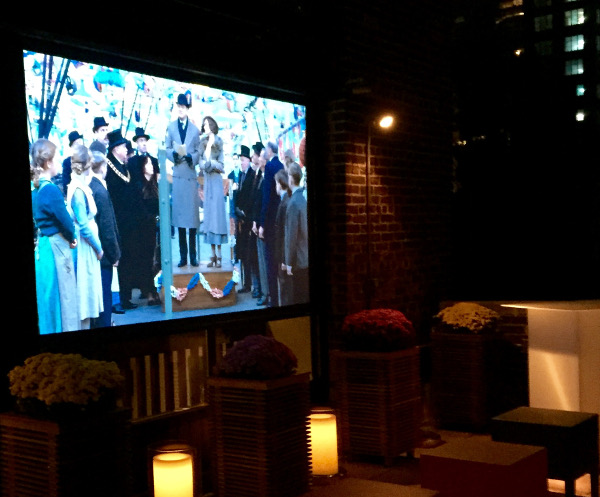 As happens with installs in apartment dwellings, there were challenges hiding equipment and running cables, which often end-up having to be surface-run rather than embedded in walls. In this case, the wiring to the patio from the alcove-sized closet on the right side wall of the living room runs low across the wall behind the existing B&W's and exits under a patio window. It then goes around the patio wall to the speakers, screen and projector. "The homeowner also did some beautiful work fabricating a sort of channeling grid along the living room wall," Wilson says.
Despite all the challenges, in the end the project turned out as a "mission accomplished." Whether it's afternoons lazing in the midtown sun to Vivaldi, action adventure movies under the stars, or entertainment for the homeowner's occasional high society fundraiser, this hi-fi in the sky is beautifully discreet, powerful enough to deliver high performance sound in its outdoor environs, and perfectly suited to surviving life in the big city.