Game Day: Nine Screens Later, the Ultimate Sports Oasis Is Born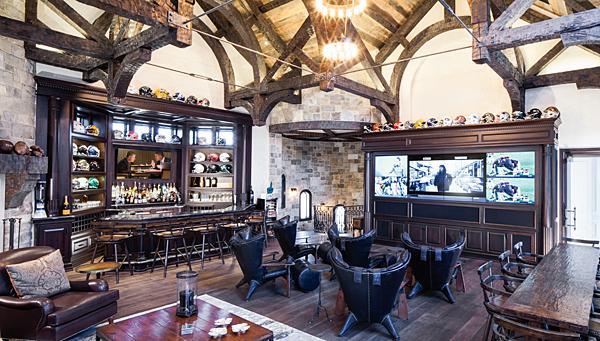 Nestled among the rolling estates of northcentral New Jersey is a recently completed 22,000-square-foot mansion on 11 acres that represents the height of luxury. Among the usual features associated with such homes—the large and well-appointed kitchen with industrial-grade appliances, the sprawling master suite with grand bath and giant hisand-hers walk-in closets, the fully equipped gym area, the climate-controlled wine cellar, the multi-bay garage complex stocked with one or more exotic cars, the attached pool and cabana, and, of course, the dedicated home theater—is the extraordinary media/entertainment space you see here. Dubbed the Sports Room by the homeowner, it's one of the still rare examples of a commercial video wall used in a residential application, and it is indeed the ultimate game day oasis.
So, how did it come about? The homeowner is a sports fanatic and, come Saturday and Sunday during football season, loves to keep an eye on multiple games at once, often with friends and family in company. Before building his dream house, he had created a basement haven in his prior home that integrated nine screens, including a large 100-inch front-projection screen flanked on both sides by four 42-inch flat panels. But while the 14 x 18-foot room made for an impressive show of technology in a relatively small space, it was hardly the ideal solution. Firing up the system required an enormous mechanical effort to manually switch on all the different devices, and swapping images around was a cumbersome, complicated job that he alone could manage. With the planning of his new home, he was determined to do better and create a luxurious viewing room unique to any private residence, something that would be the equal of any high-end resort and one that his family could also operate.
The Sports Room in his new home design called for a much grander space in a high-traffic location on the main floor, a giant 32 x 32-foot room with a rustic beamed ceiling that peaks at 25 feet. One entire wall of the room adjoins the patio and pool area and is composed of huge, untreated picture windows and French doors that bring the outside light and air in. There's a full-service bar, a stone fireplace, and direct access via a circular stairwell to the lower-level wine cellar, billiards lounge, home theater, and spa area.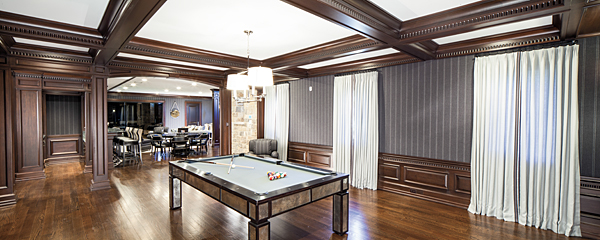 Custom integrators iTEC Consultants of Union Beach, New Jersey, were recommended by the architect. They were called in to make suggestions for the equipment design and were eventually hired to handle the entertainment spaces and automation technology for the entire home. Initially, the owner was determined to have the Sports Room feature multiple flat panels and a large drop-down projection screen that could be called into action when desired, but iTEC systems consultant Joe McNeill knew a projected image would never stand up to the natural ambient light pouring in from those huge windows, and he realized its image quality against the flat panels would make for a distracting letdown.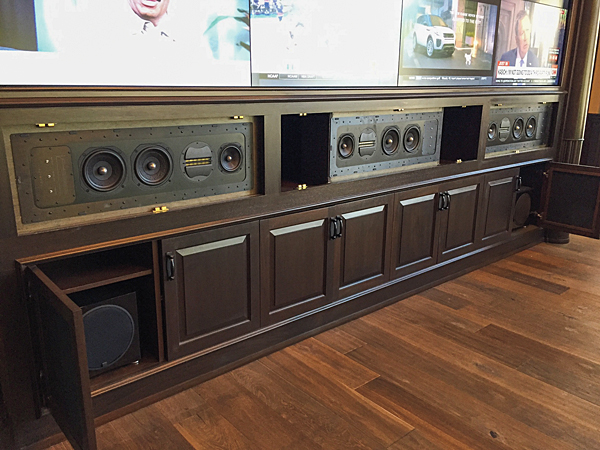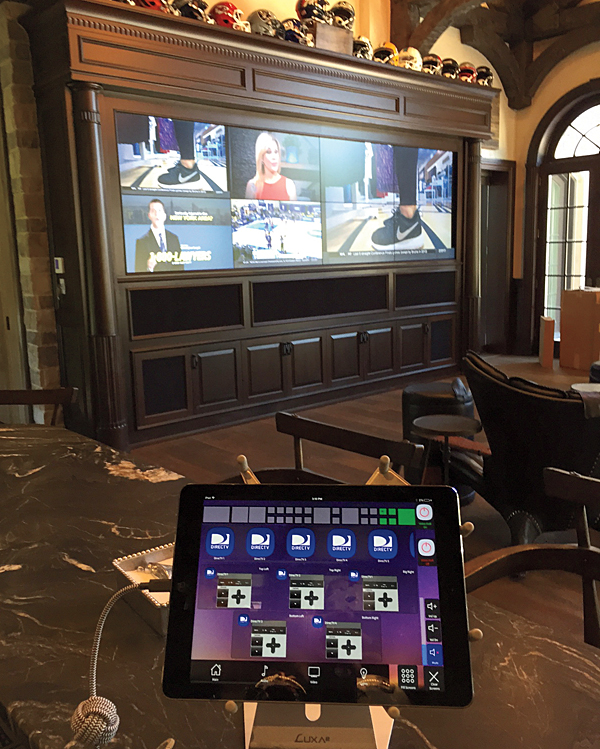 His solution was to pitch a commercial video-wall system that iTEC had previously only used in commercial installations. Built by Planar, the Clarity Matrix LCD system is housed in a custom mahogany cabinet, and consists of eight ultra-bright 46-inch LCD displays in a four-wide by two-tall grid, closely spaced and separated by virtually disappearing bezels. Viewed together, the full image display area is approximately 160 inches wide by 45 inches tall. The clever system houses the electronics for the panels in a remote rack, allowing for a thin display wall that requires only 3.6 inches of mounting depth and vastly reduces the system weight along with the structural requirements for the mounting environment. Panel-to-panel alignment is handled with spacers and adjustable cams. Fine-tuned picture adjustments, made in this case by respected industry calibrator/consultant Kevin Miller of ISFTV, can be done on a single master display and transferred with tight tolerances to the other seven screens to ensure a near-perfect match across the full viewing area.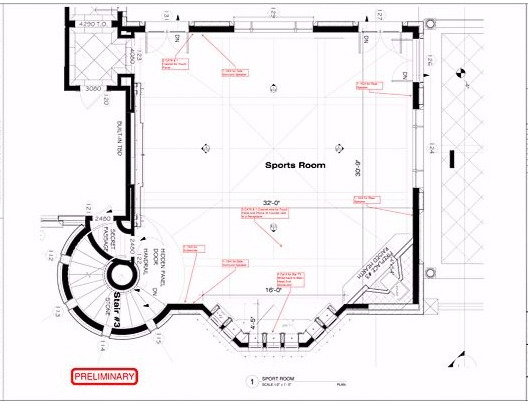 Image sourcing for the wall is handled by eight DirecTV satellite receivers, all mounted with the display and audio electronics in a single tall rack hidden in a lower-level utility closet located directly below the video wall cabinet. To run the display, iTEC's programmer designed a Crestron interface that runs on a dedicated CP3 processor situated in the same rack; it provides control via an iPad running the Crestron app, an MLX-3 handheld remote, or a 10-inch wall panel to the right of the video wall. The interface offers graphic icons allowing finger-touch selection of each of the viewing options, including a single, stretched 166-inch diagonal image, a large 92-inch-diagonal image in the center flanked by two stacked 46-inch images on both sides, a pair of side-by-side 92-inch images, or a single 128-inch-diagonal image stretched over six panels with a pair of stacked 46-inch images to the right or left. Eight icons down below representing each of the DirecTV tuners can be dragged and dropped into any of the rectangles in the display icons above to change the image for that screen or section of screens. At any time, each individual receiver's guide and menu options can be conjured with a touch to change programs, and the user can easily route the sound from any program through the sound system. (Dedicated Episode audio and video matrix switchers in the rack handle the heavy lifting.) The hxfomeowner can also use the same Crestron interface to control the room's ninth screen—a 65-inch Samsung TV behind the bar—as well as whole-home lighting, HVAC, the outdoor pool equipment, and distributed music and video.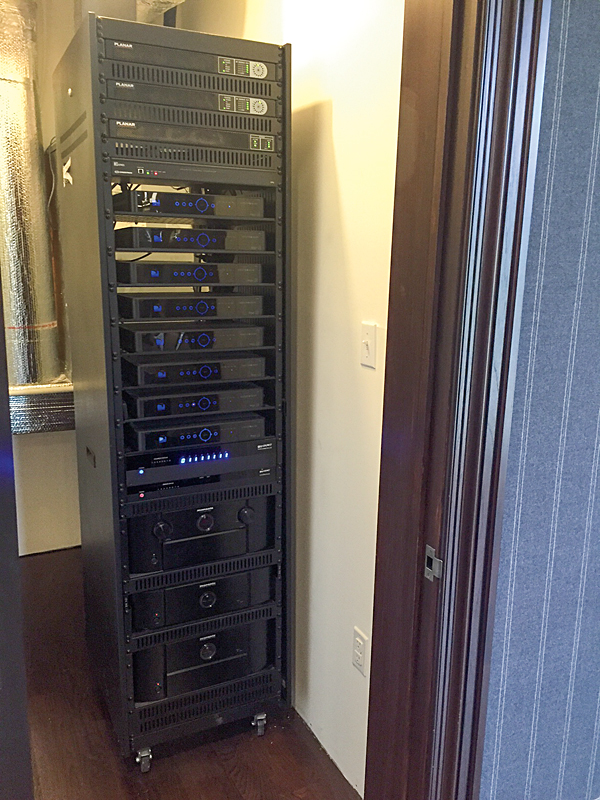 A high-performance surround sound system for the Sports Room was also a key requirement, both to fill the large room with sound when desired and to maintain the luxury experience. A late-generation Marantz AV8802A preamp/processor and MM8807 amplifier run the 7.2-channel system. Front-channel duties are handled by three Episode ES-HT950-IW-7 in-wall theater speakers hidden behind grilles in the cabinet, along with a pair of Episode ES-SUB-TRP10-500 subwoofers down below, each with one active and two passive 10-inch drivers. Preserving the high-end aesthetics meant using Stealth Acoustics LR3G three-way invisible in-walls for both side- and rear-wall surrounds. For those unfamiliar, these panel-style speakers drop into a cutout in the sheetrock and are literally plastered over with drywall compound for an essentially undetectable installation.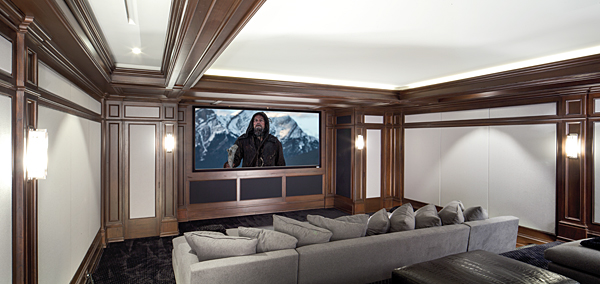 Invisible in-walls were also used throughout the home for distributed audio, and there are quite a few other TVs scattered about—23 in all. The dedicated theater room downstairs, meanwhile, is a cozy space accented with mahogany trim and features another 7.2-channel Marantz and Episode-driven system, along with an Epson projector outfitted with an anamorphic lens and a 129-inch-diagonal 2.35:1 screen. Of course, with that crown jewel Sports Room just above it, it's hard to imagine it'll get much use.