French-Influenced Theater
When the client didn't have anything specific in mind, while providing the directive of something unique, stylish and cutting edge, Mike Fox of Fox Audio Video in Springfield, IL. Immediately suggested a column design he'd seen in Paris in the Montparnasse Tower's observatory floor (56th) in Paris, France.
"The columns are thin at the bottom and increase in width toward the ceiling, offering a high-impact look without sacrificing floor space, " said Fox. "In fact, the theater area was quite small, which was the biggest challenge with this project. The client bought the property while it was under construction and the basement was the only area left for a theater."
Working side by side with Fox AV to make this theater a reality was Kevin Dewer of Waverly Woodworking. Additionally, custom leather wainscoting panels were designed to match the leather seating and compliment the acoustically treated fabric walls. LED lighting was added to create a commerical theater appearance. Overall, the aesthetics of the room is quite beautiful, evoking a richness that was far less expensive than it looks. Moreover, due to the dynamic design it appears far larger and grander than it's 14' x 16.5' dimensions.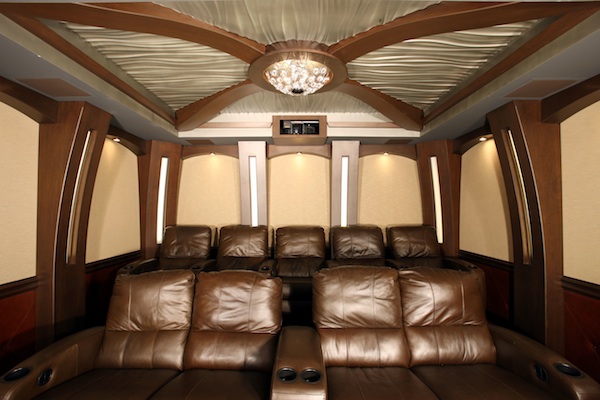 Complimenting the curvature of the columns, a Stewart Cine-Curve screen was installed, which was matched with a JVC RS2 projector and Panamorph anamorphic lens. For sound, Denon's 4308CI receiver, designed expressly for high-end custom installations was chosen and matched with seven Triad Silver series speakers, and two Velodyne 15" subs. All the AV and lighting was integrated with a Control 4 whole-house system for simple control that the entire family could intuitively use.
In order to provide their clients with the greatest possible value, Fox AV coordinates lighting, acoustics, and woodworking as part of their custom integration service. Moreover, doubling as a dealer for fabric manufacturers, Fox AV can provide clients with hundreds of fabric samples for their decor.
Mike discovers a lot of his designs while traveling, and he comes home with his mind swimming in new ideas. "We're very product of our one-off design philosophy," says Fox. "We specialize in theaters that are born from the client's personal tastes, interests, and needs. Every theater is built from the ground up, and I am amazed that our personalized theaters are comparable in price to the cookie-cutter prefab, "theater-in-a-box" designs offered by many of our competitors."
Contact Info:
Design & Installation
Fox Audio Video
Springfield, Illinois
217-787-7369
www.foxav.net
Woodworking
Waverly Cabinet
Waverly, Illinois
217-435-3300
www.waverlycabinet.com