Flash Gordon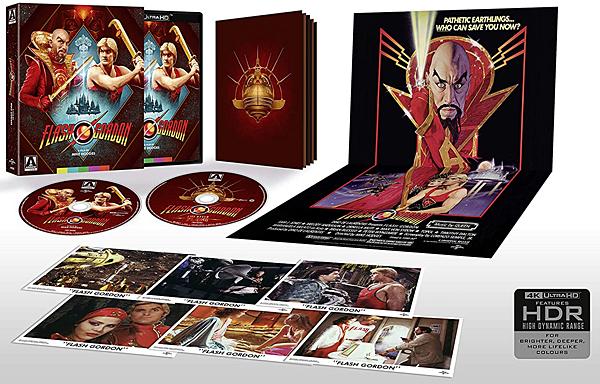 Star Wars
imitators were both inevitable and plentiful in the late 1970s. The Buster Crabbe science fiction/adventure serials of old were a strong influence on that blockbuster, and whereas
Buck Rogers
was destined for a television reboot, mega-producer Dino De Laurentiis had already acquired the movie rights to
Flash Gordon
years prior. And so the space-faring hero returned to the big screen, reimagined in a lavish international production.
Merciless Emperor Ming has targeted planet Earth for destruction, but not before a bit of fun in the form of devastating natural disasters. Believing he can end the hostilities, wild-eyed scientist Dr. Hans Zarkov launches his homemade rocket to the planet Mongo to negotiate, and unwitting New York Jets quarterback Flash Gordon (Sam J. Jones) and companion Dale Arden are along for the bumpy ride. They discover a civilization with technology far beyond our own, populated by disparate factions that hate each other almost as much as they hate the oppressive Ming. Flash must be a team captain back in the NFL because he flexes serious leadership skills, inspiring a major revolt in a desperate bid to save his home, and possibly the universe.
With curious artistic choices such as music by Queen (and Howard Blake), over-the-top sets and costumes, plus some uneven acting and unspecified dramatic tone, Flash defies viewing at face value. Perhaps because it employs broad, time-honored story elements while coming up short on character, it's earned the distinction of "space opera." I would contend that with its extravagant visuals, farfetched antics and intermittent humorous flourishes, it could be considered a live-action cartoon for a new generation, despite a few dark or sensual moments. A Stinker Award-winner and Razzie nominee 40 years ago, it didn't make the intended splash in theaters, but ultimately found a devoted fanbase on TV and home video and has come to mean quite a lot to those folks, perhaps never more demonstrably than in a running joke in the comedy Ted.
Arrow does not skimp on its Limited Editions, and Flash Gordon—the boutique label's first 4K Ultra HD disc—begins with a director-approved 4K/16-bit restoration from the original 35mm camera negative, now with some digital trickery applied to hide stunt wires suddenly visible with the newfound Ultra HD clarity. The sharpness is undeniable in an early shot of Flash reading a newspaper, as the text is exceedingly crisp, and the frequent well-lit close-ups appropriately stark. The production design leans decidedly toward red, and oh what deep, rich reds they are, while the "skies" dazzle with their vibrant, swirling hues. A wonderfully organic smorgasbord of old-school special effects such as miniatures and matte paintings and optical composites is on offer, and yes, we can still see through some of the actors when we really shouldn't.
The disc defaults to the more period-authentic DTS-HD Master Audio 2.0 soundtrack, although I switched to the 5.1 version for a modern home theater experience. The soundtrack tries to go big when it can, as when an airplane violently crash-lands into a greenhouse, but this attempt to expand the original stereo mix can be somewhat vague. There's general surround activity in the speakers in these moments, but little-to-no directionality, although the occasional discrete off-screen voice can pop up elsewhere. Bass is at no point distinguished, but the musical fidelity of the Queen tracks in particular is strong. Extensive dialogue re-recording keeps this larger-than-life fantasy from ever feeling too real.
No fewer than three diverse audio commentaries are provided, along with featurettes, interviews, and still galleries. The second disc is a regular Blu-ray, not of the movie itself but the already-available Life After Flash documentary about Mr. Jones' personal journey, upgraded for inclusion here and similarly supplemented. Rounding out the set is a substantial book, a collection of miniature lobby cards, and a two-sided poster (classic Amsel plus newly commissioned artwork), all in a handsome slipcase. Yep, this one's for the fans. And they are legion.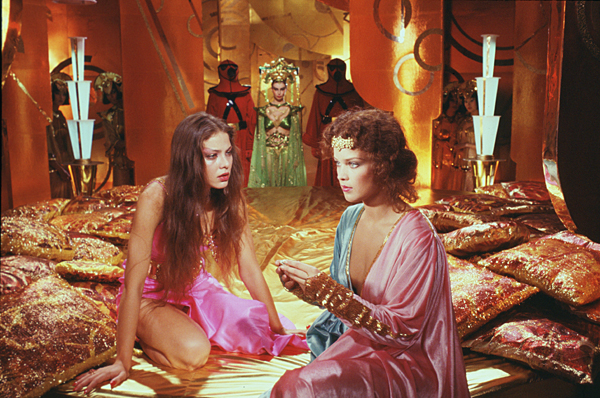 Ultra HD Blu-ray
Studio: Arrow, 1980
Aspect Ratio: 2.35:1
HDR Format: Dolby Vision, HDR10
Audio Format: DTS-HD Master Audio 5.1
Audio: DTS-HD Master Audio 5.1
Length: 111 mins.
Director: Mike Hodges
Starring: Sam J. Jones, Melody Anderson, Max Von Sydow, Topol, Ornella Muti, Timothy Dalton