Epson PowerLite Pro Cinema LS10500 LCD Projector Review Page 2
I also used several of the picture memories in the course of this review, to save my settings, with only one issue: The settings of the Dynamic Range control (in the Advanced section of the Signal menu) didn't change as different saved memories were selected. I had to switch this setting manually when going between SDR and HDR. And of the six Dynamic Range options, only HDR Type1 produced adequate HDR brightness. More on this later.
The Epson also has a panel alignment feature to ensure the optimum convergence of the red, green, and blue colors. (Green is fixed, while red and blue can be adjusted around it.) This feature proved ineffective for me; the red and blue steps were far too coarse. Nevertheless, while the projector's out-of-box color convergence wasn't perfect, it couldn't be faulted in the rendition of fine detail at a normal viewing distance.
There are five fixed gamma settings (none of them indicating actual gamma values) plus a Customized setting. I found the latter tedious and ineffective in use, so I stuck with the fixed options. The Epson also provides RGB offset and gain controls for white balance and a full RGBCYM color management system (CMS) for adjusting color points.
The Power Consumption control (High, Medium, Eco) might be viewed as the laser equivalent of a lamp brightness control. There's also a fixed Lens Iris adjustment.
The Dynamic Contrast control (Off, Normal, High Speed) modulates the laser between full off (which a lamp can't do—short of shutting the projector off), and the maximum set by the Power Consumption and other controls. When you engage the Dynamic Contrast control, its single most impressive accomplishment is its ability to shut the screen down to total black when the image goes to full black. How fast it does this is determined by the Normal or High Speed settings. I preferred High Speed, but others might find it too abrupt and distracting.
There are other controls as well: HDMI Video Range, Color Space, Dynamic Range, EDID, and Image Processing. That last one offers Fine mode (the default) as well as a Fast mode (for less image lag; gamers will like this, though it's not accessible with real or upconverted 4K content). I left most of these controls in their default settings (usually Auto).
The Epson's Info menu indicates what information is entering the projector. With most such material, the menu will read 3840 x 2160, Progressive, 23.97 Hz, 12-bit, 4:4:4, BT.2020, and HDR2. If it doesn't, change the settings on the player, if possible. For the Oppo UDP-203 to provide full UHD/HDR to the Epson through my 8-meter, high-speed HDMI cable, I had to change the player's Color Space control from Auto to YCbCr 4:2:2.
Full HD Viewing
I set the Power Consumption control on High for all of my viewing and testing. Many users will be satisfied with the Medium setting—but once they've experienced the natural brightness possible on a flat-screen TV (even with standard dynamic range material), only the High setting on the Epson is likely to satisfy them. In the Digital Cinema mode, with the Lens Iris wide open and the other settings optimized, the pre-color-calibration peak white measured 25 foot-lamberts (about 86 nits). Oddly, reducing the iris control had little effect until the –7 setting, where it was down by about 10 percent.
Delivering 1080p content in standard dynamic range (even with just a basic control setup but without a color calibration), the Epson boasted astonishing performance. Its black levels were excellent. They were somewhat short of the best results I'm used to seeing from current, comparably priced lamp- based JVC designs (though to be fair, none of those was on hand for a direct A/B comparison) or from an OLED flat-screen set (arguably not a fair matchup)—but nonetheless, the black levels were impressive. And the ability of the lasers to shut down when a scene fades to total black, while likely not everyone's favorite feature, reminded me of the black level performance I've experienced in Dolby Cinema theaters. That is, the picture plunged to total black on fully black scenes, and the projector displayed very good but not state-of-the-art blacks on scenes that combine light and dark areas.
What impressed me more, however, was the color—and even more, the detail. Some will find the detail a bit too much, and if you do, you can turn down some of the enhancement controls to provide a softer (more analog-like?) look. But as long as the detail didn't look etched—and in my preferred settings, it didn't—I saw things come to life on my 2.35:1 screen in ways I've never noticed before. Dark backgrounds in Prometheus, for example, were incredibly detailed and possibly more revealing than even the filmmakers saw in the final cut. The scene in chapter 23 where David discovers the alien control room and its eerie holograms was jaw dropping. So were details in the actors' faces, likely more finely resolved than the actors themselves might have wished!
As for color, I'd never noticed the gold-colored bottom seat cushions in the film's people transport, but I did here. I also noticed the vehicle's brownish-gold wheels. And all that from the 1080p source's lowly Rec. 709 color gamut!
Not every Blu-ray was as mind- altering as this one, and I did have to make small adjustments in the controls affecting luminance and black level (Brightness, Contrast, and Gamma) to get the very best result from each film. But the changes were rarely more than one step up or down from the predetermined optimum. For me, apart from the ultimate in black level and true 4K performance, this was the most satisfying video projector I've yet reviewed on 1080p content in SDR.
Post color-calibration the projector was even better, though not by much. As noted in the Test Bench, the calibration numbers were less pristine than what we often see. But I had no issues with the visible results. Fleshtones were spot-on, particularly with test material offering natural color (not always true of movies, which often employ all sorts of creative color manipulation). Greens looked right, too, and overall I found little to criticize.
My time watching 3D on the Epson, with its active glasses, was brief. On my 96-inch screen, the picture was quite dim on dark scenes, and it was tolerable (though well short of punchy) on bright material. The projector passed my usual ghosting tests, with only a touch of it visible on the door knocker in chapter 3 of A Christ- mas Carol.
4K High Dynamic Range
We're all still struggling with setting up and calibrating displays for high dynamic range (HDR), even on flat-screen sets. But the HDR setup procedures for projectors are, if anything, even less settled. Even a popularly priced, HDR-capable flat-screen UHDTV should be able to reach at least 300 nits peak output. Among the very best 2016 sets we've tested, OLEDs can reach just under 600 nits, and the brightest LCD designs can exceed 1,000. Setup guidelines for HDR call for setting the luminance to 100 nits (about 29 ft-L) at 50 percent of a display's peak output. But when properly set up to eliminate white clipping on popular-sized screens, many if not most home projectors are barely capable of producing a linear 100 nits at 100 percent brightness, never mind at 50 percent! The HDR setup parameters were clearly created with flat-screen sets in mind. Projectors were an afterthought—if that.
There's little about HDR in the LS10500's manual, and no dedicated HDR Color Mode. You need to set up your own, save it into one of the projector's memories, name it, and switch back and forth manually between SDR and HDR as the source requires. And as noted earlier, the setting of the Dynamic Range control does not save in memory; you also have to change it manually whenever you switch between HDR and SDR. (Epson says, however, that a coming firmware update will allow users to set up an Auto HDR mode).
I began my evaluation of the Epson's HDR performance in the Dynamic Color Mode with a maxed-out Contrast setting (+24). At first this appeared to be the best way of approaching the HDR impact I see on a flat-screen set. But it also resulted in moderate to severe clipping that crushed bright white detail.
I tried other settings and ultimately settled on the Bright Cinema Color Mode (which, as we later found out, Epson recommends for HDR) with a Contrast setting of +10. In addition, Epson's recommended HDR setting for the projector's Dynamic Range control is HDR Mode 2. But this dimmed the picture enough to virtually eliminate, for me, the benefits of HDR. I went with the brighter HDR Mode 1 setting instead. For HDR, the projector was not color calibrated for the review but left in its default settings for RGB white balance and RGBCMY color points (all 0). (The settings used will be posted in the online version of this review at soundandvision.com.)
These settings provided a reasonable helping of the deep shadows and bright highlights I expect from HDR—but not the whole enchilada. The Epson's HDR was far less eye-popping than you'll see on a good flat-screen UHD/HDR TV, and I suspect we'll be saying the same thing about most if not all other HDR-capable home projectors. But the larger image a projector offers when compared with that of the biggest, even remotely affordable flat-screen UDTV, helps compensate.
While some white clipping remained in this setup, most of the time it was visible only on backgrounds such as sunlit clouds. But it occasionally affected more obvious details. For example, in Oblivion, the nuclear explosion of the water-sucking fusion generator resulted in clipped details compared with the standard Blu-ray version, as did the sand in a bright desert sequence and a shot of the setting sun.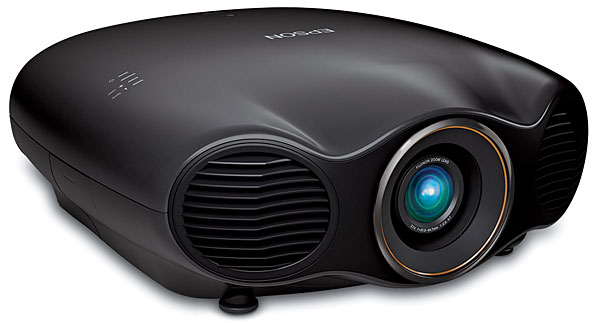 But for 99 percent of its run time, Oblivion was one of the best-looking HDR discs I watched on the Epson. The film is beautifully shot, and its quality is most obvious on a big screen. It retained all of the crisp detail the projector exhibited with 1080p HD/SDR material and then some, thanks to the projector's pixel-shifted but still impressive 4K capabilities. The film's subdued colors came through beautifully. Overall, on the LS10500 the UHD/HDR version produced deep, rich, crisp, and immersive images.
I experienced much the same on most of the other UHD/HDR discs I watched on the Epson. These ranged from impressive (Independence Day: Resurgence, Battleship, San Andreas—the classics!) to superb. Trolls, in particular, offered some of the most eye-popping colors I've yet seen from a video source, and while it might be argued that they were only subtly richer than on the SDR Blu-ray, they nevertheless offered enough eye-candy on the Epson to lift this film to a level that adults might actually enjoy. I loved it, and I haven't strolled down Sesame Street in a very long time.
But not every UHD/HDR title was fully satisfying on the LS10500. While The Huntsman: Winter's War had worked well on the LG OLED flat screen I used in my review of the Oppo UDP-203 UHD Blu-ray player, on the Epson the movie didn't fare as well. Its dark opening scene, for example, where the evil queen checkmates the king, looked rich and deep on the HD Blu-ray, with well-balanced shadow detail. But the HDR version was subtly grayish and less pleasing.
Conclusions
We're still in the earliest stages of HDR, on both the source production and display sides. My initial reaction to the Epson's HDR performance was negative, but it evolved into a measured thumbs-up. Perhaps more revealing than my continued reservations about the projector's occasional HDR clipping is the fact that whenever I sat down to check out an HDR movie—yes, even Battleship and Independence Day: Resurgence—it drew me in and kept me watching. Still, that HDR clipping does bring down my 2D Performance rating a bit; if I were rating SDR only, it would be 5.0.
But we do need workable standards for HDR on projectors, standards that will allow them to perform their best, without side effects, on source material mastered for the far higher peak brightness capabilities of flat-screen sets.
The LS10500 is clearly a Top Pick for spectacular SDR performance, effective laser illumination, and the compelling bonus of HDR at the same price as last year's SDR-only LS10000.