Elvis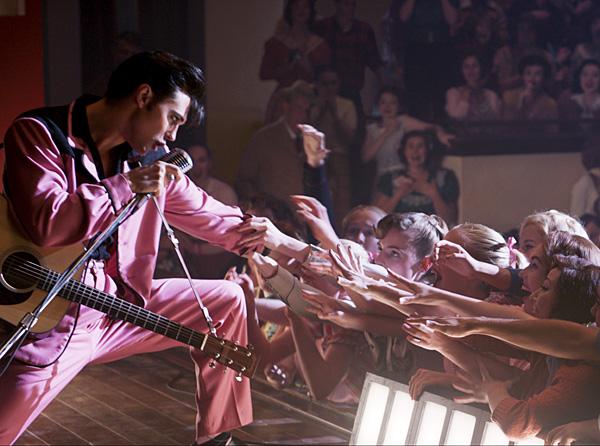 And then there are those larger-than-lifers who ride the sine wave of the popularity index, depending on which way the cultural-acceptance winds are a-blowing at any given moment. And that brings us to Elvis, the epic 2022 biopic lensed and directed by noted auteur Baz Luhrmann. Correction: Luhrmann would rather we call the film a "gateway into American culture" instead—a fair point, given the Australian's visualization—into actualization pedigree. Luhrmann's attention to capturing the grandiosity of finely detailed set design in all corners of the given frame—just witness his period-perfect palettes in 2001's Moulin Rouge!—confirms he was the exact right choice to envision a story that moves from the huddled and humble tent revivals Elvis frequented as a youth in Tupelo to the brightest of lights on the biggest stage built to spec in a splashy Las Vegas hotel that both reflected and enhanced the King's late-career superstar status. Luhrmann even deployed period lenses from each respective decade, so the particular hues and visual cues—the promising pink-and-blue luster of the '50s, the brighter day-glo tones of the '60s, and the glammy but grimy '70s—each reflected the mood of what he wanted to convey without any unnecessary exposition.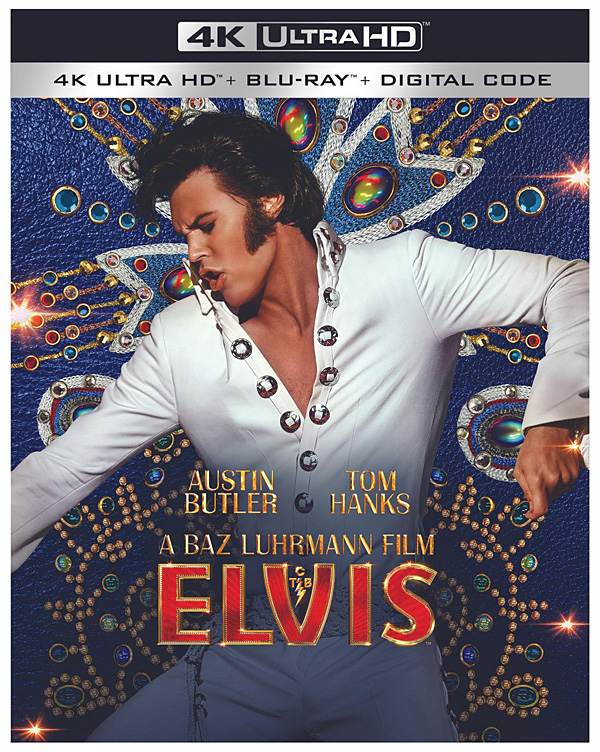 Casting the relatively unknown Austin Butler as Elvis was a masterstroke, as Butler's full embodiment of the man—all the way down to the minutiae of his evolving physical attributes, the unwavering regional dialect, and Elvis-only characteristics that morphed from decade to decade—can be seen and heard in full transition arcs. At no point in Elvis do you view, or hear, Butler as anyone other than Elvis Aaron Presley
For his part, Tom Hanks gives a masterclass of his own portraying Col. Tom Parker, Elvis' manager-cum- Svengali. To be sure, the prosthetics and body-frame expansion are accomplishments unto themselves, and Hanks' interpretation of Parker's truly eccentric Euro/Americano accent hybrid is its own marvel. That said, you cannot shake thinking, every time he's onscreen and/or narrating, "That's Tom Hanks." It's a high compliment to Hanks' own iconic stature, as I'm not sure anyone else could have staked that ground to personify the Col. Tom role as fully as he did—so it's a worthwhile tradeoff.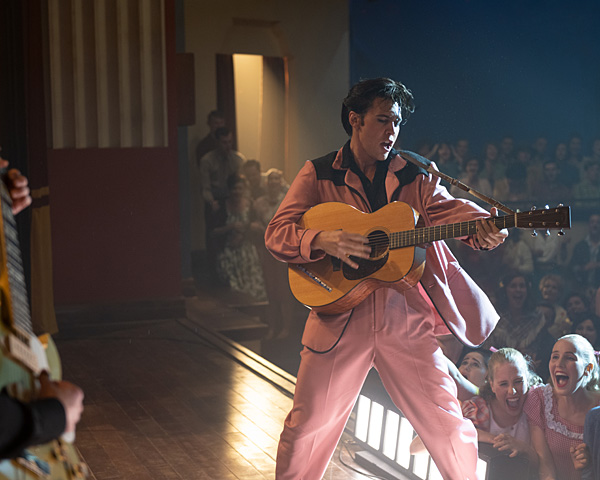 Oh yeah, and then there's the music. Butler does his own singing—sometimes all on his own, sometime blended with Elvis' voice during the King's latter years—which makes tracks like "Hound Dog" and "Trouble'' all the more authentic, and not lip-synchy in the least. Surround-sound choices are mostly respectful of the historical context they amplify, but the best in-Atmos sequence occurs circa 1:41:08, right when Elvis begins physically conducting his expanded Las Vegas band to tackle a completely rearranged version of "That's All Right." Here, blended background vocals from The Sweet Inspirations and The Imperials, a stacked horn section, and a 30-piece orchestra take their rightful place up in the clouds—all of it capped off with Elvis' own guttural huffs and puffs in the center.
The sheer depth of extras that only appear on BD and not UHD should be emulated for how to enhance a physical release you'd want to own and regularly revisit. Luhrmann, his wife and production designer Catherine Martin, Hanks, and Butler broaden our understanding of not only how Elvis happened—with principal photography in Australia, no less!—but of all the choices made in getting the film to the finish line.
And that's quite all right now, mama, seeing how Elvis goes to show Elvis—the artist, the talent, the legend—has not yet left the pop culture building. Elvis the film reinforces how Elvis the icon is going to continue with TCB—taking care of business—for many more generations to come.
Ultra HD 4K Blu-ray
Studio: Warner Bros. 2022
Aspect Ratio: 2.39:1
HDR Formats: Dolby Vision, HDR 10+
Audio Formats: Dolby Atmos, Dolby Digital 5.1
Length: 159 mins.
Director: Baz Luhrmann
Starring: Austin Butler, Tom Hanks, Olivia DeJonge Richard Roxburgh, Kelvin Harrison Jr., Helen Thomson
What becomes an iconoclast the most? Some pop culture icons stand the test of time (The Beatles, The Godfather), while others only capture the zeitgeist of the era/movement they oh-so perfectly served (Strawberry Alarm Clock, we hardly knew ye!).