Dream Theater: From Hobby to Profession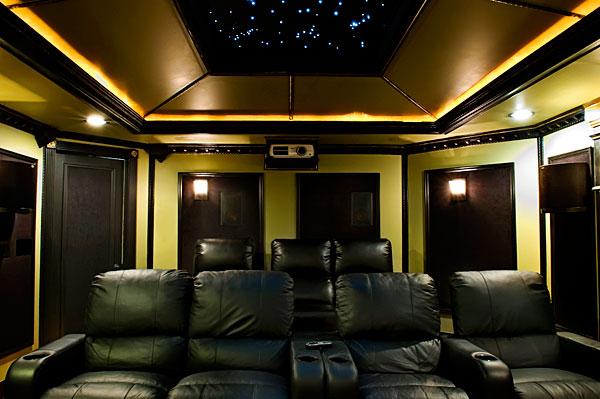 When it came time to build a home theater in the basement of our home (14.5 by 18.5 feet), my wife set the tone by requesting a traditional movie theater décor with a touch of whimsy. On the technical side, I was most concerned about the installation and soundproofing to ensure it sounded as terrific as it looked. The walls, stage, and seating platform are all filled with insulation, and the walls are covered with sound panels, made from 1-inch-thick batting, and covered with velvet fabric and then framed with wood trim boxes. Molding added the extra bit of elegance, and pillars gave the room dimension and function. Doubling as sound panels, two of the pillars have cabinet doors. One of them opens to reveal the equipment rack; the other has shelves for storage.
For video, I coupled the 1080p Epson PowerLite Home Cinema 8350 LCD projector with a Dragonfly Matte White 120-inch screen. The audio components include a Denon AVR-4311 A/V receiver, a multitude of media sources such as a Dish Network HD DVR, an Xbox 360, and a DIY home theater PC (with 3 terabytes of hard-drive space) that sports a Blu-ray burner/player. The system is networked with the rest of the house allowing media flexibility and Internet access to both the HTPC and AVR. A variety of media sources are available, such as Netflix, Pandora, and other online sources. All of the components are protected by an Episode home theater line conditioner, and the room is on its own dedicated circuit.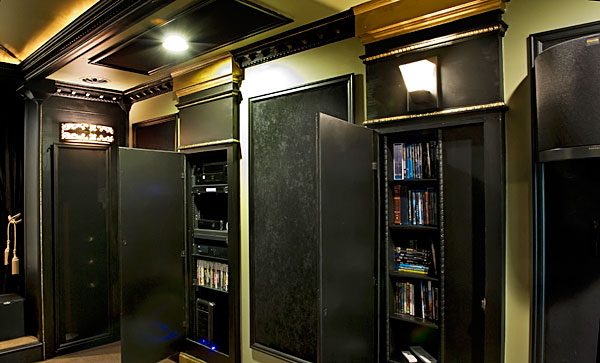 I used Klipsch speakers to create a highly immersive 9.2-channel system, with the towers for the front left and right channels hidden in the pillars. A large dedicated center-channel speaker with four 6.5-inch woofers was built inside the wall. We used Dipoles for the surround channels, and ceiling speakers serve as front height channels. We used in-walls for the back surrounds. Two Velodyne subs fill the room evenly with clean, tight bass.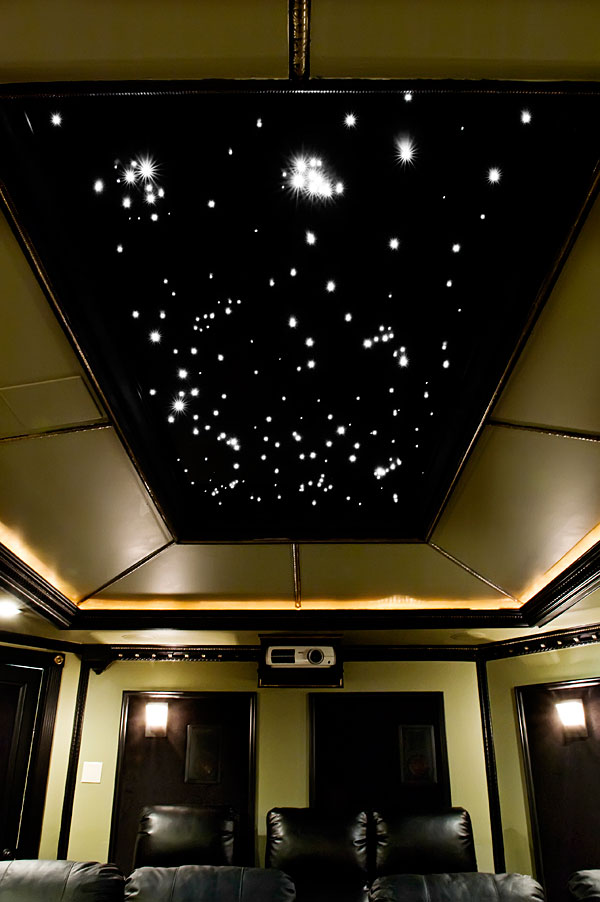 Lighting was a major element, and we used six sconces spaced around the room along with recessed lights. Rope lights run along the ceiling and back row of seating, allowing just enough accent lighting to illuminate a walk way. These are all on Lutron IR-controlled dimmers that are we control with a Logitech Harmony universal remote. The ceiling was the funnest and most challenging element to create. It features 200 fiberoptic strands, and I simulated actual constellations for the starry sky.
Below the screen is a stage so my children can perform for family and friends. I added two black velvet curtain panels and attached them to an electric curtain rod, which opens and closes with the push of a button.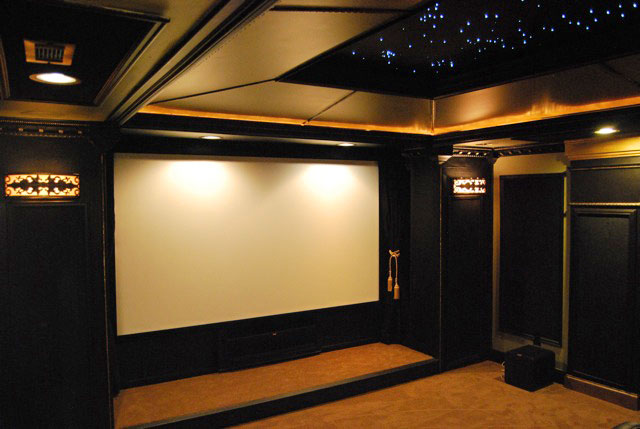 This stellar, state-of-the-art theater is more than a hub for our family's activities. It's also the demo room for the business I started with my longtime friend Mike Maddox. We are the Home Theater Dudes (678-360-4303), and our mission is to give homeowners the best home theater experience for their money. Through word of mouth, business is quickly growing, and our customers can experience what a home theater can be like in an actual residential setting.