The Doors' Perception breaks on through.
Wide Open
The Doors'
Perception
breaks on through.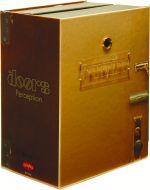 The Doors' self-titled first album was in an altogether darker, more theatrical, sinful, and sexual musical realm than anything heard in 1967. It was one hell of a debut, and, 40 years on, it still sounds incredibly unique. The band functioned with a collective spirit, and its four members—Jim Morrison, vocals; Ray Manzarek, keyboards; Robbie Krieger, guitar; and John Densmore, drums—shared songwriting and arranging credits on most of the tunes.
Perception, Rhino's lavishly packaged six-CD/six-DVD boxed set collects all of the Doors' studio recordings with Morrison. Extras include bonus tracks and two videos on each DVD, but it's the radically improved 96-kilohertz/24-bit sound quality and 5.1 surround mixes that'll make Perception irresistible for fans. Freed of the constraints of stereo, the 5.1 sound literally breaks on through to the other side. Unlike a lot of bands that fabricate their music in the studio one instrument at a time, the Doors, including Morrison, almost always recorded live. There was no other way to make music this organic and true. The newly buffed and polished high-resolution clarity lets you feel like you're present as the band is creating music in real time. Morrison's vocal chops come through loud and clear; the man was truly one of rock's best singers.
The unreleased takes and studio demos are more than mere filler. Check out take three of "Roadhouse Blues" to see how Morrison improvises with the lyrics from an old blues tune, "Baby Please Don't Go," then Robby Krieger unleashes a ferocious solo as the band rolls on. Krieger was an underrated guitarist, but his inventive fretwork shines throughout the set. An early take of "Love Me Two Times" is a little rough around the edges, but they're such great players and so totally in the moment that it absolutely works. The wild and wooly sax break on an alternate version of "Touch Me" flat out destroys the original version. The complete 17-minute demo of "Celebration of the Lizard" is credited as a work in progress, and "The End" video from Canadian TV in 1967 looks and sounds better than I'd expect.
The sonic upgrades apply in equal measure to Perception's newly remastered and remixed stereo CDs. The originals pale by comparison. I've been listening to this music forever, and this boxed set makes it all new again. If you don't have a DVD-Audio player, listen to the Dolby and DTS surround mixes. You just won't hear the high-resolution sound. With this amazing box and the high-resolution discs already available from the Talking Heads, Neil Young, Bowie, Dylan, the Stones, and even the Beatles, what are you waiting for?