DIY Reader Home Theater: Robinson
From 30,000 feet to reality.
So, when was the first time you heard the term home theater? For me, it was at about 30,000 feet. I was on my way back home from another business trip when I noticed a magazine left in the seat pocket in front of me. Curiosity got the best of me, and, before I knew it, I was flipping through page after page and getting more and more immersed in this amazing new world. Then there was that one thing that changed everything—I was reading an article, and there it was—the exact LCD projector I had been carrying with me all those months for boring business presentations (the NEC LT155). Someone was using it in a home theater installation. Could it be? I anxiously drove home and plugged my projector into my living-room DVD player, and voila! There it was, a glorious projected image on my living-room wall that was bigger than any TV I had ever seen or imagined. The DVD I was playing was so clear, and the image was bright and beautiful.
Fast-forward two years, and there we were, my wonderful wife and I, sitting back and having a movie-theater-like experience in the comfort of our own living room. It was a great setup—a custom-built entertainment center that converted into a movie theater by night through the use of a custom-built (by yours truly) top-drawer pull-out Da-Lite screen. It was a multipurpose room like no other—a living room by day and movie theater by night. However, as most enthusiasts will appreciate, the ultimate goal of a dedicated home theater was still something that we just had to achieve.
Fast-forward again three more years, and here we are now, sitting in our own dedicated home theater. We still can't believe it's really ours. Thanks to some dreaming and persistence, it all came true.
We made the decision in late 2004 to add on to our existing house. The main reason for the addition was that we felt we needed to do something about our incredibly small master bathroom and limited closet space (the only thing we really disliked about our home). Like most home-addition designs, once you start it, you never think small again. We added on to our existing bathroom upstairs, added a spacious walk-in closet, and then a study. However, below all of this new construction was the real excitement—the opportunity to create a room that would ultimately be used as a dedicated home theater.
We sought out a local contractor to assist us with the addition. We were really looking for a reputable contractor who would also not be bothered by a do-it-yourselfer who wanted to be involved in doing all the wiring, customizing, installation, and décor for the new home theater.
Construction started, and, once they had framed the new addition, it became clear that another opportunity was presenting itself. It was a chance to bring all three of the main media rooms in the house (living room, bedroom, and home theater) into one central location. A new equipment room located just outside the new home theater would make this all possible. After plenty of research, it also became clear that, through the use of Audio Authority's HDTV distribution system, we could easily pump high-definition media to all of the rooms, which meant we could make the very most out of all of the equipment and our HD DVR cable box. We'd have great high-definition media all around at a fraction of the cost. Another DIY breakthrough was an upgrade I managed to make on the Scientific-Atlanta HD DVR cable box, which allows us now to record more than 60 hours of high-def programming. It's amazing what you can find on the Internet these days.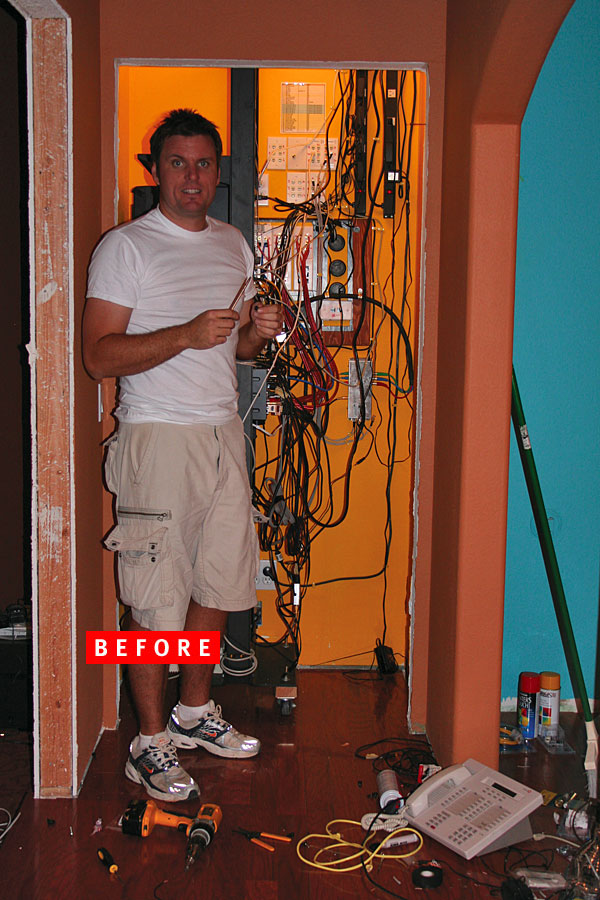 The other unexpected benefit we encountered was that, during construction, there were these lulls between phases—this only meant more time to run even more wiring. The whole house is now updated with multiple Cat-5 runs, which carry the media signal, the home network, and a full PBX system. I am talking full automation. It also allowed us an opportunity to run a full CATV surveillance system, which we run 24/7 using our dedicated media-server PC located in the equipment room. This gives us both an opportunity to check on the house while we're away since we both travel quite a bit. We do this via a private Web access portal. Add in X10 control for all of the lights, and we are in complete control whether we are home or away.
In a decision that isn't the norm for a dedicated home theater, we chose not to use dedicated home theater seating. We did think about going this route but instead settled on some custom leather love-seat recliners by Lane Furniture. These huge chairs seat one person like a king (or queen) or can fit a couple when we want to have as many as eight people over for a movie. The finishing touch came when we located some custom theater-seating wedges that matched the chairs we bought perfectly. Now we seem to have the best of all worlds.
Another great find we came upon was a new granite paint offered by Lowes. It consists of genuine granite ground down into a paint, and it goes on as thick as mud. You could also add some gold crystals to it to give it a bit of a sparkly effect. (We did and it turned out great.) A nice benefit was that it helped out quite a bit as a sound dampener. We did insulate the walls, but adding this thick paint (60 square feet per gallon coverage only) seemed to help it that much more.
Lastly, we chose to put our projector outside the room, which was a good decision, as we get no noise and no heat like we used to. We also spent a little extra and went with the newest Da-Lite screen, the dual-masking Horizon Electrol). This screen is well worth the money, as it allows us to watch different aspect ratios with a touch of a button. The screen masks itself automatically and looks astonishing.
We now have our very own home theater and can't imagine life without it. The whole thing took about 15 months to build. It seemed like the longest 15 months of our lives, but it was well worth the wait. Our friends all come over and are in awe of our creation, and we, of course, do our best to encourage others to take the plunge. Whether you do it yourself or hire a professional, there is nothing quite like the experience of having a movie theater in your home.
Home Theater Budget
Room Addition (15 by 19 feet) $47,025
Pioneer Elite VSX-74TXVI Head Unit $1,500
Sony DVP-CX985V 400-Disc 1080i DVD player $379
Scientific-Atlanta 8300HD DVR Box $299
Home Theater/Home Automation/DSR PC $1,799
Audio Authority 9870 HDTV Distribution System Kit $599
Battery Backup/Line Filter Unit $195
Lucent Merlin Legend CKE5 PBX Phone System $1,995
Netgear 108 Wireless Home-Networking System $159
Mission 774 Series Tower Speakers $999/pair
Mission 77DS Surround Speakers $295/pair
Mission 78DS Surround Speakers $295/pair
BIC America DV62CLR-S Center-Channel Speaker $269
BIC America Venturi V1020 Powered Subwoofer $399
Philips ProntoPro TSU6000 Remote Control $499
Cat-5 Cabling, Speaker Wire, A/V Cables $900
Wall Jacks for Cat-5 $250
Carpeting $1,500
Paint $250
Lighting Sconces $225
Theater Curtains $300
Theater Décor $250
Subfloor $350
Home Theater Chairs (4) $3,980
Wedges for Home Theater Seating (2) $175
X10 Dimmers, Control Box, and ActiveHome Software $250
Da-Lite Dual-Masking Horizon Electrol Screen $4,045
Studio Experience Cinema 20HD LCD Projector $7,995
Grand Total $ 77,176