DIY Reader Home Theater: Reimer
Although it took a total of two years and six months of hard work, an equity line is what really helped me finish my theater. Home Theater magazine, Audio Video Interiors, and the Internet were my main sources of information. The room's dimensions are 13.5 by 19 by 8.33 feet, with a closet in the rear that houses the component rack. I gutted the room to the studs, even the ceiling, and installed a dedicated power circuit for audio, video, and lighting. I ran all the wiring for low voltage in the crawl space and for high voltage in the attic. Some crossing was unavoidable, but, at 90-degree angles, I've had no problems. To begin color selection, I started with the ceiling. I simulated the night sky with Ralph Lauren flat paint in magistrate black. I took a paint chip with me to the garment district in L.A. and found curtain fabric. With those colors to work with, I picked out the wall and trim paint and the carpet to match. I already had the black leather furniture.
The ceiling is 0.625-inch wallboard with a bunch of 1-millimeter drilled holes for the stars. The stars total 1,079, with six constellations. I printed the constellations from the Internet, went to Kinkos, and blew them up to several feet for a pattern. I drilled the rest of the stars at random, about seven per square foot. I bought 6,000 feet of 0.05-inch fiberoptic strand and 1,000 feet of 0.075-inch fiberoptic strand and installed it all one strand at a time with a home run back to the illuminator. Then I duct-taped the strands to the ceiling in the attic after I poked them through about 0.5 inches past flush. I found that, with a flush cut, it would halo badly. After this installation, I painted over all of it. Then I snipped the tips of the fiberoptics to let the light through. For some of them, I just scuffed the tips with sandpaper to give a faint look. The illuminator is tied in with my Lutron Grafik Eye through a relay bank for the cooling fan and twinkle wheel.
I built my component rack from MDF, and I bought a sheet of raw stock aluminum. With a grinder wheel and a file, I cut out all of the pieces to fit my gear. I bought a powder coater from Harbor Freight and powder-coated it all to match the storage drawer and DVD storage tray I purchased from Smarthome. I also took apart all of my equipment and installed the IR repeaters inside to give a clean appearance. Smarthome was also the source for the Makita electric curtain motor for the side window.
The crown molding I made (inspired by Erik Farstad), consists of upside-down baseboard with the crown attached to it. I mounted it a few inches down from the ceiling to allow for lighting behind it. I get a lot of compliments on it. All of the walls have smooth textures, which took endless hours of sanding and several coats of Prep Coat, which is the best invention I've found for Sheetrock work. I sprayed on all the paint and prep. There isn't a brush mark in the room. I have flat paint on the walls and ceiling and eggshell on the crown. On the wall that joins the rest of the house, I ripped two-by-fours in half and built a floating wall about 0.25 inches off of the existing wall for sound deadening, which allowed 6 inches of insulation. I also put number-15 roofing paper over that. A solid-core 36-inch entry door replaced the pocket door and did a pretty good job of keeping the sound in. Under the carpet is Duet foam padding. It's memory foam and has an incredible feel under you feet, unlike even the best quality padding. One great feature is that furniture indentions disappear completely and quickly.
Future Home, in Fresno, California, and Shad Bethke helped me buy the 110-inch Stewart Electric Firehawk screen and the B&W speaker setup. They also sold me bulk wire by the foot for all of the low-voltage applications and hooked me up with the IR repeater system (Xantech). Bethke also helped me out with a lot of technical questions I had.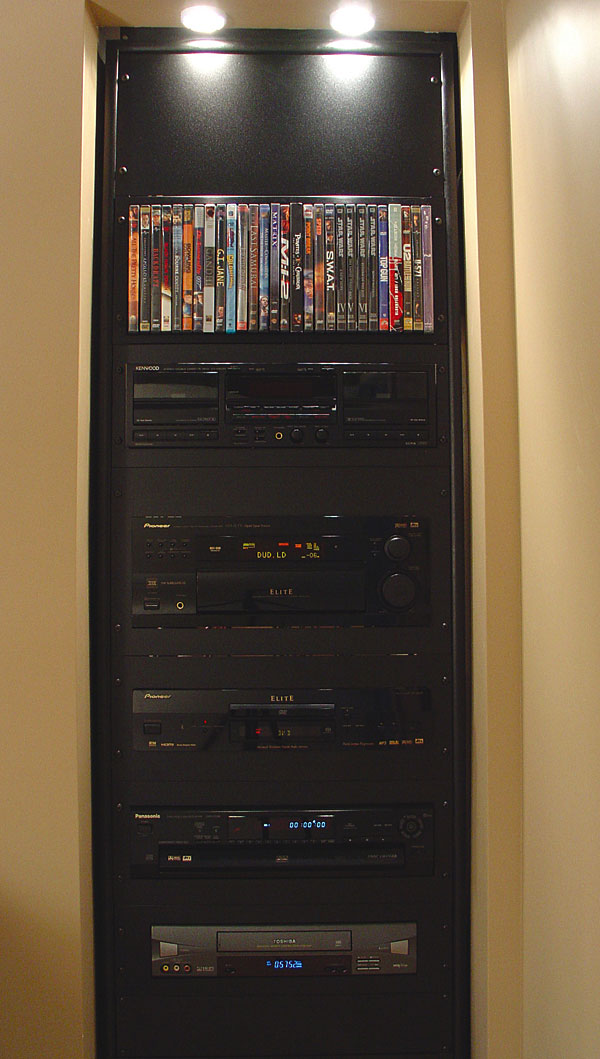 A Panasonic TH-42PHD 42-inch plasma TV is recess-mounted in a wall I built out so the curtains would be flush with the face. The B&W LCR6 S2 speakers are on B&W stands, and, since B&W didn't make a center stand to match, I bought an inexpensive silver one, cut it in half, and re-powder-coated it to match. The surround speakers are in-wall, dipole B&W CDS6s. My subwoofer is an M&K 5000. It's huge and unbelievable! A VSX-35TX Pioneer Elite tuner and DV-59AVi DVD player send movies to a Yamaha LPX-500 LCD projector. A Grafik Eye controls four zones of lighting, and a Philips Pronto Pro remote ties it all together. There was a learning curve with programming the Pronto, but it was well worth it. Home Theater magazine was instrumental in rating much of the equipment I purchased and in providing ideas for the room. I have a total of $28,000 invested in the room.
My only regret is that I didn't shrink the closet down from a full-size closet to just the size I needed for a component rack. That ate up room space I would like to have used for stadium seating of some sort. The other thing is the lack of compatibility between HDMI and my projector. But running extra Cat-5 wire everywhere—and the miniature hi-rez wire bundles—worked out great for futureproofing it. It's wired for 7.1 audio; I'm just waiting for more media to use it.
I designed, built, and did everything except sew the drapes and lay the carpet. This seems to be the common theme with the DIY Theaters in AVI, along with never leaving the room!
My Budget $25,000 Total
How It Works For You
No concept is out of reach. Many people think of a fiberoptic ceiling as a complicated feat that is best left to a professional. A little ingenuity went a long way for this DIYer. When you approach your project, dissect it into bite-size pieces and figure out the best plan of attack. You will end up with a theater that is attainable with all the wow factor you intended. Plan your space efficiently. If a closet is taking up too much room and is wasting extra space, minimize the closet size to give your room a more spacious feel. If you don't make these decisions at the outset, it is harder to go back in and change the room's layout after the fact.