DIY Reader Home Theater: Production Home Perfection
For my first true home theater, I didn't mess around.
The first two homes my family and I lived in suffered from the shortcoming of not having a dedicated space for our home theater, so the TV-based systems with huge tower speakers dominated the family rooms. When it came time to search for our third home, my wife and I made sure to find one with a space for me to practice my hobby.
I wanted the theater in our new home to be as close to technically perfect as possible. My position as marketing manager for a large HVAC and low-voltage contractor allowed me access to some of the best educational opportunities around, including CEDIA trade shows, vendor training, and manufacturer factory tours. I went so far as to become a CEDIA-certified designer, and my family and I even went on the Home Theater Cruise as another opportunity to learn more about the right way to build a theater.
When construction began on the home, I worked with the builder and my employer's design center to customize it to my needs; we installed extensive structured wiring, alarm prewire, CCTV, three zones of HVAC (one dedicated to the theater), 16 zones of distributed audio, and, of course, back boxes and home theater prewire for the family room, master bedroom, and the 16-by-9-by-20-foot bonus room above the garage. The almost rectangular room is now home to a full-blown, 7.1-channel projector-based theater with seating for six.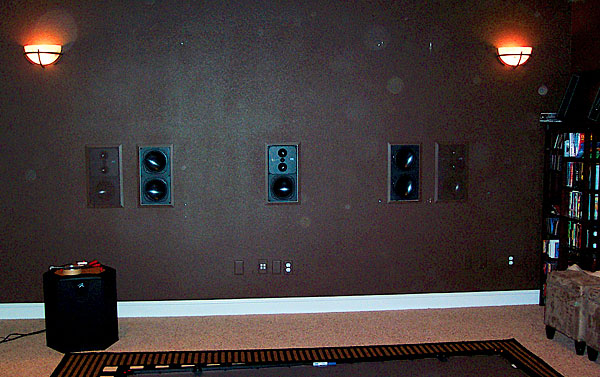 To get everything just right, I tried to mimic the layout of a professional dubbing stage. I used seven matched Sonance Cinema THX Ultra II in-wall speakers, a pair of Sonance in-wall subs (for the left- and right-channel low frequencies), and four JBL Synthesis HTPS-400 12-inch, 1,000-watt subs. The center channel and left and right in-wall subs are concealed behind the 106-inch perforated Stewart Firehawk screen, while the left and right speakers flank the screen, creating an equilateral triangle with the primary listening position, and all front tweeters at seated ear level. The in-wall subs play in stereo from 40 hertz up to 100 Hz, where the signal is handed off to the left and right speakers. The center and surround speakers play from 80 Hz and up, while the subs play everything below that. The left and right surround speakers are in the wall alongside the first row of seating, and the surround speakers are behind the second row of seating. In order to improve bass response, one sub is in each corner, and the seating is at the room's three-fifths and four-fifths points, with the second row on a 10-inch riser for perfect sight lines. I also mounted acoustic panels on the walls to minimize sonic reflections.
To ensure maximum channel separation, each speaker has its own Soundstream 300-watt monoblock amplifier. There are nine of them, and the total system power, including the subs, is 6,700 watts. A Lexicon MC-1 preamp, paired with an Outlaw Audio ICBM-1 crossover, produce the surround signals. All interconnects are Monster Cable M1000. For sources, I currently use a Pioneer Elite DV-47A DVD player (for rentals), an Escient DVD-M100 controlling a Sony DVP-CX777ES 400-disc changer (for our library), a JVC S-VHS HR-S7800U, an HD DVR cable box, and an Xbox with wireless controllers. A Key Digital Flash 4 component video switcher sends the video signal up to a ceiling-mounted InFocus SP7200 DLP projector. Monster Power's AVS2000 and HTS5100 MK II clean and stabilize the AC power, and we use Universal Remote Control's MX850 and MRF300. A Lutron GRAFIK Eye system controls the four zones of lighting in the theater. All of the equipment resides in a Middle Atlantic rack cut into the back of a hall closet just outside the door of the theater that has also been upgraded to a solid-core exterior door on spring-loaded hinges. We also added blackout window treatments to block out any extraneous light.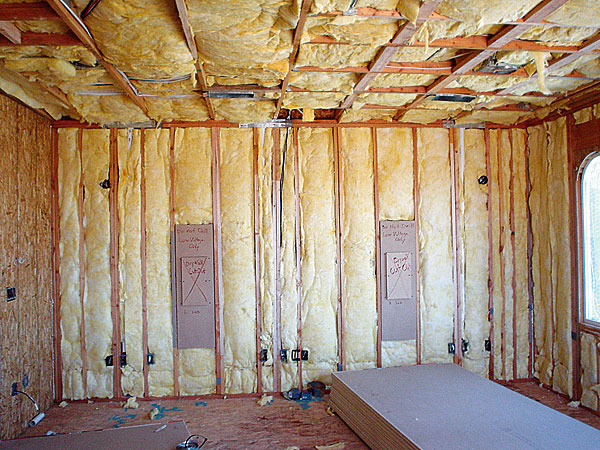 I performed most of the finish work on the theater myself with help from friends and co-workers, as well as two very generous brothers-in-law, one of whom painted the entire room in three coats of chocolate brown (to maximize contrast). The other spent a weekend helping me build the second-row riser/bass trap at the back of the room. My wife was also involved in helping select colors, seating, furniture, and the lighting sconces.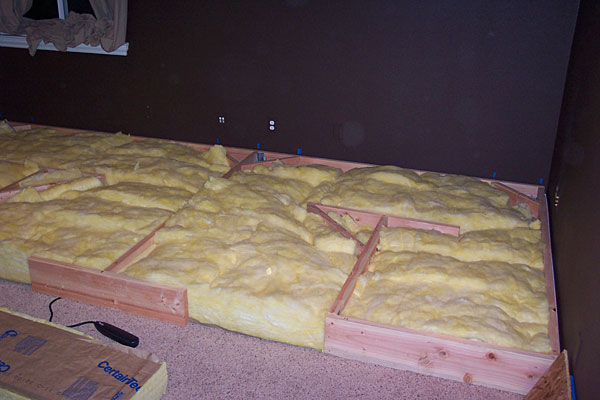 As a family, we enjoy our theater on a regular basis, watching movies, HDTV shows, life-size video games, and special events. The Super Bowl party is always at my house. Future upgrades will include a next-generation disc player, additional theater seating, and a 1080p projector. But for now, we are happy with our almost perfect production home theater.
The 7.1 system includes:
Lexicon MC-1 preamp
Pioneer Elite DVD-47a
Escient DVD-M100
Sony CDX-777 400 disc changer
JVC SVHS 7800 VCR
Microsoft Xbox and wireless controllers
Comcast/Motorola HD DVR - replaced by TiVo HD
Outlaw Audio ICBM crossover
(9) Soundstream M-1 mono block amplifiers
Monster Power AVS 2000 voltage stabilizer
Monster Power HTS 5100 MKII line conditioner
Monster Power HT UPS 500 power supply
Middle Atlantic equipment rack and slide out drawer
Middle Atlantic 915r Rack Mount Power Strip
Universal Remote Control MX-850
Universal Remote Control MRF-300
Infocus SP7200 DLP projector
(5) Sonance Cinema Ultra II LCR in wall speakers
(2) Sonance Cinema Ultra II SUR in wall speakers
(2) Sonance Cinema SUB in wall speakers
(4) JBL Synthesis HTS-400 12" 1000 watt subs
Stewart Filmscreen Firehawk micro-perf 106" 16:9 screen
Extensive Monster Cable interconnects, THX speaker cable, and HDMI
Lutron Graphik Eye
Acoustic treatments