The Deer Hunter
The Deer Hunter
is an at times elegiac look at an America that was. It also explores the domestic woes of the working class, and later takes a brutal view of the experiences and consequences of war. The story follows a group of Pennsylvania steelworkers from their lives in a rural mill town in the Alleghenies, through their bonding on deer hunting trips, into the hell of war in Vietnam, and then back again as the men struggle to re-enter society. In many ways, the film acted as a much-needed catharsis for a still-wounded and healing nation more than four decades ago.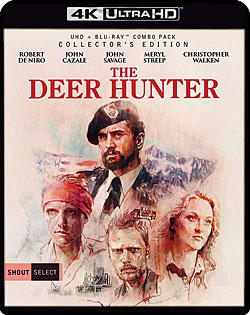 The Deer Hunter was shot on 35mm Eastman 100T 5247 film stock. (Cinematographer Vilmos Zsigmond and journalist Bob Fisher cover such details in the excellent audio commentary included on the disc.) The Ultra HD master used for this edition comes from a recent 4K restoration that yielded a 4K DI complete with Dolby Vision, framed here at 2.35:1. As a consequence of the low-light filming techniques and low film speeds of the day, The Deer Hunter's image has always been on the grainy side, but it is now very crisp and organic with lots of detail. Dolby Vision high dynamic range gives good pop to the highlights in elements such as the flames in the opening scene's steel mill and the explosions during the Vietnam battle sequence. The format's wide color gamut brings out an impressive range of hues in the stained-glass window of a church, whereas the same shot on the accompanying regular Blu-ray has a flat, magenta appearance.
There are two audio options for The Deer Hunter: a lossless DTS-HD Master Audio 5.1 remix and a Dolby Digital 2.0 stereo mix. The 5.1 soundtrack, presumably a reconstruction of the 70mm six-track audio from premium venues of its era, sounds big and wide, with plenty of atmosphere and discrete effects coming from way off on the sides. There's also some extended low end during the brief war sequences, plus clear dialogue throughout.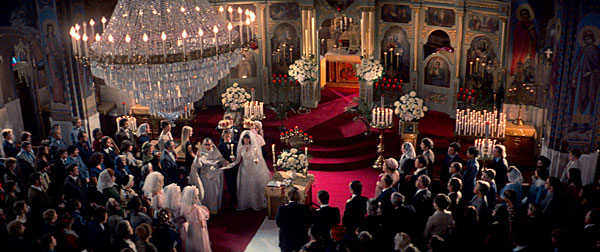 Shout! Factory includes four modern-day interviews on the regular Blu-ray, two minutes of radio spots, a high-definition stills gallery, 39 minutes of deleted and extended scenes, and the original theatrical trailer. But the bonus features highlight is the aforementioned commentary with Zsigmond and Fisher—a treat for cinephiles and history buffs alike.
ULTRA HD BLU-RAY
STUDIO: Shout! Factory, 1978
ASPECT RATIO: 2.35:1
HDR FORMAT: Dolby Vision/HDR10
AUDIO FORMAT: DTS-HD Master Audio 5.1
LENGTH: 183 mins.
DIRECTOR: Michael Cimino
STARRING: Robert De Niro, Christopher Walken, John Cazale, John Savage, Meryl Streep
With a heavyweight cast including Robert De Niro, Christopher Walken, John Cazale, and Meryl Streep, 1979's five-time Academy Award-winning (including for Best Picture and Best Director)