Chesky Records Uses Its Head to Make Better-Sounding Music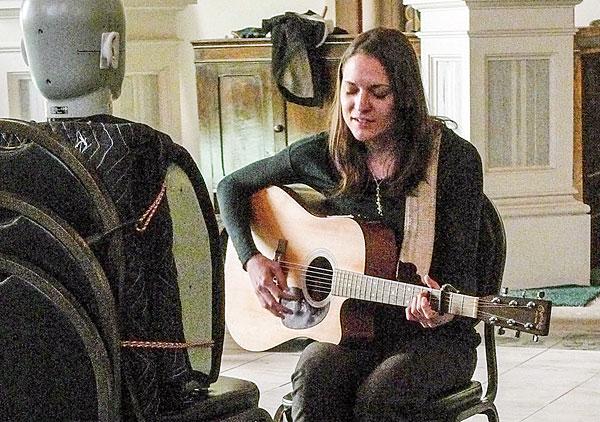 I met singer-songwriter Amber Rubarth when she was recording her first Chesky Records album, Sessions From the 17th Ward, back in 2012. I instantly fell in love with her music and the sound of her voice, but more than that, I was amazed by how relaxed she was making an entire album in just two days. Most of the tunes were hers, and they were consistently good, but her covers of Tom Waits' "Hold On" and Bob Dylan's "Just Like a Woman" blew me away. No wonder legendary record producer Phil Ramone said Rubarth was "part of the new old-soul generation."
Chesky's high-resolution recording methodology is anything but conventional. Rather than use separate microphones to pick up the sound of Rubarth's vocal and each instrument, producer David Chesky and engineer Nicholas Prout use a single B&K 4100-D binaural dummy head with microphones in its ears. With the band members carefully positioned around the head, all the music was recorded live at the Hirsch Center church in Greenpoint, Brooklyn, with no after-session mixing, overdubs, balancing, compression, Auto-Tune, or processing of any kind.
Chesky didn't invent binaural technology; it has a long history dating back to experiments in 1881. With modern techniques, binaural creates a fully immersive 3D soundstage over headphones (and also sounds great over speakers). The sound of that first Rubarth session is fully intact on the finished Sessions From the 17th Ward CD and the high-resolution (up to 192-kHz/24-bit) binaural files of the album.
So when I heard Rubarth was recording a second album with a string trio, I made a beeline to the Hirsch Center to grab a front-row seat. I've attended more than a few Chesky sessions over the years, but this time I had a different agenda: I wanted to learn about how binaural works from the artist's point of view. Rubarth immediately volunteered that she was more likely to make bold choices when she records binaurally than she would in a multitrack studio where you assemble tunes from bits and pieces of sound.
Rubarth bumped into cellist Dave Eggar seven years ago when they were both playing gigs at Rockwood Music Hall in New York, and they have since collaborated on a number of projects. Eggar introduced Rubarth to David Chesky and played on and co-produced Rubarth's first album.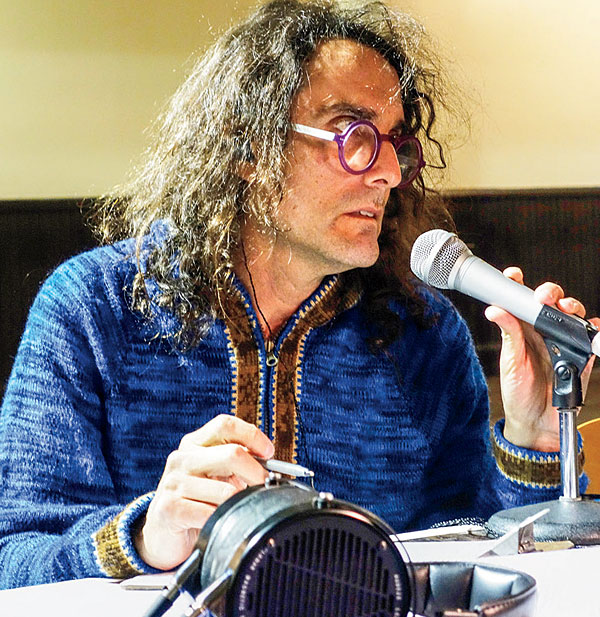 Eggar told me there's an adrenaline rush to recording when you can't later go in and fix mistakes, adding, "Everyone is emotionally present and invested, especially when the lyrics are pushing the envelope—that really helps." Eggar feels music is played differently than it would be in a studio session. Recording binaurally is much closer to playing a concert.
Eggar remarked that even though the group rehearsed for a few days, it was only when they were all together at the session that the church's acoustics and vibe became active participants in the music. I think that's because all of the musicians were really into recording this way, and they loved that they could hear each other's sound filling the church's acoustic space. It's very different than playing in a dead recording studio, with each musician hearing a mix over headphones.
The quiet intensity of the group working out R.E.M.'s "Losing My Religion" was a real thrill for me, and Elliot Smith's "I Didn't Understand" raised the stakes yet again. There's also a couple of lovely instrumental tunes, "Grass Top," and "You Got Through (Reprise)" that were written by Rubarth. She worked even faster on this session for the new album, which came to be called Scribbled Folk Symphonies. She recorded all 13 tunes in one day!
Rubarth feels her vocals sound better on Scribbled Folk Symphonies, because she better understands how binaural microphones hear her, and getting the balance just right sometimes requires the other musicians to play more quietly than they're used to. It's not easy to take it down and still keep the emotional core and power of the music, so Eggar picked musicians that can play that way. He had Katy Kresek and Victoria Paterson on violins, Jessica Meyer on viola, Katie Scheele on oboe, Chuck Palmer on percussion, and he played cello. When the group listened to playbacks, they were all amazed by how binaural recording so faithfully captured the sound of being there. Recorded music never gets better than that.
In the interest of full disclosure, I have from time to time worked for Chesky Records.—SG