CEDIA 2021: The Incredible Shrinking Expo
During the latter half of this summer, my attention had been fixed on the CEDIA Expo tradeshow, a showcase for home theater, automation, and multiple other developments in connected home technology that's scheduled to take place this week in Indianapolis, Indiana.
CEDIA Expo 2021 was pitched by the event's organizers as a "reunion," and with the 2020 in-person show having been canceled for obvious reasons, that label would certainly have applied. But most key exhibitors have dropped out of Expo over the past two weeks due to the sudden, rapid rise of the Covid-19 Delta variant nationwide, making the prospect of attending the show in-person also untenable for me.
With its intimate scale and wide range of new gear and technology on display, Expo has long been my preferred A/V event. I had looked forward to walking the show carrying S&V's August/September print edition, an issue that celebrates home theater and the cutting-edge products and companies that make the highest-quality home movie-viewing experience possible. And while a September 2021 return trip back to business-as-usual did not come to pass, the August/September issue's content covers a good spectrum of what I would have witnessed this week in Indianapolis. A few examples:
In Two Decades with Kaleidescape, S&V's resident custom installation expert and Connected Life columnist John Sciacca looks back at his long association with Kaleidescape, a firm that has consistently pushed the video server envelope to make movie collections more manageable, and the onscreen experience of browsing one's library visually captivating.
We also tested a new woven projection screen material from Stewart Filmscreen designed for both true acoustic transparency and color accuracy — a tricky technical combination to pull off — in sophisticated installations that situate the system's speakers behind a screen, along with a 123-inch (!) model from EPV Screens designed for media rooms that use an ultra-short-throw projector.
Technical editor Thomas J. Norton's Guide to Projection Screens is a must-read for anyone who wants to learn more about screens and the science behind the various types. Lastly, to get a sense of how a sophisticated home theater room comes together when both interior design and acoustic design professionals collaborate, check out Bob Ankosko's feature on KEF's THX Certified Music Lounge Theater installation.
Even with all the connected home tech typically on display at CEDIA Expo, the show has long been a venue for manufacturers to launch traditional A/V gear like projectors, speakers, surround sound processors, and amplifiers. I was of course looking forward to dropping in and experiencing some of the other innovative, high-performance products S&V reviewed in the August/September issue — the Trinnov Audio Altitude16 processor and SVS 3000 Micro subwoofer, for instance. Oh well, maybe next year at CEDIA Expo 2022. Let's hope!
The Making Of All Things Must Pass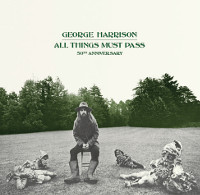 Another August/September issue highlight is Beatles expert Matt Hurwitz's deep-dive feature on the recording of guitarist George Harrison's epic 1970 solo album
All Things Must Pass
. Matt's
feature
explores the circumstances that led to the assembly of that session's star-studded core band, which featured Eric Clapton, Ringo Starr, Billy Preston, Klaus Voorman, Peter Frampton, Badfinger members, and others. It also details the remixing process for the album's 50th anniversary release with the music appearing on vinyl, CD, and a Blu-ray disc with Dolby Atmos surround.
All Things Must Pass
is widely considered Harrison's finest solo work, and its 50th anniversary release is a box set that we eagerly anticipated hearing. Did you get a chance to listen to the remix? If so, what did you think? Let us know in the comments section below.