CD REVIEW: Paul McCartney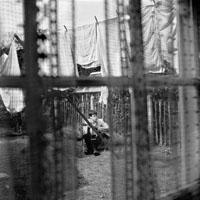 Chaos and Creation in the Backyard Capitol
---
Music ••• Sound ••••
It's a return to basics, a return to form - a return to Beatlesque songwriting! It's...
Flaming Pie
, of course. What? You don't remember that particular Paul McCartney album? Neither does
Time
magazine's Josh Tyrangiel - who claims that
Chaos and Creation in the Backyard
, McCartney's 20th record, is "the first album in his post-Fab Four catalog that really matters." Dismiss
Flaming Pie
(and
Tug of War
) if you must, but ever hear of a little disc called
Band on the Run
? A great deal of the press on
Chaos
has been similarly hysterical, and the same words keep popping up to praise its nonrocking gravity: "quiet," "dark," "eerie," "emotional," and "complicated" (and "emotionally complicated"!).
I don't want to spoil the pensive party, but a track like "Riding to Vanity Fair" is a fair-to-middling song that doesn't really go much of anywhere - and there are many more tracks like it here. Meanwhile, producer Nigel Godrich (Radiohead, Beck) brings in a lot of unnecessary string sections and otherwise helps keep McCartney morose.
Still, in spite of itself, this remains a good-enough album. "Fine Line" is a solid pop tune, "How Kind of You" is a beautiful ballad, and "Friends to Go" is a jaunty ditty. I'll also take the cute "English Tea," even if it shamelessly serves up "For No One" on a "Penny Lane" tray. Then again, "Jenny Wren" is so "Blackbird" (and "A Certain Softness" is so "Bluebird") that if Paul McCartney were John Fogerty in the 1980s, Saul Zaentz would be suing him multiple times for self-plagiarism.