CD Review: Marah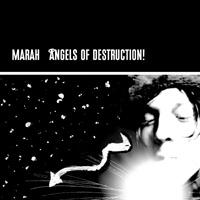 Angels of Destruction! Yep Roc
---
Music •••½ Sound •••½
Marah's fifth studio album (technically, it's the sixth - but like most fans, I have taken to pretending that the 2002 attempted sellout Float Away with the Friday Night Gods never actually existed) is another sprawling, glorious racket, and God bless everybody involved with it. Once again, the sonic template is Bruce Springsteen fronting the Replacements in a late-night performance of the Rolling Stones' Exile on Main St. But this time, things get even more wildly eclectic: You hear Salvation Army jazz bands, bagpipes, banjos, mariachi horns, and birds chirping in the night, along with the usual guitars turned to 11. There's a hint of the Faces' careening, drunken cacophony as well, and there's a slightly surreal quality to all of it that may well remind you of Bob Dylan and The Basement Tapes.
The songs themselves, as usual written primarily by frontguys/brothers David and Serge Bielanko, are mostly barroom rockers with enormous heart. (If you can get through a skewed love song like "Blue but Cool" without getting misty, you're probably just being difficult.) But there are some interesting left-field surprises like the ominous opener, "Coughing Up Blood" (at the very least, one of the oddest might-be-anti-drug songs you'll ever hear), and basically there isn't a dull moment in the set.
Is it as good as Kids in Philly, the band's 2000 masterpiece? No, but since I can't think of any other American rock album since then that is, it seems rather churlish to kvetch.
more Entertainment reviews Back to Homepage What's New on S&V