CD Review: Jim Lauderdale & the Dream Players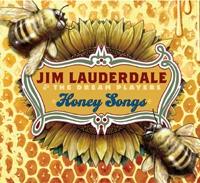 Honey Songs Yep Roc
---
Music ••••½ Sound •••½
Honey Songs is the second in a series of three stylistically varied albums to be released in close proximity by Nashville songwriter nonpareil Jim Lauderdale. (The first was The Bluegrass Diaries, which appeared last September; the third, still to be announced, is another collaboration with Grateful Dead lyricist Robert Hunter.) With this prolific output, he joins a country club whose charter members include Ryan Adams (who released three albums in 2005) and Vince Gill (whose four-disc leviathan These Days just won the Grammy for Best Country Album, keeping company with the Grammy for Best Bluegrass Album won by Lauderdale's Diaries). This Guinness Book of World Records approach is fine if the quality justifies the quantity - and in Lauderdale's case, it does so in spades. Every track on Honey Songs is a keeper, and a couple of them have the ring of classics.
The album succeeds because of consistently strong songwriting, Lauderdale's involving vocals, and an all-star band that kicked every tune to life in the studio. Sixty-eight-year-old James Burton - the legendary guitarist and sessionman who worked with Rick Nelson, Elvis Presley, Emmylou Harris, and countless others - is the spark plug, providing tart Telecaster licks, fills, and riffs throughout. For instance, listen to his chicken-pickin' wizardry on "Stingray." Also in Lauderdale's cast of Dream Players are drummer Ron Tutt, keyboardist Glen D. Hardin, pedal steel guitarist Al Perkins, acoustic guitarist Steve Sheehan, and E Street Band bassist Gary Tallent, names that will be familiar to anyone who's studied album credits over the last three or four decades.
Still, Honey Songs is more than a peerless, well-recorded picking session, since Lauderdale's songs are the real stars of the show. Where to begin? "Those Kinds of Things Don't Happen Every Day" is a feel-good song that earns its emotional stripes with details, heart, and authenticity. Lauderdale gets his George Jones on in "I Hope You're Happy," cracking and snapping his Southern-accented vocal cords as he ranges from a baritone croak to a honeyed falsetto. "Hittin' It Hard," taken at an amiable midtempo, counsels moderation to an overindulgent acquaintance without getting preachy ("Take a break for your sake / Leave a little left over / Save you some candle to burn"). "The Daughter of Majestic Sage," a gorgeously detailed ode to the look and feel of the Western lands, would've done Marty Robbins proud. And with its jazzy pop lilt, "Borrow Some Summertime" sounds like Burt Bacharach in a Nashville state of mind.
Lauderdale is to be commended for harking back to vinyl-era brevity. There are 10 honey songs here, in 36 minutes - all killer, no filler. Can you remember the last time you heard an album without a single bum track?
more Entertainment reviews Back to Homepage What's New on S&V