CD Review: Björk Page 2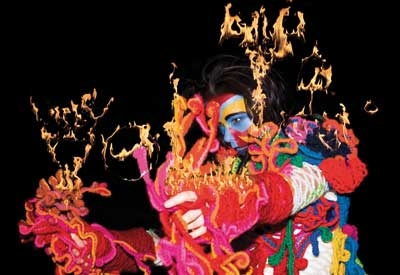 Meanwhile, Björk's think-global/act-local, think-local/act-global worldview remains as dizzily intact and as refreshingly fizzy as ever. "I See Who You Are" is a lullaby for her young daughter, which includes this, er, unique invitation to a parental hug: "Later this century, when you and I will become corpses / Let's celebrate now all this flesh on our bones / Let me push you up against me / Tightly." And then there's the anthemic "Declare Independence," which encourages everyone to "Start your own currency . . . make your own flag . . . raise your flag . . . higher, higher." Of course, it probably goes without saying that Björk's own is one freaky little flag. And in these mostly dull-as-dishwater cultural times, more power to her.
As that great soothsayer of old - Sam the Sham - once remarked about Greenwich Grendel, the Village Queen: Björk is so far out, she's in. Must be something in the fish oil, eh?
more Entertainment reviews Back to Homepage What's New on S&V
LATEST VIDEO
WHERE TECHNOLOGY BECOMES ENTERTAINMENT