Captain Marvel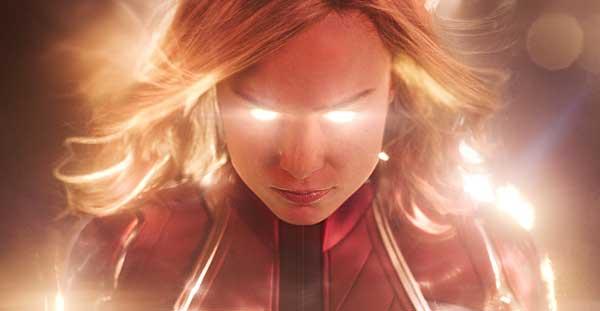 Captain Marvel
. If the cryptic flashbacks of her former life are to be believed, she's always been tough as nails, even as a kid, so there's no real character arc—an essential component for Marvel superheroes. Following an encounter with the shapeshifting enemy Skrulls, Vers crash-lands on Planet C-53, the Terran homeworld (a.k.a. Earth), in 1995, where she eventually learns the truth about her identity and gets a lesson to not trust wartime propaganda. Ultimately,
Captain Marvel
has too much mystery and not enough action, although Academy Award-winner Larson's smartass-and-sass help somewhat. But the movie is also a necessary introduction to the potential savior teased at the end of
Avengers: Infinity War
, poised to tip the balance in
Avengers: Endgame
, so it's definitely worth a look.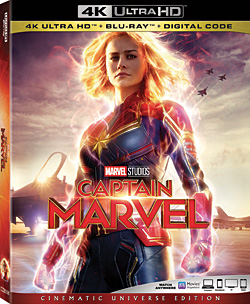 High dynamic range gets keenly exploited, with many scenes cast in shadow and smoke and clouds of dust, yet the 2.39:1 image is impressively nuanced. Bright-hued weapons pulse sharply against the darkness in an early firefight, and although it takes time for the classic red/yellow/blue costume from the poster to debut, those primary colors appear deep and vibrant. I could certainly appreciate the visual difference versus the bundled 1080p Blu-ray, which looks flatter and more crushed. The extensive special effects, the futuristic Kree civilization in particular, are rendered in such exquisite detail that 4K is the only way to fly with this one.
The soundtrack has outstanding directionality with ample discrete cues to engage the viewer, plus convincing environmental touches. Kick-butt bass in that firefight sequence lends authority to the zap of the powerful energy weapons. Dolby Atmos adds a welcome dimension, and is used in clever ways, such as when disembodied voices discuss the invasion of Vers' mind. It's a noticeable step-up from the regular Blu-ray's DTS-HD Master Audio 7.1 track, and the mid-'90s pop tunes sound terrific here as well.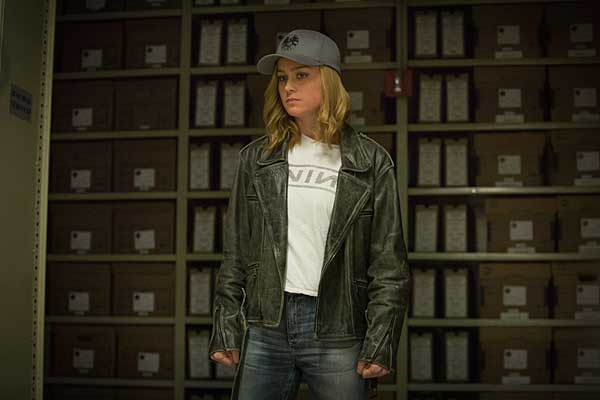 All of the bonus content appears on the regular Blu-ray only. In their commentary, directors/co-writers Anna Boden and Ryan Fleck display a remarkable ability to explain the obvious, while the deleted scenes are mostly full of unnecessary exposition. The redundant featurettes don't really say much (the one about real heroines of the Air Force is an exception), while the gag reel is not especially funny. Although it's technically not an "extra," the highlight for me is a tribute to the late, great Stan Lee.
Ultra HD Blu-ray
Studio: Walt Disney, 2019
Aspect Ratio: 2.39:1
HDR Format: HDR10
Audio Format: Dolby Atmos with Dolby TrueHD 7.1 core
Length: 124 mins.
Director: Anna Boden and Ryan Fleck
Starring: Brie Larson, Samuel L. Jackson, Ben Mendelsohn, Jude Law, Annette Bening, Lashana Lynch

Intergalactic Kree warrior Vers (Brie Larson) is a total badass. And that might be the problem with the latest MCU solo outing,