Bullet Train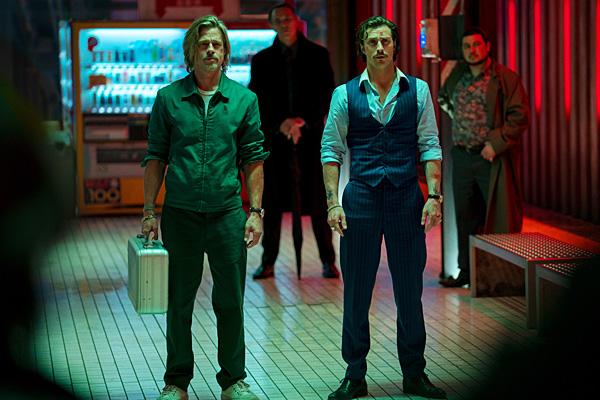 Bullet Train
is nonetheless a rousing, violent and quite funny adventure. The story moves as fast as the locomotive itself, indulging themes of fate, luck and revenge as an errand boy (Brad Pitt) dealing with a midlife crisis runs afoul of assassins and international crime syndicates, all of them circling a high-value briefcase while the clock counts down to their ultimate destination. With that many armed and dangerous individuals together in a confined space for a few hours, there's copious blood and gore, more often played for laughs thanks to the playful direction of Deadpool 2's David Leitch. Once again, he dishes out the sort of stunt-filled and special effects-enhanced extravaganza that we love going to the cinema for, and now for giving the home theater a healthy shakedown.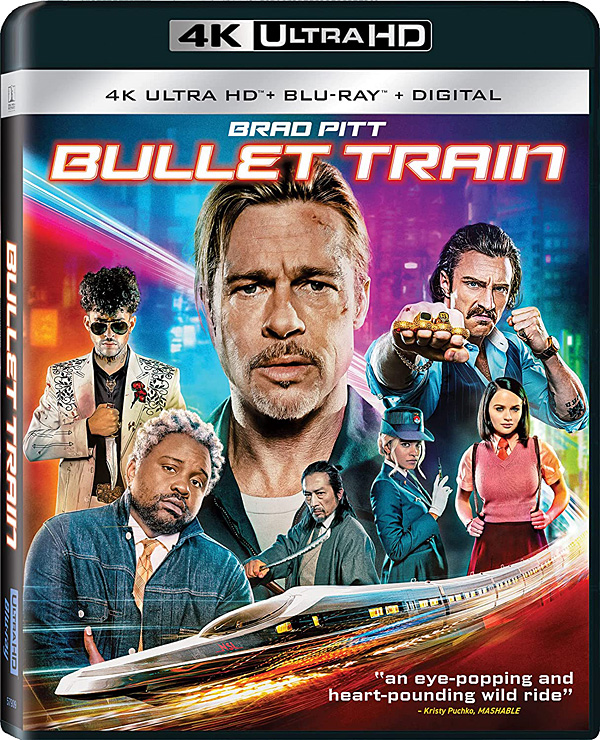 All the neon colors of Tokyo at night lure us in; like jewels set against deep, velvety blacks; and soon enough the thoughtfully curated palette inside the train—where most of the movie takes place—is revealed to be vibrant, varied, and at times almost cartoony, also displaying a lovely subtlety to the skin tones. Working from a true 4K master, the 2.39:1 image here is immaculate and perfectly stable even with fine lines and in challenging lighting situations. Dolby Vision HDR supports a pleasing brightness in all scenes and accentuates some key highlights without ever being a distraction.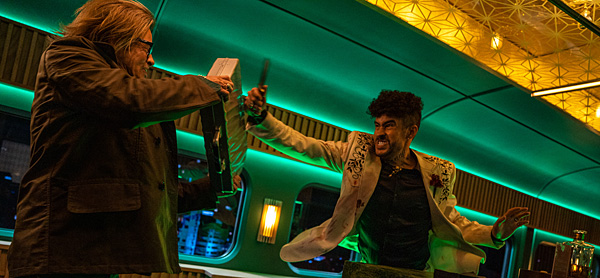 Audio is as dynamic as we should expect, the sharpness of the aggressively mixed cues effectively selling the intensity of the frequent action, from bullets to blades to creative hand-to-hand combat. On the platform, we can feel the whoosh of the train speeding by and within the cars its omnipresent sonic character hangs credibly overhead as it zips along, much like the constant drone of an airplane in flight. Carefully placed environmental cues further serve to immerse us in the experience. The 4K disc's Dolby Atmos track is a noticeable step up from the included HD Blu-ray's more pedestrian but still excellent DTS-HD Master Audio 5.1 mix.
Both platters include audio commentary by director Leitch, joined by producer Kelly McCormick and screenwriter Zak Olkewicz for a lively discussion. The HD Blu-ray adds bloopers and featurettes, some a little more obsequious than others. A Movies Anywhere digital copy code is supplied so we can watch Bullet Train the next time we travel via any mode of transportation, sure to liven up any trip.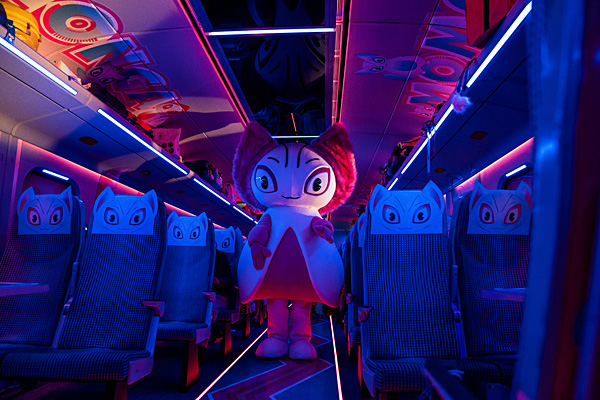 Ultra HD Blu-ray
STUDIO: Sony, 2022
ASPECT RATIO: 2.39:1
HDR FORMATS: Dolby Vision, HDR10
AUDIO FORMATS: Dolby Atmos with TrueHD 7.1 core
LENGTH: 127 mins.
DIRECTOR: David Leitch
STARRING: Brad Pitt, Joey King, Aaron Taylor-Johnson, Brian Tyree Henry, Andrew Koji, Hiroyuki Sanada
Technically not a "non-stop thrill ride" (it's a classy commuter vehicle so passengers need to board and disembark periodically),