From Boston with heartache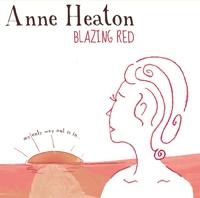 Spill
---
Music ••• Sound •••
There's a certain kind of female singer/songwriter that seems to flourish in New England: thoughtful, emotionally intense, and slightly haunted. Chicago native and current Boston-area resident Anne Heaton is all of the above on her third album, which marks her as a kindred spirit with the likes of Rose Polenzani (who sings backup here), Jennifer Kimball, and (in her calmer moments) Kristin Hersh.
Indeed, the opening line of Blazing Red is "I'm ready to be afraid," and so many emotional revelations follow that Heaton risks overdoing it. After hinting at a painful childhood in "Pieces of Me" and a painful love life in "Crystallize," she concludes that love resides "Where Your Scar Is" and invites you to come with her "Out to Sea."
Any takers?
Don't answer right away, because I haven't mentioned her voice yet.
What a gorgeous, supple voice it is, and one that changes shape depending on the lyric - absolutely pure on the opening "Jump" but older and more worldly on "Fire Sign," appropriate for an end-of-the-affair song. And much of the album is designed to let you bask in that voice, because the arrangements are built on Heaton's own keyboards (and hardly any guitars); only on the sample-driven "Crystallize" does the tempo approach upbeat.
"My Only Way Out Is In" is the one attempt at a pop song - and one that doesn't quite work, mainly because the lyrics are too obvious therapy-speak. The rest is more convincing, as Heaton delves into more complex territory. ("Momma to You" handles upcoming childbirth with proper gravity.) The production maintains a late-night, intimate feel, and Heaton's melodies are attractive enough to keep you waiting for her next confession.