Bose Goes Custom
Dealers are often advocates of their favorite products but I have found few dealers as fired up over a product line as Dave Rutz, owner of Dave's Home Entertainment. To say he is a strong supporter of the Bose BUILT-INvisible product line would be a serious understatement. To hear Dave tell it, this specialty line from Bose is perfect for the next generation of home entertainment enthusiasts due to the brands perceived quality, value, and performance.
Designed from the ground up for the custom installation (CI) channel, the Bose BUILT-INvisible design team created products that follow the CI trend toward low-profile, hidden solutions with in-wall /in-ceiling speakers and a bass module that goes underneath the flooring. Best of all a complete system is far less expensive than traditional multi-brand systems.
In this recent installation, Dave Rutz and lead installer, Jerry Reedy, designed an eight-zone, whole-home audio system with three flat panel TV's for less than $19,000. Total integration between these Bose products contributes to the low cost of entry and overall reliability.
These specialty Bose products were developed not only for new construction but also for retrofitting into existing homes as hard-wired or wireless systems. Dave believes that more CI dealers will shift their focus to consumers with existing homes and limited budgets because this has largely been an untapped market full of opportunities.
The Bose Lifestyle Music Center, the heart of the entire system, features uMusic intelligent playback with hard drive storage for up to 340 CDs that can be ripped automatically from the built-in CD/DVD player. It also features a built-in room audio calibration circuit called ADAPTiQ which custom tailors the tone quality and speaker balance in the theater, based on the homeowner's room and furnishings. The RC-38T remote manages the Bose functions, in addition to all other sources and video displays, eliminating the need for a third-party controller that requires expensive programming.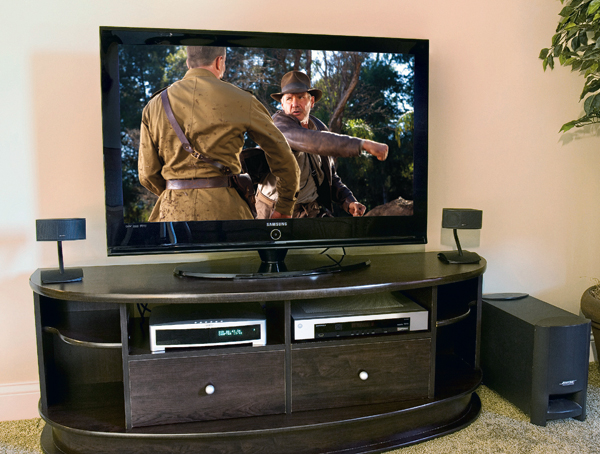 There are a wide range of BUILT-INvisible extension audio products and Dave used four different solutions to best accomplish the homeowner's intended purpose. Bose 151SE environmental speakers were placed in the patio, while Bose 191 Virtually Invisible speakers were installed in the ceiling of the kitchen, wet bar and master bedroom. In the den, the freestanding Lifestyle RoomMate, a self-powered speaker, was chosen due to its unobtrusive footprint and big sound. In the loft, the Bose 3.2.1 freestanding home theater operates as either a stand-alone system or functions as a zone for the distributed audio originating from the music center.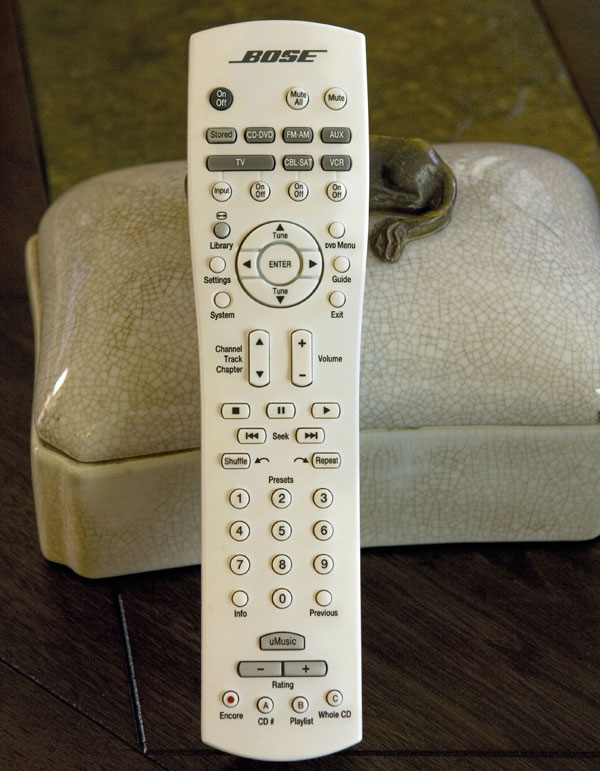 What makes the entire home system function with ease and simplicity is the Personal music center II zone controller. This hand-held (or wall-mounted) remote features an LCD display, which gives access to all the homeowner's music sources from any room in the house or yard. Using two-way RF communication with the Lifestyle media center, the Personal music center II gives complete pushbutton access to radio stations, iPod, and the homeowner's stored music collection.
"The Bose BUILT-INvisible system is unquestionably a value by custom installation standards," says Dave Rutz, "Yet it offers much of the same elegance in design and flexibility as systems costing two to three times more. These pre-engineered systems not only minimize installation time but they always assure complete custom satisfaction."