Blade Runner: The Final Cut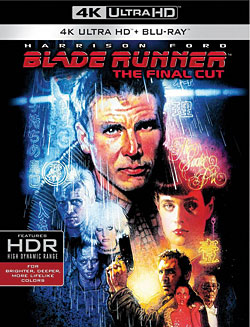 Blade Runner was shot in the anamorphic format on 35mm Eastman 100T 5247 film with special effects done on 65mm Eastman 100T 5247 film. The Final Cut used a 4K digital intermediate master and arrives on 4K Ultra HD in an HEVC 2160p (4K) encodement framed at 2.40:1 with HDR10 high dynamic range. This Ultra HD release is very crisp, and the gritty look that has always defined it is retained, with even more detail and depth of field thanks to the HDR and extra resolution. The colors in the neon-lit cityscape are jaw-dropping, but the shadow detail and inky blacks make it look almost 3D at the same time. The scene where Deckard applies the Voight-Kampff test to Rachael, with the shade of the amber light peering through, is just one of the stunning scenes that shows off the pop of the HDR and the extended detail and color gamut.
Blade Runner has been remixed to a Dolby Atmos (TrueHD 7.1-compatible) soundtrack. The film has never sounded better, whether it's the din and clatter of the streets fully surrounding us, the flying cars whooshing overhead, or the dynamics of the Vangelis score.
Warner includes the fantastic 3½-hour-long "Dangerous Days: Making Blade Runner" on DVD. Also in this filled-tothe-brim set is a Blu-ray with The Final Cut and a second Blu-ray containing the U.S. Theatrical, International Theatrical, and Director's Cuts. Three audio commentaries are provided: one with Scott, one writer/producer commentary, and one with noted visual futurist Syd Mead. An HD UltraViolet Digital Copy is also included.
Blu-Ray
Studio: Warner Bros., 1982
Aspect Ratio: 2.40:1
Audio Format: Dolby Atmos / TrueHD 7.1 core
Length: 117 mins.
MPAA Rating: R
Director: Ridley Scott
Starring: Harrison Ford, Rutger Hauer, Sean Young
Ridley Scott's stunning dystopian allegory about the meaning of life, where technology ends and humanity begins, Blade Runner—from the Philip K. Dick cyberpunk novel Do Androids Dream of Electric Sheep?—draws from many influences. Perhaps the strongest are the classic Fritz Lang film Metropolis and the Heavy Metal sci-fi magazines of the 1970s. The story follows gruff lawman Deckard (Harrison Ford) chasing androids called "replicants" that are nearly indistinguishable from humans. Deckard falls in love with one of the female replicants he's hunting, Rachael (Sean Young), who was until recently unaware she wasn't human. The film climaxes in a brutal battle between Deckard and the inimitable Rutger Hauer playing a desperate replicant trying to extend his life. The film (appearing here in its 2007 Final Cut version) has gone on to influence many films including The Fifth Element and Ghost in the Shell.