Billy Joel: A Matter of Trust: The Bridge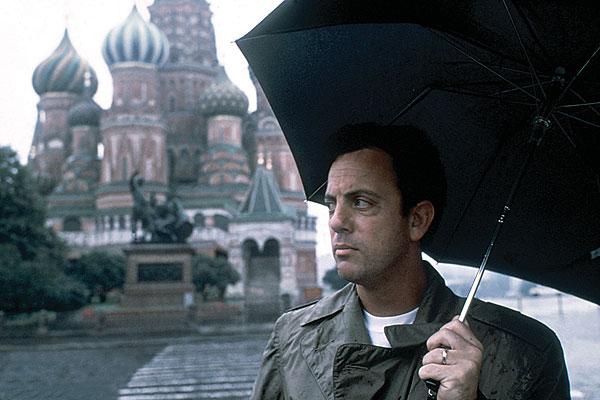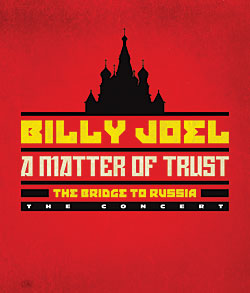 For this collection, 11 more of the live show's songs were added to what was released on KOHUEPT in 1987. Disc 1 opens with "Odoya," a traditional a capella gem Joel and his bandmates sang in Tbilisi alongside the eight members of Zhournalist, a Georgian men's choir. Here, centuries-old harmonic structure and cadence mesh with street-corner doo-wop, all dollopped with cathedral-exact echo. And that pours right into the punk (yes, I said punk) fury of "Angry Young Man," where you can see in the Blu-ray concert how abjectly shell-shocked the commissars and bureaucrats seated in front in Leningrad were hearing it. As Joel began connecting more directly with the younger crowd members, the swinging modern-jazz blaster "Big Man on Mulberry Street," the angst-via-phone lust letter "Sometimes a Fantasy," and the randy down- town sneerfest "Big Shot" displayed additional pied-pipery punch.
Joel has long admitted his voice was strained during the Moscow and Leningrad tour dates, but he holds up well, bringing character, tone, and conviction to both ballads and rockers. But background vocalist Peter Hewlett steals the vocal show each time he reaches into the stratosphere of his upper register while extending the second syllable of the "I am" declaration in the choruses of "An Innocent Man." And listen for the absolute clarity of the triangle when the band drops out after Joel sings, "you'd rather be a martyr tonight."
In the wake of all the recent Russian repression, the shared values put forth in Trust seem more poignant than ever. As Joel himself said during a SiriusXM town hall performance this April, "the leaders don't necessarily represent the people." And the true thrust of Trust reminds us the joyful soundtrack of freedom should always outweigh the somber tones of oppression.
CD, Blu-ray & DVD
Label: Columbia/Legacy
Audio Formats: 44.1-kHz/16-bit PCM stereo (on 2 CDs and 1 DVD); DTS-HD Master Audio 5.1, Dolby TrueHD 5.1 (on 1 Blu-ray)
Number of Tracks: 27 on 2 CDs
Length: 2:06:38 (CDs), 1:21:00 (Blu-ray), 1:14:00 (DVD)
Producers: Phil Ramone, Jim Boyer, Brian Ruggles
Engineers: Brian Ruggles, Tim Leitner
"What did you do in the Cold War, Daddy?" It was a question Billy Joel felt his daughter Alexa would ask someday, and at the height of the most decidedly chilly U.S.–Russian relations in the '80s, Joel didn't have an acceptable answer. So he packed up all of the gear, crew, and machinations behind his mammoth Bridge Tour and headed to Russia to spearhead the largest-scale tour a Western musician had ever done in the Soviet Union. A Matter of Trust is the four-disc box set that serves as an extended chronicle of the time in July and August 1987 when an animated American piano man opened the eyes and ears of an Eastern Bloc country just beginning to experience the rise of freedom.