Best Home Theater Speakers of 2019 (So Far) Page 2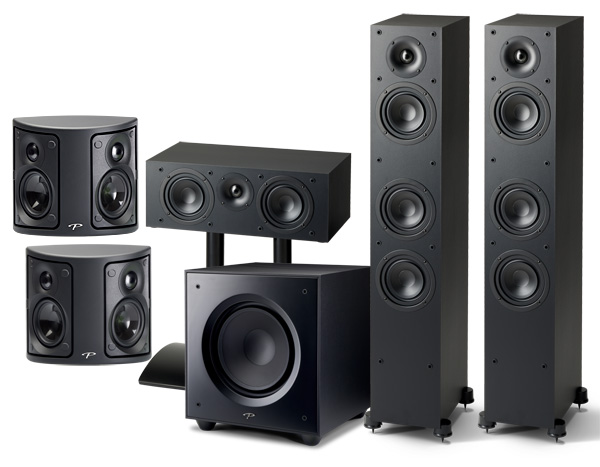 Paradigm Monitor SE 3000F Speaker System: $2,144 (as reviewed)

Nestled in Paradigm's impressive range of speakers is a tower-based home theater suite tailor made for enthusiasts on a budget. The SE 3000F's style and finish may be basic, but its performance is anything but thanks to a number of well-considered features, including bi-directional surround speakers, a robust subwoofer, and apps for tweaking subwoofer performance and creating a custom EQ filter to overcome anomalies caused by room acoustics. Veteran reviewer Al Griffin summed it up this way: "At just over two grand, Paradigm's Monitor SE system offers strikingly good sound for the money."
AT A GLANCE
Plus
Impressive performance for price
Surround speakers provide flexible installation options
Subwoofer with app control and room correction
Minus
Basic build quality and looks
Paradigm Premier 700F Speaker System: $4,700 (as reviewed)

Paradigm, one of Canada's most formidable speaker companies, has continued its long tradition of building excellent, audiophile-approved speakers with the Premiere 700F speaker system, reviewed in a 5.1 configuration with the Defiance X12 subwoofer reviewer Tom Norton called "phenomenal." Norton was duly impressed with the crisp detail and dynamic sound the system delivered with movies and music: "I like how these Paradigms grab your attention and won't let go." Bottom line: These speakers can hold their own against systems costing twice as much.
AT A GLANCE
Plus
Crisp detail
Big, powerful sound
Minus
Tower unstable on thick carpet
Poorly designed grilles
KEF R5 Surround Speaker System: $10,200 (as reviewed)

KEF continues its longstanding tradition of sonic excellence with the newly revamped R Series, featuring the 12th generation of its signature Uni-Q coincident driver — a design the company has been refining for more than two decades. Veteran reviewer Tom Norton praised the system — reviewed in a full-on 5.4.2 configuration with four Dolby Atmos-enabled height modules and two subwoofers — for its all-around outstanding performance: sweet with music and potent, but not too aggressive, with movies. Looking for a less expensive setup? The system can be scaled to more affordable levels by using Q Series models for surround and height-channel duties.
AT A GLANCE
Plus
Sweet, clean highs
Superb dialogue clarity
Detailed but not aggressive sound
Minus
Slightly limited treble diffusion
R3s make for pricey surrounds
To browse all Sound & Vision-recommended AV gear, broken out by category, visit our Top Picks page.