Paradigm Premier 700F Speaker System Review
PRICE
$4,700 (as tested)
AT A GLANCE
Plus
Crisp detail
Big, powerful sound
Minus
Tower unstable on thick carpet
Poorly designed grilles
THE VERDICT
The Premier range is far from the most expensive in Paradigm's speaker lineup, but the performance and build quality that it offers lets it compete with speakers twice the price.
The other day a friend who's neither a videophile nor an audiophile dropped by my home to watch a movie. A pair of loudspeakers I had just finished reviewing for Stereophile, our sister publication, were sitting in a corner, waiting to be packed up. When I told him their price—$6,000/pair—he appeared shocked. Even Paradigm's affordable new 700F speakers, then as now serving as the left/right channels in my system, are pricier than he would like were he to invest in a system of his own (unlikely!).
But most home theater fans know better. Spending as much for speakers as you might for a top-of-the-line 65-inch UHDTV isn't something they would consider outrageous. Case in point: Paradigm's Premier series. Consisting of six models ranging from the $800/pair 100B bookshelf speaker to the $2000/pair 800F tower model, this series counts among the most intriguing new entries for a 5.1 surround sound speaker system priced under $5,000.
Features
Paradigm boasts that its speakers are designed and built at its own facility in Canada. But they don't use the more specific phrase, "Made in Canada." I suspect that might mean that many of the parts, perhaps the drivers and crossover components, are manufactured overseas. However, that's true of most loudspeakers today, and in fact most of the Premier line's competition is manufactured entirely off-shore.
I chose a review system anchored by the $1,600/pair Premier 700F tower. For a center I chose the smaller of the two Premier centers, the Premier 500C. The 500C is a three-way with a separate midrange—the best design for a center speaker apart from a model that's identical to the left and right channels (which in most home theaters would block the screen!). A pair of Premier 200Bs filled out the system as L/R surrounds. These use the same tweeter as the other models, together with a 6.5-inch woofer. While the 700F and 200B are rear-ported, the 500C is sealed. All Premier models are said to be compatible with 8 ohms, though no minimum impedance is specified.
Both the cones in the 700F and the woofers in the 500C are made from carbon-infused polypropylene. The 500C's midrange is black-anodized, pure aluminum X-PAL, a material that's also used for the tweeter domes in all of the Premier models. The surrounds of the cone drivers use Active Ridge Technology (ART). According to Paradigm, this increases driver excursion for lower distortion and higher output (claimed at 50 percent and +3dB, respectively).
All midrange and tweeter drivers in the Premier line are covered in perforated metal shields—Paradigm's Perforated Phase- Aligning Lenses (PPA). Try to keep up with the acronyms! These are said to not only protect the drivers but to also function much like phase plugs by increasing and smoothing output.
The 700F and 200B cabinets are shaped with gently tapered sides (on the top in the 500C), a design that is said to reduce internal standing waves. I'm skeptical of this benefit, however, since the standing waves generated in the small internal dimensions of a loudspeaker cabinet are typically at a high enough frequency to be easily suppressed by damping material. But the curves do give the speakers a more elegant, upscale look than the usual flat-sided boxes. All Premier speakers are available in Gloss Black, Gloss White, or Espresso Grain finishes.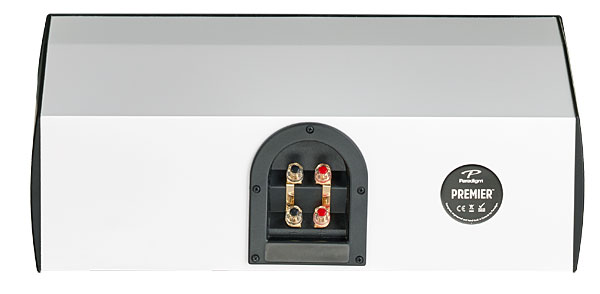 The towers and center speaker each have two sets of binding posts (I used them single- rather than bi-wired), while the surrounds make do with a single pair. The back of the removable grilles that come with the speakers are covered with plastic stiffening ribs, with small openings apart from a single larger one for the tweeter. The ribs partially block the midrange driver, which would appear to defeat the purpose of its PPA lens. While the grilles clearly degrade the sound, they're held in place by magnets and are easy to remove and reattach if they're needed to protect the drivers when not in use.
Floor spikes are provided with the 700Fs, but I didn't use them. Large, thick rugs cover most of my home theater space, and there are hardwood floors beneath them that I don't want damaged. The thin Premier towers proved a little unstable on the rugs minus the spikes, so to avoid accidents I attached a set of aftermarket outriggers (available from soundocity.com) that I've used in the past with other slender speakers.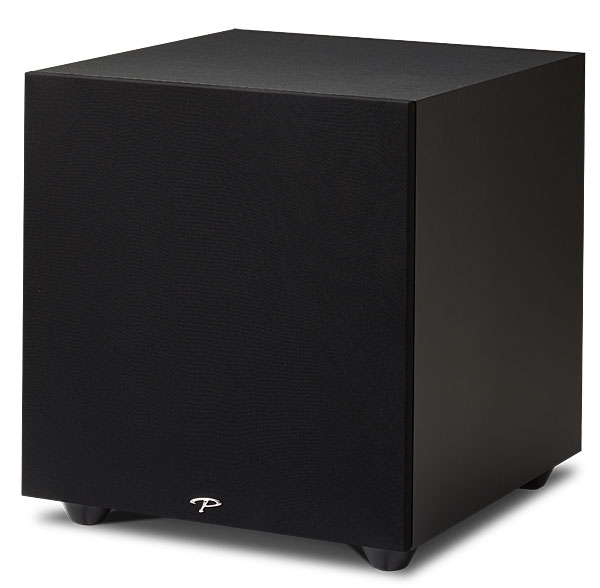 For a subwoofer I chose Paradigm's new Defiance X12, the second largest model in the Defiance range. The X12 uses a 12-inch driver with an ART surround that's mounted in a bottom-ported cabinet and driven by a 650-watt RMS amp (1,300-watt dynamic peak). Available only in a satin black finish, its key feature is Paradigm's Anthem Room Correction (ARC). This uses Anthem's app for setup with a smartphone, tablet, or computer, and its menus offer a variety of adjustments, including preset Music, Movie, and Night modes. (I used Music mode for both music and movies.)
Of the three available setup methods for the X12 subwoofer, I opted for the most basic: using my iPhone X with its own internal microphone. The results were excellent, and I felt no need to go further. But if you do, the next step up would be to use an Android or iOS device together with an external Anthem microphone (included). The sub also offers a wireless option with an (optional) plug-in module, though I didn't test it.
Setup
I used my Marantz AV8805 surround preamp, along with a Parasound Halo A 52+ five-channel amp (rated at 180 watts into 8 ohms, all channels driven) to drive the Paradigm system. My players were a Marantz UD7007 for two-channel music on CD and an Oppo BDP-203 for movie discs. Cables were Kimber AGDL for a digital coax link from the Marantz player, generic HDMI from the Oppo, Cardas Hexlink unbalanced interconnects to the amp (for the left and right channels), and AudioQuest Rocket 88 to the speakers.