Best Gear of Summer 2020 Page 3
Savant Smart Audio WiSA Soundbar System: $3,000
Savant's Smart Audio Wireless Soundbar system is endowed with capabilities that go far beyond your everyday soundbar. In addition to delivering audiophile sound quality with movies and music, the system can be controlled via a smartphone app and doubles as a gateway to the company's respected home automation platform, enabling centralized control over a multitude of smart devices and even a wholehouse audio setup. More to the point, the system incorporates audio technology developed by Cary Christie, co-founder of the legendary speaker brand Infinity Systems, and employs the high-resolution WiSA (Wireless Speaker & Audio) protocol to link Savant's wall-mountable Soundbar 55 with WiSA Surround Speakers, and the super-compact WiSA Nano Subwoofer without you having to run signal wires between them (a power cord is required for each speaker). Characterizing music playback (without the surrounds) as "effortlessly smooth," reviewer Rob Sabin described what he heard while watching the surround-sound masterpiece
Mission Impossible: Ghost Protocol
"as immersive and natural as I've ever heard it (short of full Dolby Atmos rendering)" with an impactful bottom end courtesy of the physics-defying Nano.
AT A GLANCE
Plus
Superb sonics
WiSA wireless connection for surrounds and sub
Integrated Savant automation platform
Control via app or included touchscreen remote
Minus
No Dolby Pro Logic or other stereo surround mode
No HDMI-ARC connectivity
No processing for lossless surround formats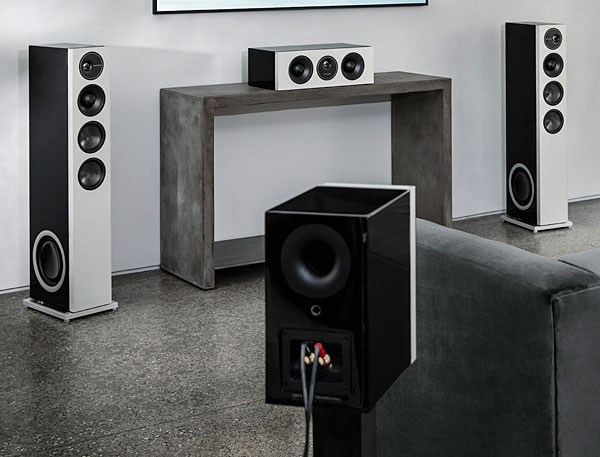 Definitive Technology Demand D15 Speaker System: $5,056 (as tested)
DefTech provides a simplified path to home theater with this stylish five-speaker ensemble, skipping the standalone subwoofer and relying instead on the bass prowess of the D15 towers. Starting with music and listening to the towers on their own, reviewer Dan Kumin described what he heard as "focused, accurate, and uncolored with a broad, spacious sense of width and depth." With the DC5 center-channel and a pair of rearward D9 bookshelf speakers pressed into action, the system reached "cinema-like levels" without strain and with visceral impact during action-packed movie scenes like the climactic train-derailment sequence in the 2018 action/thriller
The Commuter
. While adding a capable standalone sub will certainly bring the bottom octave to bear, Kumin raises a question: Can you live without the added measure of floor-flexing bass in exchange for a simpler, less expensive setup? "I think I could."
AT A GLANCE
Plus
Highly accurate sound
Impressive stereo imaging
Solid center-channel reproduction
Well-controlled and moderately extended low end
Minus
Towers sensitive to placement
Legacy Audio i·V 7 Seven-Channel Amplifier: $7,950
While Legacy Audio is best known for its beautifully crafted speakers, the company has introduced several power amplifiers in recent years, including the impressive
Powerbloc2 and Powerbloc4
. The i·V 7 is built around class-D technology from Denmark's ICEpower a/s — the same used in the Powerblocs — and is formidable in its ability to produce seven channels of seemingly unlimited power from a surprisingly compact chassis. To put a number on it, this amp is rated to deliver 7 x 610 watts into 8 ohms with all channels driven, which begs a question: Do you actually need that much power? Legacy responds with an emphatic "yes" and describes in great detail how you need increased power to convey the full resolution of today's 24-bit audio formats, which have 35 dB greater dynamic capability than standard 16-bit audio. Tangible benefits, confirmed by reviewer Al Griffin in his listening tests, include a whisper-quiet noise floor and enough headroom to deliver frightening real sound, whether transients in high-res music or ricocheting gunshots in an Atmos soundtrack. Summing up his impressions, he concluded: "Does the extra power make a difference? In my listening, it certainly did." In other words, the i·V 7 delivers big-time on its promise of nearly unlimited peak dynamic power.
AT A GLANCE
Plus
High power output
Optimized power supply layout
Classy looks
Minus
Pricey
Revel PerformaBe Surround Speaker System: $20,500 (as tested)
Let's get this out of the way right up front: Revel's Performa Be is one of those rarefied speaker systems designed and built for devout audiophiles who will settle for nothing less than "the best." Which is precisely what Harman's high-end speaker brand endeavors to deliver with the 5.1 ensemble Tom Norton reviewed: two F226Be towers up front, a C426Be center speaker, a pair of M126Be speakers for rear surround, and two B110V2 powered subwoofers, each featuring a 10-inch driver and 1,000-watt amplifier. With music, the Performa F226Be towers (with or without a separate subwoofer) sounded "full-bodied, open, and airy, with just the right amount of detail," while the complete ensemble delivered an exceptionally rewarding experience with movies. "The atmospheric soundtrack [of
Blade Runner 2049
] engulfed me in virtually every scene, even within the 'limitations' of a basic 5.2 setup without Atmos or other enhancements. Dialogue was always intelligible and never obviously colored in any way, and the three front speakers blended seamlessly." If the best is what you seek, you simply must include the PerformaBe on your audition list.
AT A GLANCE
Plus
Superb overall performance
Impeccable fit and finish
Relatively compact
Minus
Pricey
To browse all Sound & Vision-recommended AV gear, broken out by category, visit our Top Picks page.