Backyard Bonanza Page 2
As I've mentioned, a speaker's location has a large effect on its overall performance. Mounting a speaker on a four-by-four post at the edge of your patio provides no acoustic boundaries, so the bass output from that speaker will be much less than that of a speaker mounted on the side of a house (one boundary), in a corner (two boundaries), or in a corner on the ground (three boundaries). Each boundary can double the speaker's bass output. While this may sound like a good thing, sometimes too much of a good thing is just too much. So, before you actually install the speaker wires, it's a good idea to test out the speaker (if you can) near the location where you intend to mount it.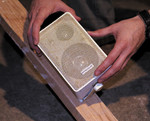 Even for speakers with lifetime warranties, exposure to the elements will take its toll. If possible, try to shield the speakers from the worst of the weather. Mount them under eaves or in other sheltered areas. Be good to them, and they'll be good to you. Most bookshelf-style outdoor speakers are paintable, so you can paint them to blend in with your home's particular color scheme. White speakers are most commonly mounted on exterior walls, while black speakers blend in well on wooden patio posts. Black speakers will almost disappear if you mount them on two-by-fours stuck in the ground in areas with heavy foliage.
For most installs, 16- or 18-gauge wire is perfect. For runs over 80 feet, however, you should use 14-gauge wire. If you're going to mount the speakers on an outside wall, you can often run the wire through the wall itself—just as you'd run the wire to an in-wall speaker inside your house. Rock speakers and bookshelf-style outdoor speakers mounted near the ground require a different strategy. You could simply run the wire along the ground from the nearest wall to the speaker, but that's begging for your dog or a lawn mower to destroy your handiwork. It's much safer to bury the cable, either directly or in conduit. Whichever method you choose, be sure to use direct-burial cable. This is not an alternative to satellite for dead people. It's a special cable that resists moisture and oxidation. Stereostone president Ken Rottner is a man who has lots of experience with direct-burial cable. He recommends using a direct-burial cable with a dielectric of polyethylene or Teflon rather than one with PVC, since PVC passes twice the moisture that polyethylene does. This type of cable will resist oxidation—and keep the speakers sounding better—longer.
You'll probably want to control the volume (and skip tracks on the CD player) while you're outside, so talk with your dealer about volume controls and remote-control repeaters. Niles, Sonance, Russound, and other companies offer weather-resistant volume controls that can be mounted outside. Xantech offers a weather-resistant keypad for system control and volume adjustments from outside.
And now a few very important last words about installing outdoor speakers: Think about safety, both yours (while you're installing the speakers) and your guests' (after the speakers are in place). Make sure wherever you mount the speakers is sturdy enough to hold the weight of your chosen model. Even though some outdoor speakers can ride out a hurricane, a direct hit on concrete from 10 or 15 feet can't be good for the long-term life of the speaker (not to mention your head, if it happens to be in the descent path). Use appropriate hardware, and don't stand on the top step of your stepladder.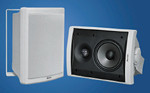 Boston Acoustics Voyager Pro ($399/pair)
I can't say for certain that Boston Acoustics is the granddaddy of all outdoor-speaker manufacturers, but they were definitely one of the first companies to offer a rugged outdoor speaker that you could rely on to sound good. Past Voyager models have survived hurricanes and still sounded great. You'd wonder why anyone would muck with that kind of success, but Boston Acoustics has. The company claims that the new Voyager speaker line (a total of four different models) combines all of the reliability and ruggedness of past models with more of the sound know-how Boston Acoustics has demonstrated with their indoor lineup—in a package that's been voiced for the great outdoors.

The Voyager Pro is a two-way speaker in a stylish, sealed cabinet. The 1-inch Kortec soft-dome tweeter and 5.25-inch copolymer woofer are rear-mounted to the front baffle so that none of their metal parts are exposed. The baffle slopes out around the tweeter to form a waveguide that increases the tweeter's efficiency. Six deeply recessed screws clamp the baffle to the speaker cabinet, and a fine-mesh, powder-coated aluminum grille covers the front. Like nearly all of the standard-box outdoor speakers covered in this article, the Voyager Pro uses a C- or U-shaped bracket that attaches to the wall. Tightening a large, round knob on each end of the bracket holds the speaker in place. The Voyager Pro's knobs are thicker than those of the other speakers, and they're rubberized, so they're the easiest to grip and tighten. Gold-plated speaker terminals are located in a recessed area on the back of the cabinet. Each corner of this recessed area has a channel that extends outward to allow water to drain away from the terminals no matter which way the speaker is mounted. For big residential or commercial installations that use a 70-volt line, there's a special space inside the cabinet to mount the necessary 70-volt transformer—proof that Boston Acoustics has been doing this for a very long time. The speakers can be completely immersed in water, handling fresh and salt water equally well. (They're not designed to play underwater, though.)
Outside, these speakers sound amazingly like a Boston Acoustics bookshelf speaker, with a clean high end and a tightly controlled bottom. The bass output is what I'd call believable for a speaker of this size. It wasn't overwhelming, but it had authority. The Voyager Pro's midrange was probably the best of the entire group. It was clear and unfettered. The Voyager Pro is definitely the speaker you'd want to use for installs where detail and imaging are important.