Backyard Bonanza Page 4
Don't Take These for Granite
You won't find moss growing on a rolling stone, but what about on a rockin' one?
The bookshelf design is the most common type of outdoor speaker, but several companies have taken a more-naturalistic approach. Using special resins to cast speaker enclosures that look and feel like (but weigh a lot less than) real rocks, these companies have designed a type of enclosure that is fairly inert with no parallel walls—two characteristics usually reserved for high-performance in-home speakers. This is one reason the sound quality of these rock speakers can be quite good. However, their placement is usually based more on blending in with the landscape and on even coverage of the listening area than it is on ideal imaging. To personalize your rocks, you can send a chip off of one of your backyard rocks to Stereostone or Rockustics, and (for an additional fee) they'll customize the color of most models to match your sample.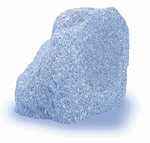 SpeakerCraft 520Rox ($399/pair)
SpeakerCraft's small, rough, gray-colored 520Rox speaker looks much heavier than it feels, which is an indication of how good a fake it is. The horizontal, flat front is the only giveaway in an otherwise-perfect rendition. There's a 4-inch circle of finely perforated grille in the middle of the flat front space. Although it's noticeable when you're looking directly at it, in a garden area, you probably wouldn't notice it. Behind the grille is a two-way, coaxial speaker with a 0.5-inch polyamide-dome tweeter and a 5.25-inch polypropylene woofer. The speaker wire comes out of the center of the bottom plate, and a small notch in the back of the rock allows the wire to exit the speaker while it sits flush on any flat surface.
It's surprising how bad this speaker sounds inside the house (as did most of the outdoor speakers I listened to). Outside, however, in the environment it was designed for, the 520Rox took on a much better tone with an amazingly wide dispersion pattern. For its small size, it produces quite a bit of sound, but its bass is somewhat limited.
Stereostone Gibraltar Stone SoundStealth ($599)
Stereostone's Gibraltar Stone SoundStealth is aptly named because it's quite a big rock, almost six times the size of the SpeakerCraft model. Even so, it looks perfectly natural once you get it outside. The Gibraltar's bass is quite impressive, as it should be, since that big exterior hides an 8-inch woofer and a 0.75-inch tweeter. The shaping and painting of this brown-and-black rock is quite well done, with enough detail to look realistic under all but the closest inspection. The SoundStealth utilizes extremely fine perforations in the almost-7-inch round grille on the front of the speaker, which (despite its large size) is very well disguised.
It took two days for me to notice the small drainage hole about 1 inch beneath the grille—I only did so because I turned the speaker over to look at the construction of the bottom. Although not much water and dirt can get in through the front grille, what does squeeze its way in soon finds its way out through this hole, preventing the Gibraltar from becoming a nasty breeding ground for mosquitoes. (There's nothing like inviting your guests over for a
BBQ and giving them malaria in the process.) This speaker's 93-decibel efficiency rating makes it one of the most efficient outdoor speakers, rock or not. It was definitely the best sounding of the bunch, too.

Rockustics Rocky III ($450/pair)
The Rockustics Rocky III speaker has been around for a while. It's not the best-looking example of a rock speaker—the grille cutout looks like something you'd see in a Flintstones cartoon—but I think it just may be the best-sounding rock speaker for the money. The bass response is smooth and low, and there's great side-to-side dispersion. The high frequencies are a little constricted, though. If you can afford it, buy the Stereostones. If you're trying to cut some corners but still keep as much sound quality as you can, audition the Rocky IIIs.

Sonance SoundHenge II ($400)
The SoundHenge II from Sonance is unusual in that it's not actually a speaker. Instead, it's a camouflage cover for the Mariner 100, 200, and 300 outdoor speakers (one size fits all) that makes them look like rocks. A special mounting bracket inside holds the speaker firmly in place. Since you're paying for speakers plus an enclosure, this combo can be more costly than actual rock speakers, but it does have the advantage of allowing for an easy sound upgrade without changing the look of the rocks.
Boston Acoustics
(978) 538-5000
www.bostonacoustics.com
Definitive Technology
(410) 363-7148
www.definitivetech.com
Klipsch
(800) KLIPSCH
www.klipsch.com
Niles Audio
(800) BUY-HIFI
www.nilesaudio.com
Rockustics
(303) 371-0208
www.rockusticsinc.com
Sonance
(800) 582-7777
www.sonance.com
SpeakerCraft
(800) 448-0976
www.speakercraft.com
Stereostone
(800) 350-7866
www.stereostone.com