Aspire to Greatness
How to fit 10 seats in a small room and still get amazing sound.
Aspiration and enthusiasm are two of the key things that make a great magazine reader. While many of us read magazines like GQ or Vogue, a lot of us can't necessarily afford the wares we see on those fashionable pages. Why do we read them, then? We read them because we take cues from these highly regarded magazines on what to wear, social issues, trends, and more. We take those cues and we adapt them to our own personal lifestyles, as well as our budgets.
The same goes for the home theater industry. We do show some very high-end home theaters in the pages of Audio Video Interiors. But, if we showed only reader theaters and setups like the one I have in my own home, which performs well but doesn't necessarily belong on the pages of Architectural Digest, then would readers all over the world aspire to these run-of-the-mill theaters and not the gorgeous, carefully crafted masterpieces, like the one shown here?
Eric Thies, CEO of DSI Entertainment Systems in Studio City, California, believes that there is a misconception about the cost of a dedicated home theater in the first place. "Home theater is more accessible than ever. Projectors used to be the biggest stumbling point to creating a dedicated room due to cost," says Thies. "Now, you can get a decent DLP projector for $5,000 to $6,000 and a $1,000 screen. Then you add on whatever audio system that you are going to be happy with, some sources, and you have all the equipment necessary to create a cinematic experience."
The equipment and installation for this particular theater, owned by a Los Angeles–based television comedy writer, his former film-executive wife, and their children (ages 9 and 5), cost $85,000. While that is not pocket change to most folks, the fact is, this is a very high-end theater. "This is probably the best-sounding theater we've ever accomplished," says Thies. "A state-of-the-art theater like this, even just a few short years ago, would have cost at least twice as much."
To get that groundbreaking audio, DSI used JBL's Synthesis 4 in-wall speaker system and two floorstanding subwoofers. The JBLs replicate the sound of true cinema, giving professional audio to this home theater. Another major plus, according to Thies, is the Synthesis 4 speakers' Digital EQ feature. "With Digital EQ, we were able to work on some of the room anomalies," says Thies. "For example, because we had so many seats, the sweet spot was hard to find. The domed ceiling also had some acoustic anomalies. Digital EQ corrected both."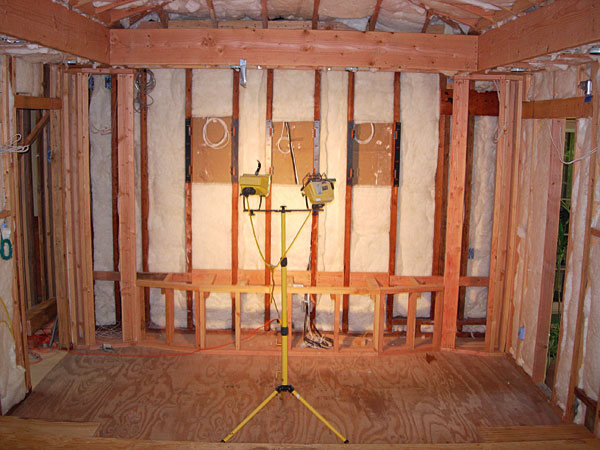 In fact, one of the major challenges DSI faced was fitting 10 seats in a relatively small 13-by-21-foot room. The homeowners wanted the theater to accommodate as many audience members as possible in the space they had to work with. DSI found a solution in Fortress Seating, which, according to Thies, is the only theater-seating company that allows you to build a custom seat at a standard price. "We got creative with seats that were cushy and comfortable but had smaller armrests that are removable in case you want to stretch out," says Thies. "Plus, a 9- and a 5-year-old don't necessarily take up a whole seat."
Another interesting custom touch is the projector mount. Making the Runco VX-100 projector fit in the room was tough. This native 1,280-by-720 behemoth is 24 inches deep. The interior designer got to the room before DSI did, so there was no space allocated to mount the projector. One of the most important aesthetic features, the domed fiberoptic ceiling, could not be marred with a projector hanging from it, obstructing the night sky. The soffit was also limited, because the projector is 24 inches deep, and the soffit is only 8 inches deep. "We carved a hole into the wall and suspended the projector from its bottom, so there is no visible mount at all," says Thies.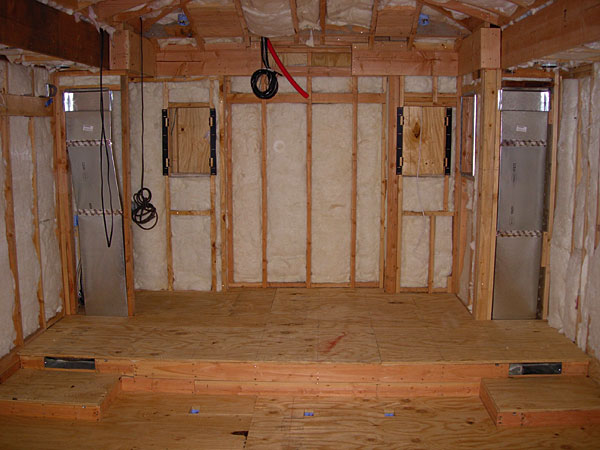 The result of the projector, combined with a Stewart Filmscreen Studiotek 130 screen is unbelievable. The Runco offers great video processing and black level, and Thies needed something that would stand up to what his film- and TV-executive clients expected. This comedy writer/homeowner is a child at heart, so video sources include an Xbox 360, a Sony PlayStation 2, and a Marantz DVD player to watch classic comedy flicks. A Crestron ST-1700 touchpanel controls the room, and a Crestron lighting system controls four zones of lighting, including the fiberoptic ceiling.
Halfway through the project, the homeowners switched interior designers. The second interior designer, Richard Winsberg, took the original Roman classical design, with columns and a traditional theater look, and evolved it into something much more sophisticated. "The wife was involved in every detail of the interior design. She became the theater expert, made some really smart decisions, and got involved in a way that no previous client has done," says Thies. The result is a room that blends with the old-colonial, Spanish-architecture style of the rest of the home.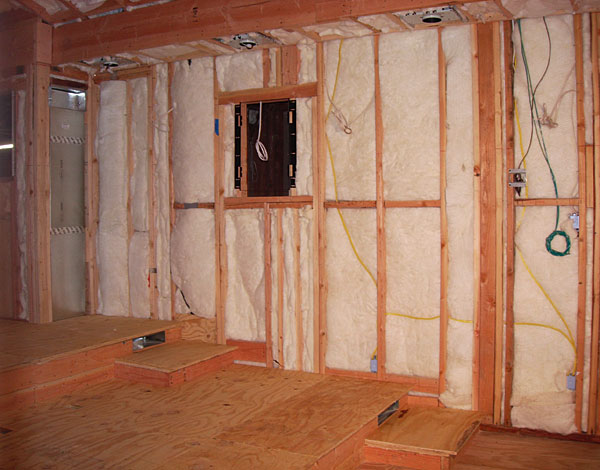 The elegant dedicated theater is a place that the homeowners can enjoy with their friends. It is the best possible use of space. Every inch is maximized, and it is the ideal viewing environment for sound and image. But the moral of the story is, you can do something similar on your own budget.
"I built a theater in my own home. While I have an obvious advantage, I used my buddies on weekends to build it, keeping construction costs to a minimum," says Thies. "I had a beer budget and no acoustic treatments. We built a riser, got inexpensive seating, and it's a dedicated place to watch movies.
"These days, it is not a question of, 'Should we build a swimming pool or a home theater?' It's a question of creating an environment you love on a budget you can afford. Make the space for the room, and you are halfway there."