The 2008 HDTV Technology Face Off Sharp LC-52D64U LCD HDTV
Sharp LC-52D64U LCD HDTV
So much good, one bad.
There was a lot to like about the LC-52D64U, but one thing kept it from ranking higher.
First, the Good

David Birch-Jones (a.k.a. DBJ) picked this TV third overall, and his comments shine light on the Sharp's strengths. He felt that this set exhibited the most believable fleshtones and that it had a "very detailed, crisp, lovely picture." Mike Nelson felt that it had good detail with HD; but with DVD, it was average or below. He felt the same about the amount of video noise.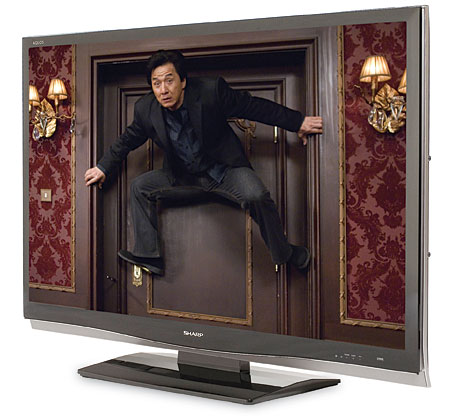 If you look at the numbers, this set seems to perform very well. The problem, however, is that these numbers are somewhat misleading.

Not So Good
Sure, 0.018 ft-L seems pretty decent, but to get that black level, the backlight is set so low that you're getting a maximum of 28 ft-L. Compared with most of the displays in the Face Off, this is very low. If you increase the backlight so that the light output is similar to that of the other TVs here, the black level is several times higher. Oddly, with the backlight set to max (+16), the TV still wasn't as bright as some of the others here. Please don't take this as a desire or need for this or any other modern TV to appear brighter; they really don't need it. It's just surprising that the black level isn't great, and the light output isn't blistering. For example, the last Sharp LCD I reviewed had a better absolute black level (0.006 ft-L), a higher max light output (93 ft-L), and a higher contrast ratio. Admittedly, that TV was more expensive.
Thus, no matter what, you're not getting a very good black level. Thankfully, the 1,203:1 ANSI contrast ratio means that the image is fairly punchy, but there were still many comments of "washed out" among the judges. All in all, the onscreen contrast ratio was probably above average in this group, slightly masked by the higher black level.
This TV's biggest issue, though, was poor off-axis picture quality. It wasn't as extreme as the Samsung; but compared with all the other displays here, it was a problem. DBJ even referred to this TV as "perfect for lonely singles." If you were more than a foot away from dead center, the black level came way up and turned blue; a little more than that, and the color started to wash out. On axis, the judges praised this TV for having realistic color and fleshtones, both of which are lost just a few degrees away from dead center.
The fact that the performance didn't change much when the lights came up didn't sway any of the judges. As this used to be one of LCD's selling points, the plasmas here seemed to be able to hold their own in direct light, at least enough so as to not give any bonus points to the Sharp.
Conclusion
Thus, this display's strengths, such as detail and apparent color accuracy, were offset by terrible performance if you weren't seated in the center seat—and by the hard choice of an OK black level but low light output or OK light output and a mediocre black level.
Highlights
• When viewed straight on, the image looks fairly punchy and colorful
• If you're not straight on. . .
At A Glance: Sharp LC-52D64U LCD HDTV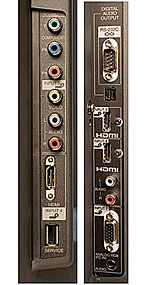 Connections
Inputs:
Video: HDMI (3), RGB-PC (1), component video (2), S-video (1), composite video (3)
Audio: Stereo analog (4)
Outputs:
Video: None
Audio: Optical (1), stereo analog (1)
Additional: RS-232 (1)
Features
Type: LCD
Screen Size (diagonal, inches): 52
Native Resolution / Aspect Ratio: 1,920 by 1,080 / 16:9
Lamp Life: N/A
Wall Mount or Stand Included?: Stand
Dimensions (H x W x D, inches): 32.92 x 48.7 x 12.81
Weight (pounds): 74.9
Price: $3,299
HT Labs Measures: Sharp LC-52D64U LCD HDTV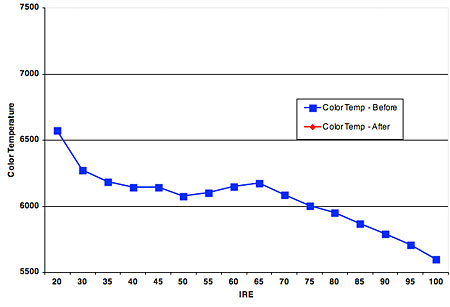 Full-On/Full-Off Contrast Ratio—1,556:1; ANSI Contrast Ratio—1,203:1
Measured Resolution with the Leader LT-446:
480: 480 (per picture height)
720p: 720 (pph)
1080i: 1080 (pph)
DC Restoration (poor, average, good, excellent): Excellent
Color Decoder (poor, average, good, excellent): Excellent
Measured Color Points:
Red Color Point: x=0.637, y=0.324
Green Color Point: x=0.265, y=0.594
Blue Color Point: x=0.144, y=0.065
The top chart shows the LC-52D64U's gray scale relative to its color temperature at various levels of intensity, or brightness (20 IRE is dark gray; 100 IRE is bright white). The gray scale as set by the factory, in the Low color-temperature mode and the Movie picture mode, measures close to accurate with dark images and progressively cooler with brighter images. No calibration is possible.
The bottom chart shows the gray scale (or color temperature) relative to the color points of the display's red, green, and blue color filters. These are somewhat off those specified by SMPTE. Red is very slightly purplish-red, green is rather bluish-green, and blue is very slightly oversaturated and very slightly greenish-blue.
After calibration, and using a full-field 100-IRE white (28 foot-lamberts) and a full-field 0-IRE black (0.018 ft-L), the contrast ratio was 1,556:1. Using a 16-box checkerboard pattern (ANSI contrast), the contrast ratio was 1,203:1. The best contrast ratio was achieved in the –16 backlight setting. The brightest image was achieved in the +16 backlight setting. In this mode, the LC-52D64U produced 103 ft-L with a 100-IRE field and 0.067 ft-L with a 0-IRE field for a contrast ratio of 1,537:1.—GM
Ratings: Sharp LC-52D64U LCD HDTV
Build Quality: 89 Average
Value: 88 Average
Features: 88 Average
Performance: 86 Average
Ergonomics: 88 Average
Overall Rating: 87 Average
General Information
LC-52D64U LCD HDTV, $3,299
Sharp
(800) BE-SHARP
www.sharpusa.com