The 2008 HDTV Technology Face Off Pioneer PDP-5080HD Plasma HDTV
Pioneer PDP-5080HD Plasma HDTV
The new king.
When I first started putting together this Face Off, I had an amusing thought to include this TV, more because it was 768p. I was curious to see if anyone would notice, from normal viewing distances, that it had half the pixels of the rest of the competitors. As the pricing solidified, I realized that it would fit in perfectly, being roughly the same size and price as the other flat panels. Sure, it was half the resolution, but would anyone notice, or more importantly, would anyone care? Nope.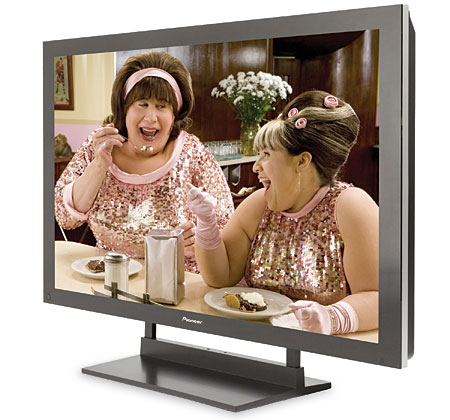 Numbers Aren't Everything
Many consumers want it to be easy to buy a TV, which is why they fall into the numbers trap. An 8-megapixel camera is better than a 6-megapixel, right? Or, in our world, "I need 1080p." In these sizes, you don't, and never was that more clear than with the PDP-5080HD. I have found, both in general discussions and in the results from many Face Offs, that the number-one thing most people want in a display is contrast ratio: legitimate contrast ratio, not this number-pumping crap that we see constantly nowadays. If you discount the displays that had auto irises or tracking backlights (and you should), the PDP-5080HD had the highest contrast ratio in the Face Off, in some cases by several times. Its ANSI contrast ratio was more than 11 times that of the Samsung and more than double that of the next closest display. Onscreen, this was completely visible. Comments like "crisp" and "lots of pop" abounded.

So, was the resolution noticeable? Most of the reviewers commented that, if you're too close (less than 3X picture height), then you may start seeing pixels. From where most of them were sitting, around 4X, it wasn't noticeable. In fact, at that distance, everyone made a comment about how detailed this TV looked. How is that possible with half the pixels? Easy. Your eye is fooled into seeing detail when it is really seeing contrast. Think of what you would use to see detail, say, a wrinkle on a face. You see the wrinkle because it's in shadow compared with the rest of the face. Well, on the PDP-5080HD, that shadow was so much more realistic that it didn't need resolution to appear detailed. Seeing as it's highly doubtful you'd ever sit three times the picture height away from a 50-inch TV (less than 6 feet, in this case), 768p is more than enough.
There were a few knocks, like a little more noise than some of the other sets. With some of Pioneer's noise-reduction circuitry active, much of this is reduced, but not all. Four of the five panelists picked this set as a solid number one. Maureen picked it second, after the higher-resolution but lower-contrast-ratio Panasonic. Everyone said they wanted to take this TV home. Even when we brought price into the equation (after the performance judging), most of the judges ranked this as a good value, despite its cost and resolution. The picture quality was just that much of a step up, that it was worth it.
Buy One
Much has been said about Pioneer's new KURO line, but when it comes down to it, the praise is much deserved. They really are that good. They aren't cheap, but if you're looking for the best picture quality in a flat panel, this is it. For that matter, you'd be hard-pressed to get a more addictive image in any TV, regardless of technology.
Highlights
• Equal detail, half the pixels
• A step above the rest
At A Glance: Pioneer PDP-5080HD Plasma HDTV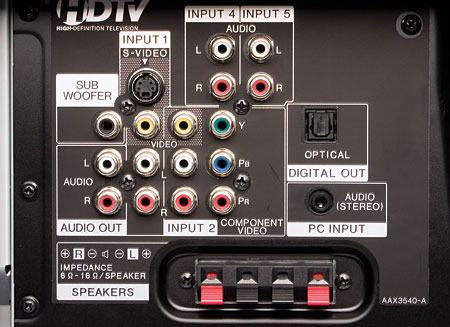 Features
Type: Plasma
Screen Size (diagonal, inches): 50
Native Resolution / Aspect Ratio: 1,365 by 768 / 16:9
Half Life: 60,000 hours
Wall Mount or Stand Included?: Stand
Dimensions (H x W x D, inches): 33.38 x 48.19 x 11.81
Weight (pounds): 81.6
Price: $3,500
Connections
Inputs:
Video: HDMI (4), RGB-PC (1), component video (2), S-video (3, 1-shared), composite video (1-shared)
Audio: Stereo analog (5), mini-plug stereo (1)
Outputs:
Video: None
Audio: Optical (1), analog stereo (1), subwoofer out (1), headphone (1)
Additional: RS-232, CableCARD
HT Labs Measures: Pioneer PDP-5080HD Plasma HDTV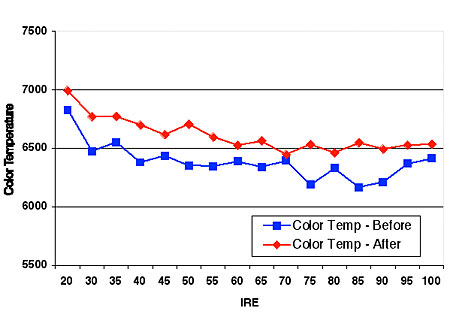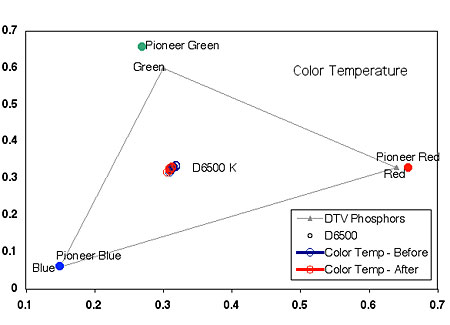 Full-On/Full-Off Contrast Ratio—1,685:1; ANSI Contrast Ratio—2,686:1
Measured Resolution with the Leader LT-446:
480: 480 (per picture height)
720p: 720 (pph)
1080i: Out to the limits of the 1,365 by 768 panel
DC Restoration (poor, average, good, excellent): Excellent
Color Decoder (poor, average, good, excellent): Excellent
Measured Color Points:
Red Color Point: x=0.657, y=0.330
Green Color Point: x=0.269, y=0.659
Blue Color Point: x=0.149, y=0.063
The top chart shows the PDP-5080HD's gray scale relative to its color temperature at various levels of intensity, or brightness (20 IRE is dark gray; 100 IRE is bright white). The gray scale as set by the factory, in the Mid color-temperature mode and the Movie picture mode, measures slightly cool with dark images and slightly warm with brighter images. After making adjustments using the Photo Research PR-650, the gray scale measures marginally closer to D6500, the accurate color temperature, across the entire range. Brighter images are far more accurate.
The bottom chart shows the gray scale (or color temperature) relative to the color points of the display's red, green, and blue phosphors. These are off those specified by SMPTE. Red is somewhat oversaturated, and green is oversaturated and very slightly bluish-green. Blue is ever so slightly greenish-blue.
After calibration, and using a full-field 100-IRE white (13.48 foot-lamberts) and a full-field 0-IRE black (0.008 ft-L), the contrast ratio was 1,685:1. Using a 16-box checkerboard pattern (ANSI contrast), the contrast ratio was 2,686:1. With a 100-IRE window the PDP-5080HD produced 50.54 ft-L for a real-world contrast ratio of 6,318:1. (It is normal for a plasma to have lower light output on a full-white field versus a white window.)—GM
Ratings: Pioneer pdp-5080HD plasma HDTV
Build Quality: 95 Excellent
Value: 95 Excellent
Features: 92 Good
Performance: 95 Excellent
Ergonomics: 90 Good
Overall Rating: 94 Good
General Information
PDP-5080HD Plasma HDTV, $3,500
Pioneer
(800) PIONEER
www.pioneerelectronics.com