The 2008 HDTV Technology Face Off Panasonic TH-50PZ750 Plasma HDTV
Panasonic TH-50PZ750 Plasma HDTV
So good, almost perfect.
To just say that this Panasonic came in second would be kind of misleading. Not to say that it wasn't runner-up, all but one reviewer placed this TV second. It's just that third place was a distant third, with some people voting that display as low as fifth. In fact, every reviewer said they would gladly take this TV home. Thus, while it didn't win, this TV and the winner were clearly in a class by themselves.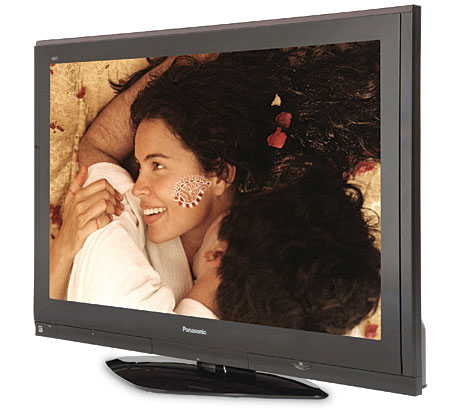 Can Do
Overall, the numbers aren't amazing, but they are quite good. The black level of 0.015 ft-L is excellent for a flat panel, although the Pioneer and the JVC (sort of) beat it out. The same is true for the contrast ratios. The 1,141:1 full-on/full-off measurement is pretty good for a plasma. And the more legitimate "real-world" 2,771:1, when measured with a white window (the more accurate way to measure plasma contrast ratio), is quite decent. ANSI contrast, at 1,015:1, is also quite good. Good, but not great. Both the Sharp and the Pioneer beat this ANSI number. Even the real-world contrast-ratio number is down compared with the Sony, Mitsubishi, and Pioneer; with the two RPTVs, though, their ANSI numbers are dramatically lower. Even the color points aren't that close. So how did it do so well? Well, numbers don't tell the whole story.
It just looked good. There was no other real way to say it. Mike called it "crisp as an over-starched shirt from the dry cleaner who over-starches my shirts." When asked what he didn't like about it, Mike responded, "Well, I guess if someone picked it up and threw it at me, I wouldn't like that." Fair enough.
Processing was very good, although not quite the best. Noise levels, especially for a flat panel, were very low.
There were nothing but positives on the questionnaires. From the detail, to the skintones, to the lack of noise, to the black level and contrast ratio, there wasn't anything about this set that people didn't like. It's an excellent television.
But Number Two
So, the question becomes, how did this set come in second? Well, the only negative people could equate to the TH-50PZ750 was that it wasn't the Pioneer. As good as this TV is, the PDP-5080HD created an image that was just that much better. Even so, Maureen picked this one first, citing that extra level of detail over the Pioneer. If you're planning on sitting very close to your TV, as in less than 6 feet, then this TV's 1080p resolution and per-pixel accuracy may be a better buy than the winner. At more than 6 feet, well, read the next page to find out.
This TV is further proof that raw numbers don't tell you everything you need to know about a TV. This decent performer just looked better than almost all the other sets here. It may not have the punch and awe that the Pioneer set does, but it still looks better than most other TVs on the market.
Highlights
• An all-around great image
At A Glance: Panasonic TH-50PZ750 Plasma HDTV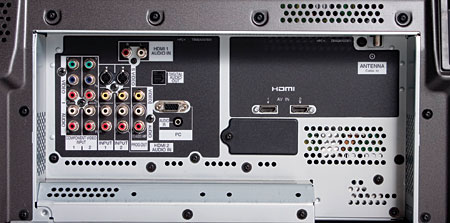 Features
Type: Plasma
Screen Size (diagonal, inches): 50
Native Resolution / Aspect Ratio: 1,920 by 1,080 / 16:9
Half Life: 100,000 hours
Wall Mount or Stand Included?: Stand
Dimensions (H x W x D, inches): 33.5 x 49.9 x 14.6 Weight (pounds): 123.5
Price: $3,500
Connections
Inputs:
Video: HDMI (3), RGB-PC (1), component video (2), S-video (3-shared), composite video (3-shared)
Audio: Stereo analog (5), mini-plug stereo (1)
Outputs:
Video: Composite video (1)
Audio: Optical (1), stereo analog (1)
Additional: None
HT Labs Measures: Panasonic TH-50PZ750 Plasma HDTV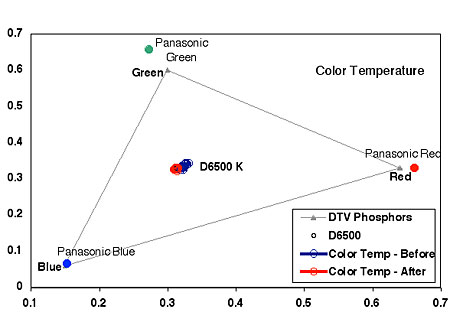 Full-On/Full-Off Contrast Ratio—1,141:1; ANSI Contrast Ratio—1,015:1
Measured Resolution with the Leader LT-446:
480: 480 (per picture height)
720p: 720 (pph)
1080i: 1080 (pph)
DC Restoration (poor, average, good, excellent): Excellent
Color Decoder (poor, average, good, excellent): Good
Measured Color Points:
Red Color Point: x=0.661, y=0.329
Green Color Point: x=0.273, y=0.657
Blue Color Point: x=0.153, y=0.067
The top chart shows the TH-50PZ750's gray scale relative to its color temperature at various levels of intensity, or brightness (20 IRE is dark gray; 100 IRE is bright white). The gray scale as set by the factory, in the Warm color-temperature mode and the Studio Ref picture mode, measures warm. After making adjustments using the Photo Research PR-650, the gray scale measures very close to D6500, the accurate color temperature, across the entire range.
The bottom chart shows the gray scale (or color temperature) relative to the color points of the display's red, green, and blue phosphors. These are off those specified by SMPTE. Red is somewhat over-saturated, and green is oversaturated. Blue is very slightly undersaturated.
After calibration, and using a full-field 100-IRE white (17.12 foot-lamberts) and a full-field 0-IRE black (0.015 ft-L), the contrast ratio was 1,141:1. Using a 16-box checkerboard pattern (ANSI contrast), the contrast ratio was 1,015:1. With a 100-IRE win-
dow, the TH-50PZ750 produced 41.56 ft-L for a real-world contrast ratio of 2,771:1. (It is normal for a plasma to have lower light output on a full-white field versus a white window.)—GM
Ratings: Panasonic TH-50PZ750 Plasma HDTV
Build Quality: 92 Good
Value: 93 Good
Features: 88 Average
Performance: 93 Good
Ergonomics: 90 Good
Overall Rating: 92 Good
General Information
TH-50PZ750 Plasma HDTV, $3,500
Panasonic
(800) 211-PANA
www.panasonic.com