The 2008 HDTV Technology Face Off Sony KDS-60A3000 SXRD HDTV
Sony KDS-60A3000 SXRD HDTV
Don't count RPTVs out yet.
If there was some concern that price would play more of a factor in this Face Off than anything else, this TV certainly dispels it. This is the least expensive TV in the Face Off, and it came in third. It's also the second largest.
Doing Well
Like most of the past SXRD displays we've had in for review, this one measures very well. The black level, at 0.009 ft-L, is excellent, and its light output was a strong 74.28 ft-L. The contrast ratio wasn't the 8,253:1 the numbers say, thanks to an auto iris; however, it was still somewhere between that and the 2,400:1 to 4,500:1 achieved with the auto iris off. On the other hand, it had a fairly mediocre (although fairly average for an RPTV) ANSI contrast of 281:1. DBJ thought the image had a lot of "pop," while Maureen and Tom felt that the overall black level and contrast ratio seemed good, but not as good as a few of the others.
What this Sony has that sets it above previous models is the ability to show accurate color points. This is my favorite feature on any display. Most people may prefer the wildly oversaturated color points of some TVs (including this one in other modes), but I love accurate color. It's more pleasing and relaxing to watch, not to mention more realistic. Kudos to Sony for including this feature.
Speaking of features, there's more here than a luxury yacht: a dozen or so iris and lamp combinations, different frame-interpolation modes (yuck), black-frame insertion (jury's still out), edge enhancement, line enhancement, dot enhancement, clown enhancement, you name it.
Mike claimed he saw just a "soupçon" of noise (I had to look it up, too). Tom and John mimicked the low-noise sentiment, if not the word choice.
Accurate color and a great contrast ratio are the makings of an excellent picture, but one thing was lacking: detail. Turns out, there was a reason.
Soft, Not Cuddly
Standard setup practice here at HT is to put the TV in whatever mode turns off all of the picture-enhancement crap that often sullies the image. As the review goes on, we'll add these back in to see if any of these features actually help. In the case of this TV, we picked Cinema mode. Turns out, a filter was applied to this and the Custom mode that rather drastically softened the image. It wasn't until after the Face Off that I discovered that the Standard and Vivid modes had full 1080p resolution. Therefore, if you have one of these TVs, use the Standard mode and match the settings from the Cinema mode (that is, lower the color temperature, turn off all the enhancement stuff, and put it in the Standard Color Space mode). This way, you'll have the accuracy of the Cinema mode, plus the detail of the Standard mode.
If I had discovered this before the Face Off, giving this set the much-wanted detail, would it have beat out the runner-up? No. A few reviewers said they may have rated it higher, but none would have bumped it up to the number-two spot. So, the bronze goes to a big, strong-performing, and inexpensive RPTV.
Highlights
• Tremendous value
• Enough features to keep you occupied for days
At A Glance: Sony KDS-60A3000 SXRD HDTV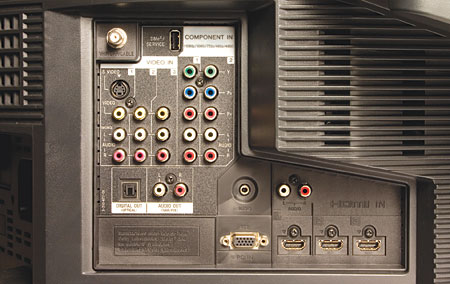 Features
Type: SXRD (LCOS)
Screen Size (diagonal, inches): 60
Native Resolution: 1,920 by 1,080
Lamp Life: N/A
Dimensions (H x W x D, inches): 38.88 x 54 x 16.75 Weight (pounds): 90.4
Price: $2,200
Connections
Inputs:
Video: HDMI (3), RGB-PC (1), component video (2), S-video (1), composite video (3, 1-shared)
Audio: Analog stereo (6), mini-plug stereo (1)
Outputs:
Video: None
Audio: Optical (1), analog stereo (1)
Additional: None
HT Labs Measures: Sony KDS-60A3000 SXRD RPTV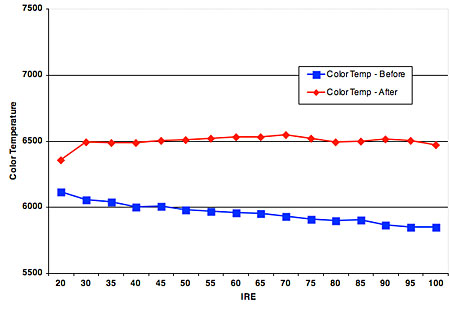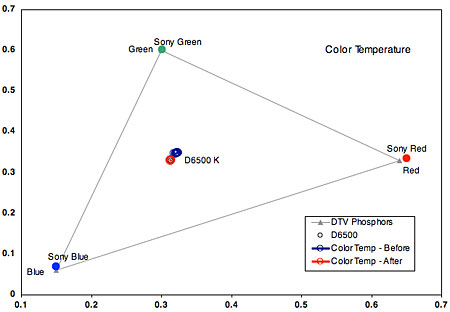 Full-On/Full-Off Contrast Ratio—8,253:1; ANSI Contrast Ratio—281:1
Measured Resolution with the Leader LT-446:
480: 480 (per picture height)
720p: 720 (pph)
1080i: 1020 (pph—see text)
DC Restoration (poor, average, good, excellent): Excellent
Color Decoder (poor, average, good, excellent): Excellent
Measured Color Points:
Red Color Point: x=0.650, y=0.334
Green Color Point: x=0.301, y=0.602
Blue Color Point: x=0.150, y=0.069
The top chart shows the KDS-60A3000's gray scale relative to its color temperature at various levels of intensity, or brightness (20 IRE is dark gray; 100 IRE is bright white). The gray scale as set by the factory, in the Cinema color-temperature mode and the Warm 2 picture mode, measures warm with dark images and warmer still with brighter images. After making adjustments using the Photo Research PR-650, the gray scale measures very close to D6500, the accurate color temperature, across the entire range.
The bottom chart shows the gray scale (or color temperature) relative to the color points of the display's red, green, and blue liquid crystal (LCOS) panels. These are very close to those specified by SMPTE while in the Standard Color Space mode. Red is slightly oversaturated, green is pretty much spot on, and blue is very slightly greenish-blue.
After calibration, and using a full-field 100-IRE white (74.28 foot-lamberts) and a full-field 0-IRE black (0.009 ft-L), the contrast ratio was 8,253:1. Using a 16-box checkerboard pattern (ANSI contrast), the contrast ratio was 281:1. The best contrast ratio was achieved in the Auto1 iris setting and Power Saving set to off. This mode was also the brightest and had the best black level. Without the auto iris tracking the video signal, the contrast ratio ranged from 2,400:1 to 4,500:1 depending on setting. In the Cinema and Custom modes, the resolution was significantly less than in the Standard and Vivid modes.—GM
Ratings: Sony KDS-60A3000 SXRD HDTV
Build Quality: 87 Average
Value: 94 Good
Features: 94 Good
Performance: 89 Average
Ergonomics: 92 Good
Overall Rating: 91 Good
General Information
KDS-60A3000 SXRD RPTV, $2,200
Sony
(877) 865-SONY
www.sonystyle.com