Westinghouse Digital LVM-47w1 High Definition Monitor
It's a fun and crazy time to be shopping for a new HDTV. Prices seem to drop about 10% every two weeks as screen sizes get larger and larger. In the flat panel market, the price and screen size wars continue between plasma and LCD technology, with LCD continuing to gain ground in market share.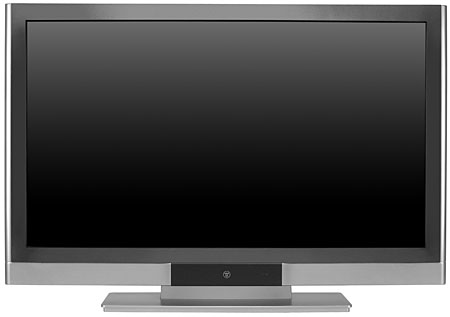 Lately, prices of same-size LCD and plasma HDTVs have reached parity, at least in smaller sizes. LCD technology has basically kicked plasma out of the market at 37-inches, and is threatening to do the same at 42-inches before too long.
Why? Consider Sharp's new 42-inch LC-42D62U, announced at CEDIA Expo 2006 with an SRP of $2,495. It's a full 1920x1080 HDTV, as many of the new 42-inch LCD sets are these days. 1080p is almost impossible to achieve in this screen size using plasma technology (only Hitachi has shown a prototype 1080p 42-inch HDTV), but it's a walk in the park for LCD manufacturers.
What's more, the screen size wars have extended to 46- and 47- inches, giving plasma manufacturers yet another headache to deal with. And Westinghouse Digital is right in the thick of the fray with its new LVM-47w1 high definition LCD monitor ($2,499).
This product, like most of the new 46-inch and 47-inch LCD high definition displays coming to market, offers full 1920x1080 pixel resolution. What it doesn't offer is an internal TV tuner, analog or otherwise. Is that a drawback? Not if you already own an outboard terrestrial, cable, or satellite set-top box.
Out Of The Box
The LVM-47w1 is ready to rock and roll as soon as you unpack it. The stand is part of the housing, which has a satin gray finish with a black bezel around the screen. There are no front panel controls and indicators, other than a Westinghouse logo that lights up when the monitor is turned on.
Westinghouse Digital follows the current flat panel trend of placing the speakers under the front bezel, as opposed to the sides. This makes it easier to fit the display into existing TV furniture, and also reduces the overhang on TV stands. It's not the best place from an audio standpoint, but if you are serious about audio quality, you'll use an external system anyway. The internal, 2-channel audio system is rated at 10 Watts per channel, and there's a separately-powered, internal "subwoofer" as well.
There are plenty of input connections. You'll find a pair of AV jacks (composite and S-Video) along with L/R audio jacks to go with them. There are two separate component (YPbPr) inputs (on RCAs) with L/R audio to match, and the ubiquitous 15-pin VGA connector for PC sources. A 1/8-inch mini jack provides the audio interface for that source.
On the digital side, the LVM-47w1 gives you a pair of HDCP-compatible DVI inputs. Both are specified to be compatible with native 1080p/60 signals. There is also an HDMI input, which supports digital audio as well as video. All three digital video inputs are equipped with their own RCA L/R audio connections.
Remote And Menus
The supplied remote is a simple design, although many of the buttons have similar sizes and will be confusing to operate in a darkened room. On the plus side, Westinghouse Digital provides direct access to inputs or groups of inputs. The DVI and HDMI connections, for example, are sequentially accessed from the DVI button. (You can also keep pushing the Input button to cycle through all inputs.)
The menus provide the basic functions, but no access is provided for advanced calibration settings unless you know the secret service menu access keys. In addition to the "Basic 5" image tweaks (Brightness, Contrast, Color, Tint, and Sharpness) you can also toggle between one of three factory color temperature settings (Cool, Medium, and Warm), adjust the backlight intensity, and choose between a pair of aspect ratio settings – Standard and Fill. The latter is used for 16:9 DVDs.
With PC signals, you'll have the standard tweaks (Clock, Phase, Image Position) at your fingertips. In the audio menu, you can fiddle with volume, bass, treble, balance, and mute, while the Picture-In-Picture menu lets you set up main and window video sources, set the PIP position and size, and also Picture-By-Picture (PBP) and Picture-Outside-Picture (POP) modes.
As far as signal compatibility is concerned, the LVM-47w1 will accept 480i/p, 720p, and 1080i video through the component and DVI/HDMI inputs. The two DVI connections will also accept 1080p at 50Hz and 60Hz refresh rates, as will the HDMI connector. The specifications claim compatibility with refresh rates as fast at 75Hz through these connectors.
Even the 15-pin VGA jack can pass through a 1080p signal, so if you are looking for a set with lots of 1080p compatibility, the LVM-47w1 is worth a look. Other supported PC rates include 640x480, 800x600, 1024x768, and 1280x768, all at a maximum refresh rate of 75Hz.