The KLH Model Nine Rides Again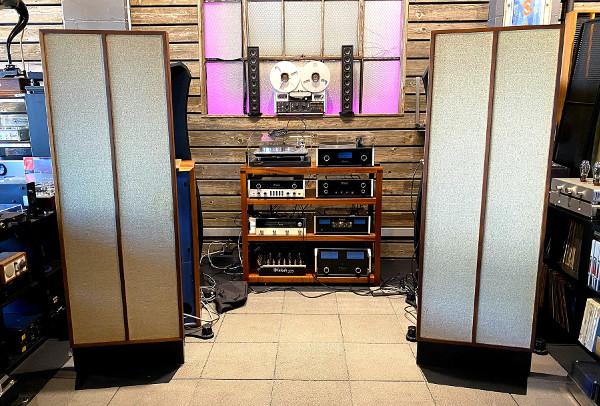 KLH, the iconic audio brand co-founded by audio visionary Henry Kloss in 1957, is well known for the great sounding two-and three-way acoustic-suspension speakers it designed and built in the 1960s and '70s. All had simple names — Model Four, Model Five, etc. — and featured unassuming but nicely finished wood-veneer cabinets. What you may not know is that KLH also introduced the first full-range electrostatic speaker — the legendary Model Nine.
KLH is most closely associated with the late Henry Kloss, the talented engineer and businessman who also co-founded Acoustic Research in 1954 with his mentor Edgar Villchur and started Advent in 1967 — speaker brands that, along with KLH, dominated the mass-market audio scene in the 1960s and '70s. Interestingly, the Model Nine was actually designed by Arthur A. Janszen in the late 1950s and sold under the KLH banner from 1962 to 1977.
The arrangement was borne out of a business relationship that began with KLH promoting the JansZen 1-30 electrostatic midrange/tweeter array (the first practical electrostatic speaker) as a companion for KLH's early woofer-only speakers. Impressed with prototypes of a full-range electrostatic speaker Janszen was working on, KLH made him an offer he couldn't refuse and acquired the assets of JansZen Laboratory in 1959. Janszen was named vice president and continued work on the speaker that would become the Model Nine.
The KLH Model Nine electrostatic speaker is widely regarded as one of the best sounding speakers of all time and highly sought-after by audiophiles to this day. "The Nines are special for their transparency, natural tones, and great vocals," observes Fernando Zorrilla, owner of New Jersey-based vintage audio specialist SkyFi Audio, which recently acquired a working set of Nines (more on those in a moment). "They're right up there with the
Quad ESL-57s
— very similar in character and musicality only they can play louder. Even better, if you have four, you can run them parallel."
In 1968, Stereophile's J Gordon Holt called the Model Nine the "most nearly perfect loudspeaker," a sentiment he reconfirmed upon revisiting the speaker several years later. His conclusion captures the essence of the novel speaker rather succinctly:
This is the most nearly perfect loudspeaker we have ever heard, and we've heard every likely contender that's in commercial production. It does not favor some instruments over others, but seems to make everything sound almost perfectly natural.

It is not entirely without its own sonic character, though. Although there is nothing about its sound that we would describe as a coloration, it does tend to move things slightly back from the listener, "placing" them a bit farther behind the surface of the speaker than is the intent of the recording. The effect is much like that of moving back about ten rows in a concert hall, and since either spot can be a perfectly good seat from which to listen, it is fair to say that this characteristic of the Nine does not impair the realism of the sound.

This is not the kind of loudspeaker that everyone will like on first hearing. Its major points of superiority its transparency and detail are not readily appreciated until you've lived with them for a while, and it demands better associated equipment and more careful room placement than many users are willing to provide for it. Neither is it a very satisfactory wide-stereo reproducer in many listening rooms. Because of its low efficiency and its tendency to move the sound slightly away from the listener, the KLH Nine is not recommended for the person who likes to re-create the extremely high level and intimacy of a very close-up seat in the concert hall, or who plans to be listening to it from a distance of 20 feet or more. But for the person with an average-to-large living room, whose preferred concert seat is between Row F and first balcony, the KLH Nine can come closer to re-creating the illusion of concert-hall realism than any other commercially available loudspeaker system, regardless of cost.
High praise, indeed. (You can read Holt's full 1975 review
here
.)
Tall and Slender
Resembling a decorator-type room divider, the Model Nine is just shy of 6 feet tall but only 3 inches deep and 23.5 inches wide with a hardwood frame that holds its "boucle" fabric grille in place. Its rear surface is covered with a finely perforated metal screen, similar to the screen behind its grille; the screens protect the speaker's radiating elements, which are divided into bass and tweeter panels. The speaker operates as a dipole, meaning it radiates sound from its front and back surfaces, which provide a combined area of 28 square feet (14 square feet per side), and includes its own power supply and step-up transformer, which attaches to the base of the panel.
The original owner's manual (shown above) lists nominal impedance as 16 ohms and recommended amplifier power as at least 30 watts per speaker (but no more than 100 watts RMS). Describing the Model Nine as "different from all other loudspeakers," the manual offers this brief synopsis: "The Model Nine introduces almost no distortion at all in the process of converting electrical signals to acoustic signals throughout its very wide frequency range and, therefore, tends to emphasize deficiencies in the performance of associated equipment. It is incumbent upon the user to employ only very high quality auxiliary equipment, and to insure that program material is of commensurate quality, if optimum enjoyment is to be derived."
In his review, Holt noted that "KLH suggests a choice of two basic setup arrangements: with the speakers side by side in a shallow V configuration, or separated by some distance, for wider stereo spread. Because of their two-sided radiation, however, they should not be located closer than about 4 feet from any parallel wall surface, as this will inhibit low-end radiation and may cause midrange standing-wave problems."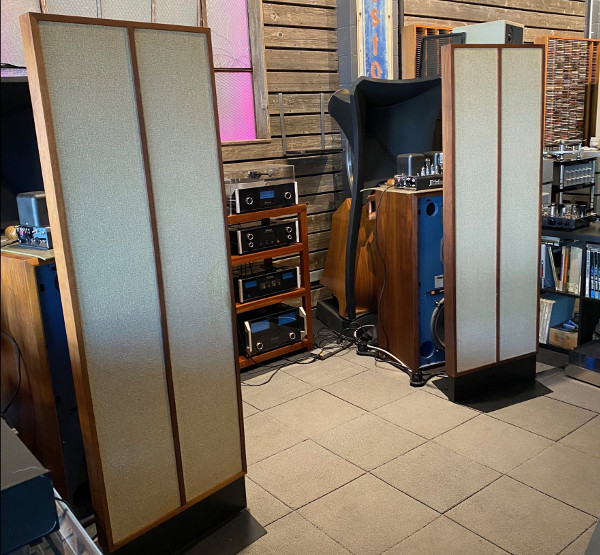 A Gift from Heaven
It almost goes without saying but Zorrilla was stoked when he received an email asking if he was interested in not one, but two, pairs of KLH Model Nine speakers thought to be among the last sets made by the company. "They were purchased new by my brother in the mid-1970s," the correspondent wrote. "They are in very good to excellent condition cosmetically, with a few stains on the original cloth, function well, and have never been modified."
A good thing got even better when Zorrilla learned that the speakers had not been used since 1982 until "a few days ago when my brother and I assembled them to make sure they still work properly, which they do." The owner even saved the owner's manual as well as the original boxes the power supplies and the base plates came in. Bingo!
SkyFi wasted no time in acquiring these audio gems and proceeded to perform its usual battery of tests — which found the speakers to be "perfect working order" — before listing one of the two pairs for $3,995 on skyfiaudio.com. (The second pair is undergoing cosmetic restoration.) "There are no rattles or buzzing of any sort and they play loud and clear," Zorrilla said, noting that the Nines "pair really well with vintage tube amps" like the Audio Research D-150 the owner used to power them 30-some years ago.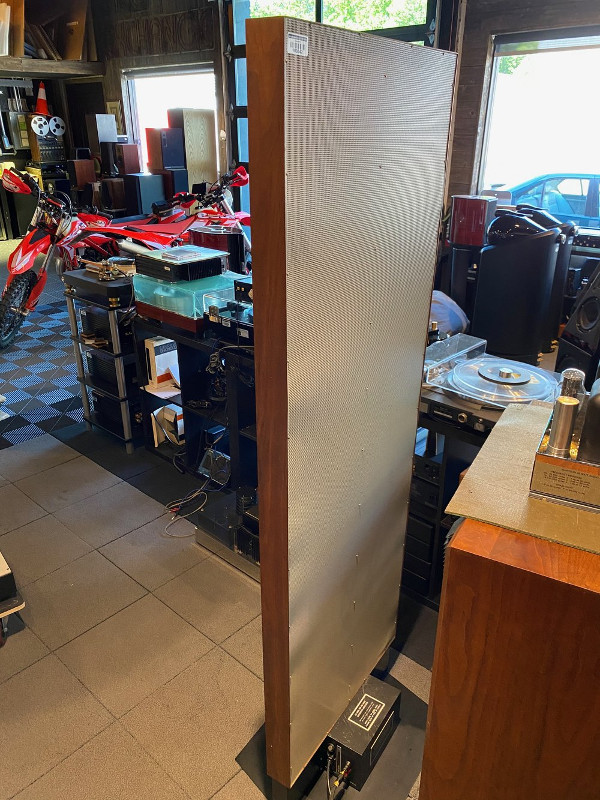 In his correspondence with SkyFi, the seller went out of his way to provide tips on assembly and setup and share his impressions of the storied speakers: "Although they play quite loud (105 dB for a double pair, I think) they are not intended for blasting rock at a high constant level, but rather for loud transient bursts in music with high dynamic range. There are two other aspects of the Nines related to volume that are worth mentioning. First, they convey a lot of detail even at low volume levels, because the speaker diaphragms are so light. Second, because they have such low distortion, they can play very loud without sounding 'loud.' A great demonstration of the latter quality is to put on a high-quality recording, turn the volume up and speak at a normal level. People are usually surprised at how loud the speakers are actually playing, which is not apparent until compared with the level of a human voice."
In 2017, former Klipsch executive David P. Kelley purchased the rights to the KLH name and resurrected the brand, offering new versions of some of its classic designs. In an interview with the Philadelphia-based A/V retailer World Wide Stereo, Kelley talked about doing "special production runs" of famous KLH models, including the Model Nine. Though the company made progress toward that goal, the project was put on hold while they explore manufacturing options with JansZen Electrostatic, the company founded by the late Arthur Janszen's son David in 2005. Chief engineer Kerry Geist says the project is still on the company's roadmap but is probably two years away from fruition.
Related
KLH Model Nine Review (Stereophile, June 5, 1975)
Arthur A. Janszen's Loudspeaker Developments.
KLH Model Nine Refurbishment and Upgrade Options (available through Janszen Electrostatic)