Sony VPL-VW350ES 4K SXRD Projector Review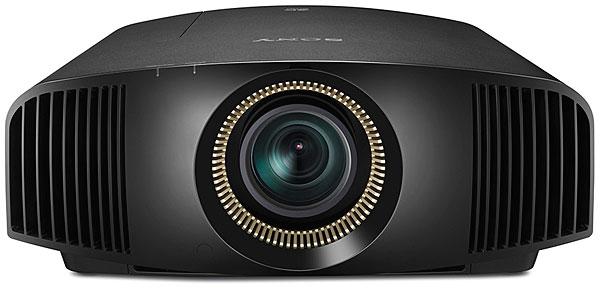 PRICE
$10,000
AT A GLANCE
Plus
Accurate color
Ample brightness
Smooth, detailed picture
Minimal fan noise
Minus
No iris control
Doesn't include 3D glasses
THE VERDICT
Sony's lowest-priced 4K projector to date is packed with features and delivers a bright, beautiful picture.
When I hear someone question the value of 4K, the first thought that comes to my mind is: projection. Unless your nose is pressed up to the screen, a 4K image viewed on 50-inch flat-panel TV won't look much different from regular old 1080p. A main advantage to 4K is that you can scale your display up to a massive size without having to worry about seeing the individual pixels that form a picture. And when you're thinking about scaling a video display up to a massive size, nothing gives you a better return on investment than projection.
Sony has led the charge in releasing native 4K projectors for home use, and at $10,000, its new VPL-VW350ES is the company's lowest-priced offering yet. When we reviewed the VPL-VW350ES's immediate predecessor, the VPL-VW600ES, we swooned over its detail, color, and brightness—but not its $15,000 price. Ten grand is still a hefty chunk of change, but it's a lot closer to affordable than fifteen grand.
What does Sony give you for your $10,000? It might be better to ask what Sony doesn't give you in comparison with the VPL-VW600ES. The VPL-VW350ES has the same 4096x2160 resolution; 2.06x zoom lens with powered zoom, focus, and shift controls; 3D compatibility; and panel alignment feature as the VPL-VW600ES. One thing you won't get in the step-down model are lens memory settings, which allow automatic zooming for content of different aspect ratios. Another main difference is light output: the VPL-VW350ES's 230-watt lamp is spec'd to output 1,500 lumens, while the VPL-VW600ES's 265-watt lamp is spec'd at 1,700 lumens. Also, the VPL-VW350ES lacks its predecessor's dynamic iris control—which would seem a big negative, but it's worth noting that the dynamic iris was a source of some irritation for Tom Norton in conducting his VPL-VW600ES review due to observed brightness pumping. (Though, to be fair, Tom reports that this was an infrequent occurrence and didn't prevent him from leaving the dynamic iris active to achieve the best blacks.)
The VPL-VW350ES also has the same sleek, black, kinda boxy design as its more expensive older brother. The jack pack located on its side includes two HDMI 2.0 inputs (one with the HDCP 2.2 digital rights management required for viewing new Ultra HD content), RS-232 control, IR, and LAN ports, and 12-volt trigger outputs. A built-in RF emitter beams signals from the projector to Sony's battery-powered active shutter 3D glasses (not included).
Sony's remote control provides everything you'd want in a video projector handset. It's big and backlit, with large, evenly spaced buttons that are clearly labeled. A group of keys up top lets you easily switch between picture memories without having to cycle through an onscreen menu; two additional groups on the bottom half let you tweak settings such as brightness, contrast, contrast enhancement, reality creation (detail), and gamma correction on the fly.
Setup
The VPL-VW350ES has a built-in test pattern to adjust picture size, lens shift, and focus. After aligning the picture on my 80-inch-wide Stewart Filmscreen Cima Neve screen, I tweaked the focus with my eyes close to the screen using the projector's remote (love that power focus control). Though I didn't need to take advantage of the lens shift adjustment, the VPL-VW350ES lets you shift the image +85/–80 percent of screen height vertically, and 31 percent horizontally—useful for installations where you need to position the projector off center from the screen. The Sony's panel alignment feature also proved useful for removing a slight amount of color fringing.
I made my initial picture adjustments in the projector's Reference preset, which provided fairly accurate gamma and color points, but also a too-warm color temperature at its default D65 setting. After calibrating the VPL-VW350ES in that mode, I eventually decided to go back and redo everything in Cinema Film 1 mode. Why? For some reason, the Sony's contrast ratio in Cinema Film 1 mode was dramatically better than in Reference mode. And since the projector doesn't provide any dynamic or manual iris controls to deepen black levels, this turned out to be something of an issue during my review of the VPL-VW350ES.
It might cost much less than its predecessor, but the VPL-VW350ES appears to be another monster when it comes to light output: I measured a whopping 52 foot-lamberts in Bright TV mode, roughly the same peak output that we measured when we reviewed the VPL-VW600ES. In Cinema Black Pro mode with Low lamp mode and Medium contrast enhancement selected, peak brightness was a much tamer 26.2 ft-L. Combined with the 0.004 ft-L black level that I measured with those settings, the result was a respectable best-case contrast ratio of 6,217:1.