Marantz AV8801 Surround Processor & MM8077 Amplifier
Price
: AV8801, $3,599; MM8077, $2,399
At a Glance
: Up to 11.2-channel playback with Audyssey DSX and DTS Neo:X Audyssey MultEQ XT32 and Sub EQ HT Apple AirPlay support
As A/V enthusiasts, we are constantly on the lookout for the best audio and video we can find, and when we reach that state of nirvana, we enjoy our equipment until the next CES or CEDIA when we then hear about something new and begin to worry that our system will soon be second best. Writing for Home Theater makes me an unwilling accomplice in this never-ending cycle of upgrade-itis, but truth be told, I'm just as affected by this as the rest of you. Thankfully, I'm able to get my fix by having lots of equipment moving through my rack, but every now and then, I fall in love with a piece and don't want it to leave my possession.
With nearly nine years of reviewing experience behind me, this Marantz stack is the first product I've ever officially reviewed from the brand, but I've auditioned various pieces over the years in specialty A/V shops in my area. When Saul Marantz founded the company over 50 years ago, he had a vision to expand the sensory horizons of even the most demanding aficionados. Though the name has passed through several owners over the years and merged with Denon in 2002 to form D&M Holdings, it's still positioned as a premium brand.
One thing that's always impressed me about Marantz is that it doesn't release a slew of new products every year trying to keep up with the arms race of upgrades like other A/V companies. While many competitors will release a new line of AVRs and pre/pros each year, Marantz takes things a little slower. In fact, its last flagship pre/pro, the AV8003, was released in 2008, and although the company released a more modestly priced pre/pro (the AV7005, Home Theater, April 2011), it was in addition to the AV8003 and not meant as a replacement.
Fully Loaded
A lot has changed in five years. In 2008, the AV8003 was well reviewed—Michael Fremer designated it a Top Pick in our October 2008 issue. He raved about its audio prowess but noted that it didn't offer as many bells and whistles as other similarly priced pre/pros and AVRs offered. The same can't be said about the AV8801—this baby is packed with a plethora of goodies, including support for an 11.2-channel system, 4K video capability with 3D passthrough, a bevy of streaming services, and Apple's AirPlay. It's also the first Marantz product to take advantage of Audyssey's critically acclaimed MultEQ XT32 room correction technology along with Audyssey Sub EX HT processing, which optimizes dual subwoofer setups.
Aesthetically, the AV8801 looks a lot like its predecessors with its classy curved front panel and sparse layout that only includes a volume knob on the right, a source select knob on the left, a power on/standby button, and a simple porthole display that shows the current source and volume level. Under a flip-down door are navigation and other controls that include four multizone on/off switches, as well as a large traditional LCD display. You'll also find hidden there an MHL-compatible HDMI input, an auxiliary analog composite video and stereo input, a headphone jack, a USB input, and the Audyssey setup microphone input.
The rear panel is extremely well laid out and includes more connections than most systems will ever need. Highlights include six HDMI 1.4a inputs and three outputs—two for the main zone (one for a flat panel hanging on the wall and the second for a projection system for movie night) and a Zone 4 output that's controlled separately. Legacy equipment lovers will enjoy gold-plated connections on all analog inputs/output, and vinyl aficionados will relish the phono input.
Additionally, there are three component video inputs and two outputs, and both XLR and RCA audio outputs to handle up to 11.2 channels of audio simultaneously. While many AVRs and pre/pros will ask you to choose between front height/width or surround back speakers, the AV8801 will let you enjoy 11.2 channels of audio bliss derived by the included Audyssey DSX or DTS Neo:X processing—if your significant other will let you have that many speakers in the family room. Unfortunately, mine won't.
Rounding out the features on the back panel is a 7.1-channel analog input, a four-port Ethernet hub to connect to your home network (sorry, no Wi-Fi is included), HD Radio (AM/FM) connections, a single set of stereo XLR balanced audio inputs, and a second USB input in case you want to permanently attach a storage device loaded with music and photos to the unit.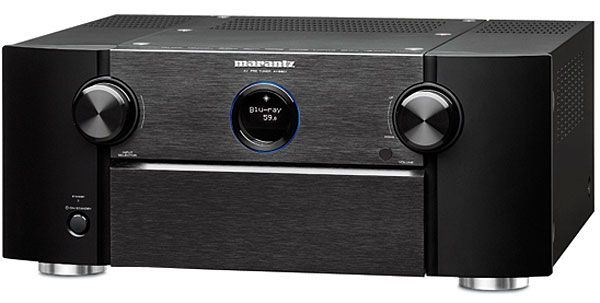 The AV8801's build quality is impeccable. It includes a massive toroidal power transformer, Marantz's renowned HDAM (Hyper Dynamic Amplifier Module) and High Current Feedback Technology, and to isolate the electronics, the unit includes a copper-plated chassis. Other than the rounded plastic edge pieces on the front panel, this unit is solid.
The AV8801 is DLNA (Digital Living Network Alliance) 1.5 compliant, so you can connect the unit to your home network to access a media server to stream music and photos. Or you can venture onto the Net to stream Internet radio from around the world, access Spotify or Pandora, and even connect to your Flickr account to annoy your friends and family with pictures of your latest vacation (or your new surround processor)
In addition to AirPlay support, the iTunes store offers a free Marantz remote control app, so you can control the AV8801 from your iPhone, iTouch, or iPad. This app is extremely useful when using the Media Player functions on the player or for controlling its multizone capabilities. I would love to see Marantz offer the ability to delve further into the user menu while using the iDevice app, but at least the company offers network setup of the unit by entering its IP address into your Web browser. From here, you can set up every audio/video parameter and even download a backup of your settings in case they get modified incorrectly by the babysitter or deviant teenager in your home.