Dedicated Persistence: Turning The Attic Into A Classically Themed Theater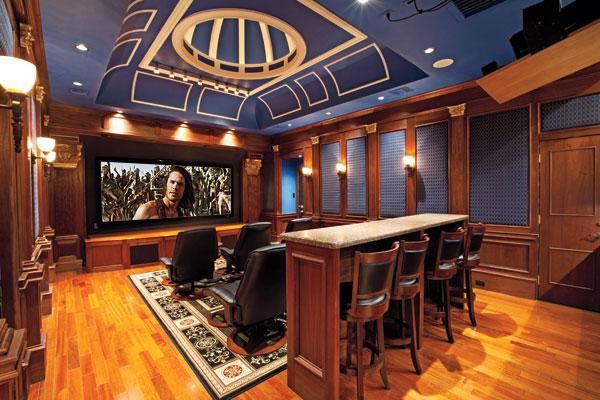 I built my home theater in the attic and created a dramatic entrance and a vestibule. The vestibule's reverse wall is painted like a women's hat store circa 1910 Paris, with a travertine cobblestone street. Behind the windows, there are built-in shelves for DVDs and Blu-rays.
The theater's walls are covered in mahogany paneling over 2-by-6 framing, filled with fiberglass batt insulation. For acoustic treatments, I created fabric panels made from half-inch Homosote board, then stapled polyester batting and fabric onto it. The panels attach to the wall with commercial-strength Velcro, which makes them easy to remove.
The 8-foot bar is split so it can be separated into two serving stations, which slide on felt. The soda fountain has a beverage cooler, freezer, popcorn machine, and shake mixer, along with a sink. There's a microwave oven on another counter. All the furnishings are movable, as we use the room for parties, dancing, and other large gatherings.
I paired a JVC DLA-X3 D-ILA projector with an Optoma motorized anamorphic lens, which projects onto an SMX 120-inch CineWeave screen (130 inches diagonal). An Onkyo TX-NR808 A/V receiver drives four Polk RC85i left/right speakers, two Polk RC60i in-wall speakers, a BIC FHG-LCR center channel, and two Polk PSW505 12-inch powered subwoofers under the stage. The 7.2-channel configuration has the LCR speakers behind the screen, with two surround speakers mounted in the walls and the two back surround speakers mounted in the ceiling.
While my main profession is accounting management, I do cabinetry and woodwork as a hobby and side business. I did most of the construction, from framing through equipment installation. The entire project cost around $45,000.