Yeah Yeah Yeahs: It's Blitz!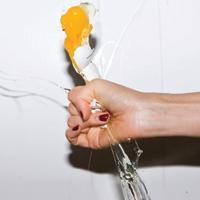 Dress Up/DGC/Interscope
---
Music ••• Sound •••
The Yeah Yeah Yeahs' third studio album is another major advancement in the Manhattan-hatched trio's sound. Whereas
Fever to Tell
centered on the band's raw live appeal and
Show Your Bones
acknowledged the role of the recording studio, the new one indulges the YYYs' interest in dominating the dancefloor. This is their disco record.
Retro and modern synths - at this point, interchangeable accessories, since we live in an age when, given 6 months, technological innovations become retro - swoop and shudder from the first attack of the opening track, "Zero." As the songs pile up, it's apparent that the raw drum-to-guitar dynamics have been set aside for an electronic playdate. Guitarist Nick Zinner is now more an adherent of Depeche Mode than Sonic Youth. "Soft Shock" and "Dragon Queen" could be sold as '80s dance tracks, with their accessible cheer and their love for exaggerated reverb and kooky falsettos.
However, while the YYYs know it's fun having fun, they're also keen on maintaining the band as an art project. The 5-minute celestial journey of "Skeletons" is the album's most affecting cut. It builds slowly with a tribal beat and lingering ambience that suggest a low-budget Peter Gabriel collaboration. Singer Karen O whimpers along, forming vowel sounds that haunt like sepia-toned Goth Rock trying desperately to mellow out. But the solace is short-lived. The album continues with the twisted, chopping angst of "Dull Life," and you have to wonder: How will this sparse trio translate the track live without an army of supporters? The sound is dense and layered, deliberately muddy, and impossible to penetrate, recalling the Cure at its paranoiac best.
Meanwhile, on most of the album, Karen O once again proves it's entirely appropriate that she receives so much of the attention given to the YYYs. She doesn't sing so much as command a song; you can hear her stage presence. With desperate yelps, enticing pleas, and sudden shrieks, she drives the band into the weirdness she hears.
That said, Karen could still use a few more vocal weapons. She's not keen on holding a melody. She prefers to truncate notes and phrases when it might be more alluring to draw the emotion out. Although a track like "Shame and Fortune" pulses with a cinematic groove, it isn't much of a tune, and the 5 minutes of "Runaway" hang around too long without finding more than an orchestrated midtempo motion that lacks the hypnotic appeal of the YYYs' best work.
It's a great sign, however, that the band isn't afraid to explore new areas and show no fear of failure. If some songs aren't exactly timeless, their sonic ambitions are bold enough to make the results worth checking out. The Yeah Yeah Yeahs have been growing up in public, sometimes awkwardly, sometimes with poise. It'll be interesting to hear who they turn out to be.