Yamaha Aventage CX-A5100 Surround Processor Review With MusicCast, Yamaha Takes on Sonos
With MusicCast, Yamaha Takes on Sonos
Along with its advanced surround capabilities and high-performance sound, Yamaha's new CX-A5100 preamp/processor offers another powerful feature: MusicCast, Yamaha's new wireless multiroom music system. Old Sound & Vision readers may recall that name from a wireless multiroom solution Yamaha offered in the early 2000s, but beyond the intent, this MusicCast shares nothing in common with the original. The new app-based, Wi-Fi-driven system is very much in the profile of the pioneering Sonos digital music system (which is said now to have more than 90 percent of this still immature market), and those of recent competitors including Denon's HEOS, Bose's SoundTouch, LG's Music Flow, NAD's Bluesound, and others.
Perhaps the virtue of waiting to enter this emerging cat fight is that Yamaha has managed to bring its own twist. As a longtime industry leader in A/V receivers, and a strong force in the soundbar category, the company has a distinct advantage over those other Johnny-come-latelies. Unlike Sonos (and more like NAD with its Bluesound brand), Yamaha can integrate MusicCast in its other established product lines, moving it into the homes of unsuspecting consumer homes in Trojan horse fashion. And that's just what they did, massively launching the system last summer with more than 20 products. It turns out that if you purchased pretty much any Yamaha AVR from the 2015 model year (10 models in all) prior to mid-August, it had the unannounced ability (with a firmware update) to become a MusicCast player, recognizable by the MusicCast app and selectable as a zone. Add to this the CX-A5100 surround processor, two new soundbars (including an Atmos-and DTS:X-compatible unit) and a new soundbase, a new compact powered tabletop speaker, and an $800 pair of powered high-performance studio monitors Yamaha normally sells to the pro audio industry—all introduced with or adapted for MusicCast compliance.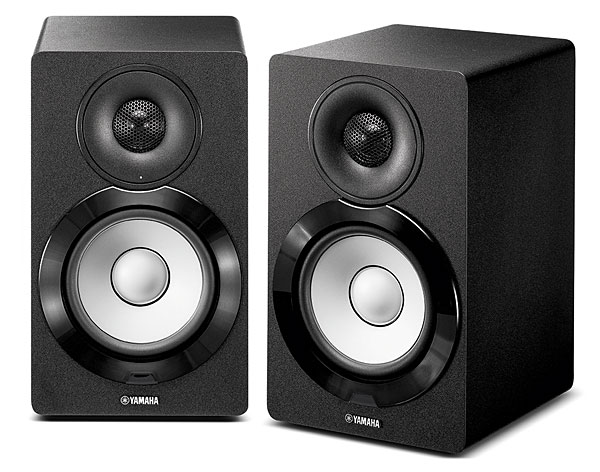 With this kind of broad ecosystem and its heritage in sound, Yamaha built in some neat capabilities audiophiles will applaud. Among them is the ability to send hi-res audio formats to all MusicCast components including ALAC (Apple Lossless) up to 96-kHz/24-bit; FLAC, AIFF, and WAV files up to 192/24; and DSD up to 5.6 mHz. At this point, the only similar digital multiroom systems we're aware of that can handle hi-res files are Bluesound and the pending Raumfeld system (December 2015, review available at soundandvision.com).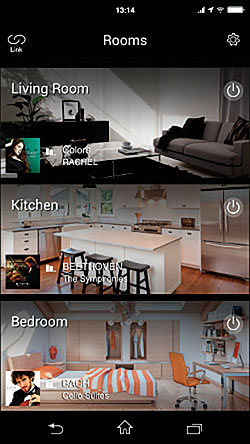 Also, since the MusicCast app knows the inputs available on any device in the system and can control input selection, every source input on any MusicCast-compliant AVR, soundbar, or surround processor is available for multiroom distribution along with the usual networked music library and Wi-Fi streaming services you might have on a Sonos system. For AVRs, that includes the over-the-air AM/FM tuner, a cable box, or even a turntable connected to the phono input. Sonos and some of the others do allow connection of local source components to the system through their standalone player modules, but typically only one per module.
In keeping with current trends, the MusicCast control app (for iOS and Android smartphones and tablets) allows integrated access to several popular music streaming services including Pandora, Spotify, Rhapsody, Sirius XM, and vTuner, with more said to be on the way. While that's not unusual, Yamaha has put some serious thought into the app design to make it highly graphic and intuitive to use. Notably, room/zone selection is done via a scroll with your actual room photos as buttons (see above). Content source buttons can also be renamed and organized by the user in the order they like.
As we were going to press, Yamaha sent me a couple of samples of their new WX-030 MusicCast Wireless Speaker to set up a MusicCast multiroom network and try it out. Priced at $250, the WX-030 is a mono speaker about the size of Sonos's $299 Play:3 (though bigger than the $199 Play:1). It features an attractive trapezoidal design, with a sleek brushed-finish top that integrates touch controls for power, track advance or backskip, and volume. Sonics are provided by a 3.5-inch woofer and 1.125-inch fabric-dome tweeter and, notably, a passive radiator on the rear that greatly helps with bass reinforcement. It's all driven by a 30-watt digital switching amplifier.
My initial impressions of sound quality on the WX-030 with streaming sources was favorable, and I appreciated Yamaha's thoughtful inclusion of easily-accessed bass, midrange, and treble adjustments from the "what's playing" screen of their app, something that Sonos makes you dig deep into the menus for. Getting the initial MusicCast network going proved a bit tricky until I figured out what Yamaha was asking for in the somewhat unintuitive app-based prompts, but once I got things going and got used to the app, adding the second WX-030 was a breeze and day-to-day zone and source selection was as instinctive as I've come to expect from Sonos. We'll follow up with a more complete review.—Rob Sabin