Yamaha Aventage CX-A5100 Surround Processor Review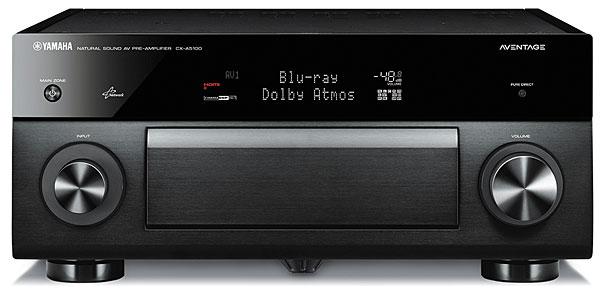 PRICE
$3,000
AT A GLANCE
Plus
Audiophile sound quality
Best-in-class control for iOS and Android
Dolby Atmos and DTS:X support
Built-in MusicCast multiroom audio
Minus
Slow to lock onto HDMI signals
YPAO doesn't equalize below 31 Hz
THE VERDICT
Yamaha's Aventage CX-A5100 is an incredible value in the sub-$5,000 pre/pro market, with stellar audio and a suite of usable features to keep an A/V enthusiast happy until the next upgrade cycle comes around.
Amazingly, you can buy a pretty damn good AVR these days that's Dolby Atmos–enabled for under $500, so why spend more if you don't have to? Well, there are many reasons: better-quality DAC chips, enhanced features (such as multiple zones for both audio and video), and more channels of audio and associated amplification. You can also usually count on these upgrades when you move into the realm of the preamp/processor (also known as a surround processor), though with pre/pros, you're left on your own for the amplification. It's kind of like an impromptu college party that advertises BYOB—except, it's BYOA: Bring Your Own Amp(s)!
Unlike the AVR market, however, your options are somewhat limited when shopping for a pre/pro, especially in the $1,000-to-$5,000 price range. There are three major players here—Yamaha, Marantz, Onkyo (and its sister brand Integra)—as well as lesser-known products from some Internet-direct companies.
The three majors all offer Atmos-enabled pre/pros with a bevy of similar feature sets, but only Marantz and Yamaha so far have promised an upgrade to the Atmos competitor DTS:X. The Yamaha CX-A5100 sits in the middle of the pack price-wise at $3,000 (not counting a limited-time Yamaha promotion that brought it to $2,500 as of early November). But it offers a boatload of features to accompany its flagship status in the company's Aventage line of products.
Black Is Beautiful
The "fit and finish" of the CX-A5100 is outstanding; it's definitely built like a tank. The classy aluminum front panel is what you'd expect at this price point. The enclosure features a sturdy frame with an H-shaped crossmember for rigidity. Attached to the center of the underside of the chassis is Yamaha's proprietary ART (Anti-Resonance Technology) Wedge, which acts not only as a supportive fifth foot, but is claimed to provide vibration control for the internal circuits. These circuits include ESS9016 Sabre32 Ultra DACs on all channels, Bluetooth and Wi-Fi for wireless music streaming, Yamaha's new MusicCast multiroom audio support (untested here, but see sidebar on page 41), and HDMI 2.0a (with HDCP 2.2) supporting both 4K and HDR (High Dynamic Range).
The front panel is well designed and a breeze to navigate. It includes an easy-to-read LCD screen (something that's becoming more important to me the older I get), a power/standby button, an input selector on the left, a sturdy volume control on the right, and a tiny Pure Direct button on the upper right. There's a flip-down panel on the center of the unit that hides various controls and ports, including a front-panel HDMI input, a headphone jack (gold plated), and a USB input.
The rear panel isn't quite as crowded as what I've seen on other pre/pros, and that's a good thing. There is enough connectivity for the vast majority of enthusiasts, including seven HDMI 2.0a ports with HDCP 2.2 and two HDMI outputs (multizone compatible) on the rear panel. Balanced and unbalanced analog audio outputs are provided for all 11 channels plus dual subwoofers (13 outputs in total—an upgrade over the last generation of Yamaha pre/pros). The unit also includes a single balanced analog audio input that's intended for high-performance stereo source components with compatible outputs, such as some CD/SACD or universal disc players like the Oppo BDP-105D. With 11.2 channels of support, you can choose to have a traditional Atmos setup with four overhead speakers or use four height speakers (two front, two rear) to utilize the wealth of Cinema DSP modes that Yamaha is famous for. The DSP modes work with Atmos as well, but they still sound gimmicky to me either way.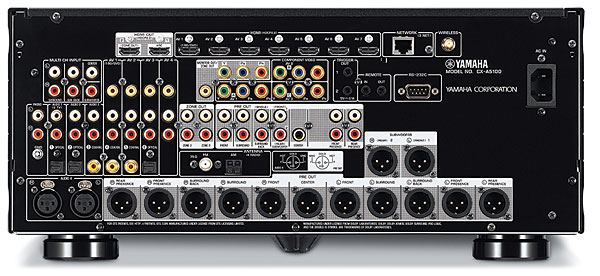 Other rear-panel connections include an Ethernet port, dual 12-volt trigger outs, an RS-232C port for control systems, and a wireless antenna. You also get a phono input and ground screw; who would have thought that vinyl would be making such a comeback?
Video processing is handled by a proprietary solution and supports 4K Ultra HD video (native or scaled), and it can pass through the signal unmolested if you use an outboard processor or are pleased with the way your display handles content of varying resolutions. As you'll see in the Test Bench results, the processor fared quite well, other than failing the 2:2 HD test (a common failure), and it handled the luma and chroma signals with no rolloff.
You can connect the Yamaha to your home network either wired or wirelessly, and with its DLNA (Digital Living Network Alliance) compatibility, it can stream virtually every audio format you can throw at it, including WAV (PCM format only), MP3, WMA, MPEG-4, AAC, and FLAC (one or two channels only). It can accommodate sampling rates of up to 192 kilohertz for WAV, FLAC, and AIFF files and up to 48 kHz for others. You can also stream music directly with Internet Radio as well as Pandora, Spotify (premium account required), Rhapsody, and SiriusXM. For those who are part of the Apple ecosystem, it has AirPlay as well. No need to get up from your couch and change CDs anymore; no wonder Americans have put on so much weight! This convenience extends to the unit's MusicCast functionality, which allows the CX-A5100 to act as an app-selectable zone for playback of other networked sources through your theater system, and also lets MusicCast-compatible speakers in other rooms tap into the various sources connected to the pre/pro.
The stock remote appears to be the same model that came with the predecessor CX-A5000 (Sound & Vision, January 2014, soundand- vision.com), and it's more than functional. I love its backlit design and sturdy build quality. The major keys are easy to locate by touch, but the inputs are labeled by number instead of device name, so the baby sitter may need to undergo some trial and error to find the right input for the cable box.
Yamaha's stellar control app supports multiple platforms, including Android and Apple. It can power the unit on and off, set the volume and input, and choose any of the 33 DSP programs. I used the iOS app on my iPad and was amazed at how quickly the unit responded to commands, especially when I changed audio tracks streamed from my Windows Home Server.
The YPAO-R.S.C. room-correction software is proprietary to Yamaha, and the CX-A5100 ups the ante on other Aventage-branded products with a new 64-bit version (versus 32-bit). This allows the unit to apply correction to lossless files at full 192-kHz/24-bit resolution without decimation/downsampling— something that most other EQ solutions can't do (they often decimate/downsample to 48 kHz). Like previous versions of YPAO-R.S.C., the software analyzes the acoustics in the room via up to eight microphone positions and also performs speaker angle measurements, then calibrates the audio parameters to achieve optimum sound. The R.S.C. attempts to correct for any early reflections, and it also provides DSP Effect Normalization, which varies the Cinema DSP parameters according to the reflective nature of your room.