Wharfedale Diamond 220 Speaker System Review Page 2
And that's why the listening notes have to start with my third binge-viewing of Breaking Bad (all five seasons, streamed in Dolby Digital Plus). I logged endless evenings and weekends listening to the precise timbre of Bryan Cranston's voice and its almost Adele-like shifts in character: the menacing Walter White, the murderous Walter White, the bellowing Walter White, the pleading Walter White, the sweet-talking Walter White, and numerous variations of the lying Walter White. The 220C made these subtle timbral swings spellbinding, almost musical. And when a meth lab burst into flames, or an exploding nursing home took out a criminal mastermind, or someone pounded on a door, the sealed sub kept its cool. While it didn't have the whack of a more expensive sub, what it delivered was well measured and unbloated by budget-sub standards.
Kingsman: The Secret Service (Blu-ray, DTS-HD Master Audio) sports a generic James Bond-esque soundtrack, in keeping with its send-up of the 007 franchise. The musically capable monitors rendered snazzy orchestral bits as aural catnip. When bass lines turned steroidal, the sub's ability to adroitly render bass pitches became an asset, and it had no trouble filling my medium-sized room (your mileage may vary). In one scene, sleeping secret-agent inductees are awakened to find their dormitory bedroom filling with water. The immersive qualities of the identical monitors anchoring the four corners of the soundfield were at their best in this scene.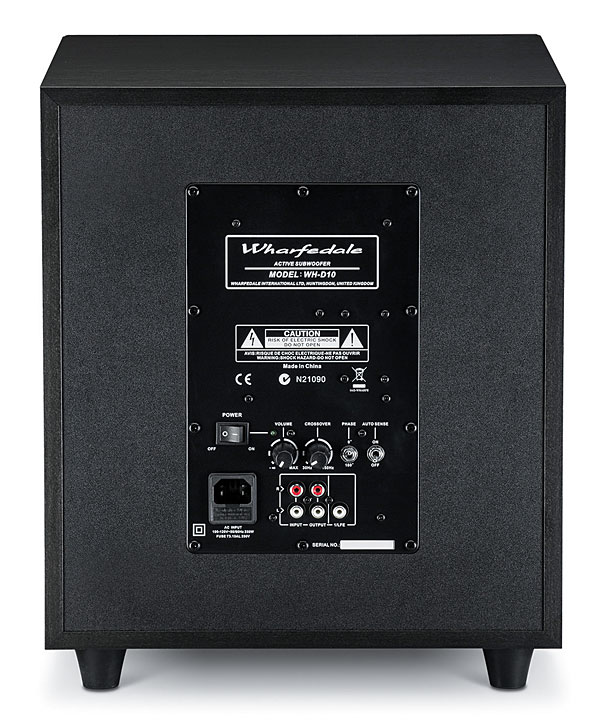 John Wick (DVD, Dolby Digital) was the only movie soundtrack of which the Wharfedales were intolerant. The movie's aggressive treble, combined with the nature of this system, didn't lend itself to the high-level blasting you'd hope for in a scenario about Keanu Reeves wreaking havoc as a vengeful not-so-retired hit man. In other words, as sweet as these speakers can sound, they're not going to ignore the truth when it turns harsh. I adjusted the volume often to bring out dialogue while avoiding discomfort with the large measures of ballistic effects. If I'd been watching this movie as a non-reviewer civilian, I probably would have invoked the Pioneer receiver's THX Loudness Plus mode to make the experience less adjustment-intensive.
Miles Ascending
One of my few Columbia "six-eye" LPs is Miles Davis' Jazz Track, which includes music he recorded for the soundtrack of Louis Malle's Ascenseur pour l'échafaud (a 1958 film released in the U.S. as Elevator to the Gallows, or Frantic). It was a happy day when I found the LP for sale on a sidewalk, in near-mint condition, and paid a buck for it. Side 1 has the film music, recorded with ace French session men, while side 2 features John Coltrane and Cannonball Adderley. It would be hard to overstate how vividly the Wharfedale monitors imaged the trumpet on this well-recorded and well-preserved mono LP, pressed when the master tapes were fresh and frisky. The trumpet lingered in the air, vibrating luminously, with luscious and well-developed decay. I got a shiver of pleasure from it. The 5-inch woofers missed very little of Pierre Michelot's string bass; switching from analog stereo direct to bass-managed 2.1 firmed up only the lowest notes, and only a little.
Bartók's Violin Concerto and a pair of Rhapsodies for Violin and Orchestra arrived on a Hungaroton SACD featuring violinist Barnabás Kelemen, with Zoltán Kocsis conducting the Hungarian National Philharmonic Orchestra. This recent multichannel recording is light-years ahead of my old Hungaroton LPs, hobbled as the earlier ones were by Soviet-era recording technology. Imaged by four Diamond 220s, the orchestra was all-enveloping, and the violin engagingly limned across the three front channels, loaded with reverb that was audible in both the front and back speakers. The high resolution of these surprising budget speakers delivered treats like the tangy, sonorous brass in the concerto's opening movement and the gossamer hint of harp in the slow movement.
My CD of Fairport Convention's underrated folk-rock treatise Tipplers Tales is the first-generation BGO issue. The supple rhythm section of bassist Dave Pegg and drummer Bruce Rowland was well served by the recording, monitors, and sub—full and well pitched, not overbearing. The distinctive voices of Dave Swarbrick and Simon Nicol got their full measure of tone color. Again, the Diamonds impressed me with their handling of violin, especially the double-tracked, echo-chambered fiddle interludes that turn the traditional tune "Jack O'Rion" into an engrossing folk-proggy epic.
Wharfedale's Diamonds sound astonishingly good, not only for their price but in absolute terms. It's clear that the designer took full advantage of the company's engineering resources, and their potential for endless tweaking, to produce a well-rounded speaker system that does most everything right. This is how I want speakers to sound—not only budget speakers, but any speakers. If you want high performance and value in the same package, the stewards of the Wharfedale brand deliver on its noble legacy.