Westworld Season One - The Maze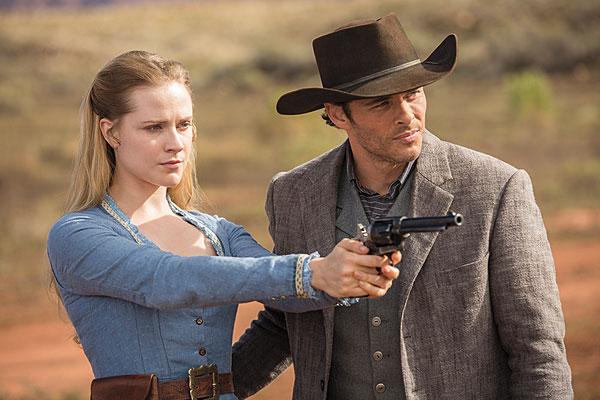 Westworld is the first TV series to get a 4K Ultra HD release, and oddly enough it's also one of the dwindling number of series to be shot on film. The Super 35 (3-perf) production was done on various Arri cameras with a 2K DI utilized in post-production. This 4K release from Warner arrives in a 1.78:1-framed 2160p (4K) HEVC encodement with Dolby Vision. The results are varied. The image can look grainy, but there are some moments where detail on faces smoothes almost as if heavy-handed DNR has been applied. The pop in highlights of the indoor control center is excellent, but the outdoor setting lacks the stunning color variations we've become used to with the wide color gamut on HDR releases. There are also issues with black crush. The Man in Black and Dr. Ford suffer the most, their suits often dissolving into amorphous blobs. The included Blu-ray, while not as crisp in detail, provides a more consistent viewing experience.
The Dolby Atmos (compatible with TrueHD 7.1) soundtrack for Westworld is atmospheric with a few moments of aggressive mixing and discrete, solid effects in surrounds and heights. This mix works well for this material even though it isn't as engulfing as some of the other mixes we've had from HBO's flagship series Game of Thrones. It provides clean dialogue and wide effects. From the opening title sequence, you can hear that the piano has more height and width than in its DTS-HD Master Audio 7.1 Blu-ray counterpart.
Packaged in a limited-edition tin, this set is brimming with features. There's the excellent "Crafting the Narrative," in which executive producers Jonathan Nolan and Lisa Joy provide commentary on the final episode; "Reality of A.I.," where cast and crew offer thoughts on the existential threats of A.I.; and more. An UltraViolet Digital Copy and Blu-ray also tag along.
Blu-Ray
Studio: Warner Bros., 2017
Aspect Ratio: 1.78:1
Audio Format: Dolby Atmos (Compatible w Dolby TrueHD 5.1/7.1)
Length: 619 mins.
MPAA Rating: TV-MA
Directors: Jonathan Nolan, Lisa Joy
Starring: Evan Rachel Wood, Jeffrey Wright, Ed Harris
In a not too distant future, the wealthy plunk down big bucks to enter Westworld, a Disneyland for adults populated by "hosts"—human-like A.I. androids capable of fulfilling their every desire. With a cast of A-list names such as Evan Rachel Wood, Anthony Hopkins, Jeffrey Wright, and Ed Harris, this psychological, character-driven drama series goes beyond the gimmickry of its 1973 original to offer up a well-crafted exploration of what it means to be human as well as the blurred lines between good and evil and past and present. Could it be a replacement for Game of Thrones? Only time will tell.