Voice Speaker Usage to Double This Year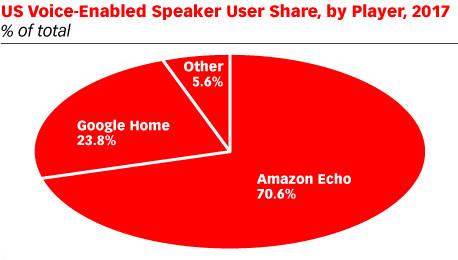 More than 35 million Americans will use voice-enabled virtual assistant speakers such as the popular Amazon Echo speaker at least once a month this year, more than twice as much as they did last year, according to a new market forecast from eMarketer.
Almost three quarters (71 percent) of them will use the Echo, according to the New York-based digital research firm, with Google Home capturing about a quarter (24 percent) of the market. Smaller players such as Lenovo, LG, Harman Kardon, and Mattel account for the remaining 5 percent.
Apple, which has been absent in this burgeoning category, is expected to introduce a more sophisticated version of its Siri voice platform at its Worldwide Developers Conference, which opens in San Jose, CA today, and may also introduce its answer to Echo.
"Consumers are becoming increasingly comfortable with the technology, which is driving engagement," said Martín Utreras, vice president of forecasting at eMarketer. "As prices decrease and functionality increases, consumers are finding more reasons to adopt these devices."
eMarketer, which defines a voice-enabled speaker as a standalone device whose core functionality is a voice-enabled digital assistant, expects Amazon's market share to fall slightly in the coming years as Google's share grows, but predicts Amazon will remain the dominant player in the category for the foreseeable future.
The broader category of virtual assistants, the voice software used in these speakers and other devices, is also seeing growth in the number of users. eMarketer expects usage in this category—which includes Amazon's Alexa, Apple's Siri, Google Now, and Microsoft's Cortana—to increase 23 percent in 2017.
eMarketer estimates more than 60 million Americans will use Siri, Cortana, or another virtual assistant at least once a month, which equates to 28 percent of smartphone users or nearly one-fifth of the population.
People between the ages of 25 and 34 are the heaviest users of digital assistants, representing 26 percent of virtual assistant users. In terms of generation, eMarketer estimates that more than one-third of millennials (33.5 percent) will use a virtual assistant this year.
"Older millennials are the core users of virtual assistants, mainly due to their demand for functionality over entertainment," Utreras said.