Showdown: Google Home vs. Amazon Echo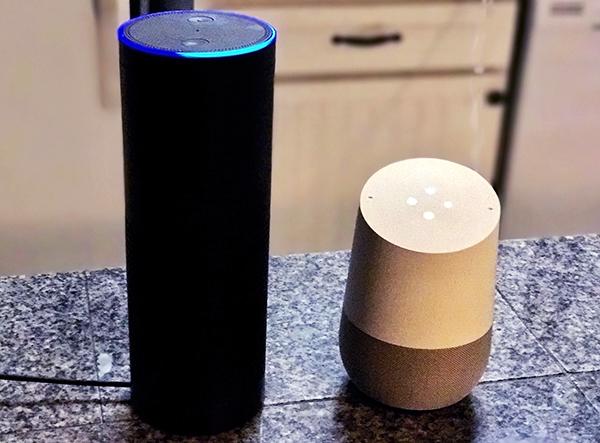 Google Home, the interactive speaker that competes with Amazon's Echo, started shipping last week. I got my hands on one and have been conducting a friendly competition to see which speaker is better. Yes, it's been "Okay Google" and "Alexa…" for several days now. While I have been an avid fan of the Amazon Echo, I have to admit that Google Home might appeal to people who have priorities different than mine.
Google Home is smaller than the Echo. Both have far-field voice recognition using multi-direction microphones. I tested them while sitting more than 15 feet away and both devices responded without hesitation.
The Google Home and the Echo have built-in speakers to play music, news, and other audio. The larger Echo performed well even at high volumes. It found and played songs from its various music services, including Amazon Prime and Spotify. On the other hand, the speaker in Google Home struck me as more of an afterthought in terms of audio quality. Then again, Google's idea is to play music through your TV or speakers connected to your AV receiver using Chromecast.
A voice command to Google Home will play music via a Chromecast player on your home network. Both devices must be connected to the new Google Home app that replaced the Chromecast setup app. You can choose which music service you want as the default—Google Play Music, Spotify, Pandora, or YouTube Red Music service. Google Home includes extended free trials of Google Play Music and YouTube's subscription premium account.
My preference is Spotify. I could say, "Okay Google, Play my Dinner with Friends Playlist," and the music would play. If I wanted to play the music over my home theater, I would say "Okay Google, Play my Dinner with Friends Playlist on my Chromecast." If you have more than one Chromecast, you'll need to say the full name you created for it and both the Chromecast and TV must be turned on. Once playing, the Google Home follows voice commands for control play, pause, stop, next song, etc.
While Google Home can't play any video on any service, it can play specific YouTube videos if you know the name of the video or describe it well. I played the latest video from B&H Photo by simply saying "Okay Google, play the newest video from B&H on my Chromecast." The video appeared onscreen within a minute and there was a slight lag when I used pause/play/skip commands. I was also able to find and play a recent Bill Maher interview by saying play the "Bill Maher interview with President Obama."
I found that it is best if you know the exact name of a video or playlist in your default music app. One of my playlists has a long name Most Relaxing Songs Ever According to Science . I asked Google for my "most relaxing songs playlist" and ended up the playlist Calming Music for Cats.
Both the Google Home and Amazon Echo have the ability to help you organize your life, but the Echo has a slight edge over its competitor. For example, both integrate with Google Calendar, but Echo can create appointments in the calendar as well as read aloud your next four appointments. Neither device can find the time of a specific appointment. It stands to reason that Google Home will improve its integration with Google Calendar in the near future.
The Echo excels at adding items to a shopping or to-do list that appears in the Alexa phone app, while Google Home requires an additional app. The Google Keep app creates "cards" for shopping lists and other notes but you can't add to-do lists or ask the device to record a voice note. For now, it says, "Sorry I can't take notes (or reminders) yet," suggesting that the omission will be addressed in a future update.
The Google Home can control a short list of devices including the Google Chromecast, Nest, and Philips Hue lighting and is compatible with devices from SmartThings. Echo, on the other hand, is compatible with 117 devices, including those from Lutron Connect, Philips Hue, Harmony (remotes), Nest, Wemo, GE Appliances, and many more. With regard to wirelessly controlling Philips Hue LED light bulbs, the Home is able to control light color on compatible bulbs, while the Echo is limited to on/off and dimming.
The Amazon Echo has been available for almost two years now so it's had some time to grow and add features. There are more than 3,000 apps—or "skills" as Amazon calls them—covering a broad range of activities including reading Twitter feeds and Audible books, getting recipes, and much more. For the adventurous, Amazon offers a number of applets on IFTTT ("If This Then That"). These user-created control recipes can integrate behaviors between phone apps or home control and the Echo. Google Home shows IFTTT as a partner but users have yet to add any applets.
Even so, some of the voice requests that require an app on Echo are available by asking the Home a simple question. For example, to ask the Echo for a drink recipe I had to say, "Ask Mixologist for the recipe for a margarita." The Echo told me the ingredients and measurements and automatically sent instructions to the Alexa app on my phone. To get the same result with Home, all I had to do was say, "Okay Google, what are the ingredients of a margarita?" The Google Home has a vast knowledge base but the Echo may do better when one of its 833 "Facts" skills are enabled (Cat Facts, Dog Facts, Holy Grail Facts, Star Facts, and so forth).
As part of my comparison, I asked random questions, including: "What is the release date for the computer game Dishonor 2?" Google Home nailed it but the Echo was stumped. When I asked the open-ended question, "What should we eat for dinner?," the Home listed four local restaurants (one was a lunch diner that wasn't open at the time). Echo was confused by the question but recited a list of nearby restaurants (including the closed diner) when I asked the more specific question, "What restaurants are nearby?" It also sent an extended list of restaurants to my Alexa app. Both devices responded accurately when I asked the address or hours of operation for a specific restaurant.
The Google Home includes a trivia game. When you ask to play the Trivia Game, multi-colored dots spin on top of the speaker and Google says, "Oh wow this is going to be fun! Don't freak out. I'm going to start the Quiz show." Or she says, "I've been waiting for this! I have a whole thing for you, start the music!" followed by "Welcome to Are You Feeling Lucky?" Quiz show music plays and each player is given a silly name like Napkin or Toy Truck before the questions begin. You can play solo or with friends and subjects run the gamut from music to history to science and more. The Google Home also has a talent kids will love—it makes animal sounds. Ask for a pig and it plays the actual sound rather than just saying "oink."
In the end, the Google Home was a bit better at reciting facts and more of a "party girl" with its trivia game. The Amazon Echo was much better as a speaker and as a work horse for home control, lifestyle organization, and more. Alexa also has an (optional) remote control for giving commands from another part of the house or speaking to someone in another room through the speaker.
In the end, choosing between Google Home and Amazon Echo comes down to how you want to use your new smart speaker.