Vizio RS65-B2 LCD Ultra HDTV Review Test Bench
Test Bench
The measurements here were made using CalMAN measurement software from SpectraCal, together with Photo Research PR-650 and Klein K-10A color meters and the AVFoundry VideoForge 2K and DVDO 4K pattern generators. All of the calibrations shown here were performed in 1080p and Rec. 709.
Full-on/Full-Off Contrast Ratio: 43,888:1
At a peak white light output of 35 foot-lamberts, the black measured 0.0008 ft-L, for the full-on/full-of contrast ratio shown above, with the Active LED Zones (local dimming) engaged. Turning the Active LED Zones control to Off, with no other control changes, the peak white level increased to 39.3 ft-L and the black level to 0.012 ft-L, for a full-on/full-off contrast ratio of 3,303:1.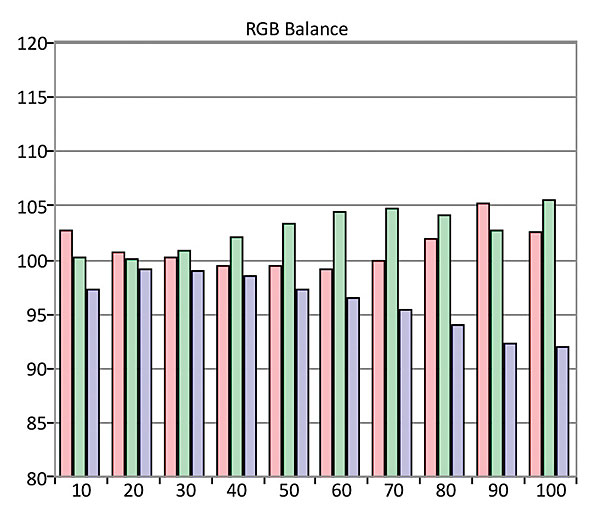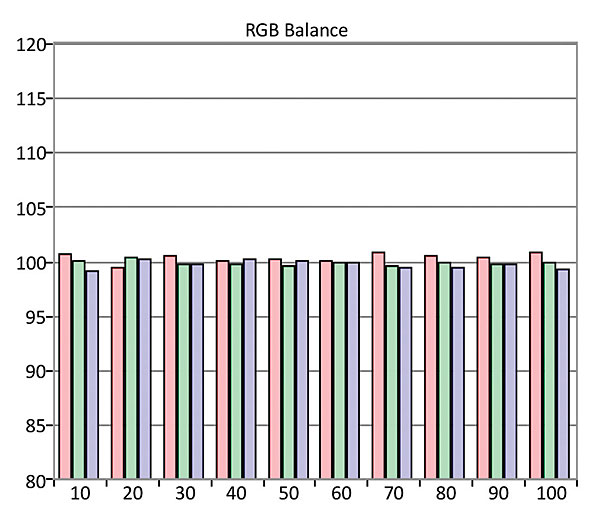 On a white window test pattern, the peak available light output I measured on the RS65-B2 (in Vivid mode, the Backlight on maximum, local dimming on, and the Color Temperature on Cool), was a torch-like 197 ft-L or 675 nits. Under the same conditions but in the Normal Color Temperature setting, we measured 620 nits. (The Contrast setting was 49 for this measurement; increasing it further merely further clipped the whites without increasing the brightness.) While this is well short of the Vizio's claimed peak output of 800 nits, it's possible that the latter is only available for the bright highlights it's mainly needed for to generate a high dynamic range image.
In the Calibrated Dark setting (but adjusted for a peak white level of 34.2 ft-L), the pre-calibration grayscale Delta E values (20% to 100%) ranged from a low of 0.511 at 20% to a high of 6.26 at 100%. After calibration, using both the 2-point and 10-point white balance controls, the Delta Es ranged from 0.35 at 30% to 0.519 at 90%.
(Delta E is a figure of merit that indicates how closely a display adheres to the color standard. Experts generally agree that at levels below 3 to 4, the result is visibly indistinguishable from perfect color tracking. Delta E may be used to characterize either white balance (grayscale), as above, or color, as below.)
As discussed in the main review, none of the color management system controls were ultimately used to fine-tune the set's color gamut; the CMS was tried but produced unusable results. Without it, the color Delta Es ranged from a low of 2.21 for green and a high of 5.16 for red. Both of these colors are slightly oversaturated, but not enough to significantly affect the visible color quality.
With the Gamma control set to 2.2 and local dimming engaged, the set's gamma ranged from 2.35 at 20% to 2.56 at 90%. It was relatively uniform and didn't produce the S-curve common to the gamma on many local-dimming sets. I found the ideal gamma setting to be 2.1 to 2.4, depending on the room lighting and the source material.—TJN