Vizio PQ65-F1 LCD Ultra HDTV Review Test Bench
Test Bench
The measurements here were made using CalMAN (www.spectracal.com) measurement software from Portrait Displays, together with Photo Research PR-650 and Klein K-10A color meters and a Murideo/AVPro (Fresco Six-G) test pattern generator.
HD/SDR
Full-On/Full-Off Contrast Ratio: 70,800:1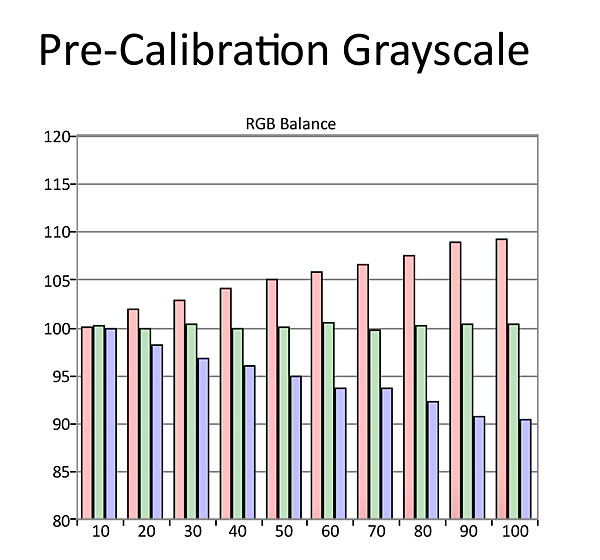 In Calibrated Dark Picture Mode with the Brightness control at 50, Backlight at 50, Contrast at 25, Gamma at 2.4, and Xtreme Black Engine Pro (local dimming) on Low, the measured peak white level on an 18% white window was 141.6 nits and the black level 0.002 nits for full-on/full-off contrast ratio of 1,688:1. With local dimming off and no other control changes, the black level rose to 0.113 nits and the peak white level to 190.7 nits, for a native full-on/full-off contrast ratio of 70,800:1.
The pre-calibration grayscale Delta E from 10% to 100% was a maximum of 5.12 at 100%. After calibration using only the 2-point grayscale controls in the Color Tuner menu, the maximum grayscale Delta E was 1.22 at 100%. The maximum color Delta E was 4.38 (in red) before calibration and a maximum of 3.33 (in magenta) after. In the 2.4 Gamma setting the gamma ranged from 2.36 at 20% to 2.59 at 100%. This was a little dark at the top end, and while it caused no obvious visible issues I preferred a Gamma setting of 2.2 for some program material.
For SDR viewing we recommend using only the Low setting of the Xtreme Black Engine Pro control. Higher settings seriously distorted gamma without offering any added benefits.
UHD/HDR10
Full on/Full-off Contrast Ratio: 466,875:1
In the Calibrated Dark Picture Mode with the Backlight control at 50, Brightness at 50, Contrast at 60, Gamma at 2.2, Black Detail on High (though I later preferred Off), and Xtreme Black Engine Pro on Medium, the measured peak white level with a 10% white window was 1,867.5 nits. A full black screen measured 0.004 nits for the contrast ratio shown above. However, most HDR content by design falls below 50% of peak white, with the remainder reserved for bright highlights. The Vizio's calibrated white level measured 98.7 nits at 50% of peak brightness, so it might be more realistic to consider the working contrast ratio over most of the set's active brightness range to be 98.7/0.004, or 24,675:1—still a good result.
In the upper portion of the brightness range, above about 60% of peak white, the Vizio's output exceeded the luminance specified by the HDR PQ curve, (gamma for HDR). This isn't unusual since most of the UHD displays we've tested deviate somewhat from the specified PQ curve, Sony's XBR-65Z9F being a notable exception. That means that the Vizio's HDR highlights—those that fall above 50%—will look a little punchier than normal. While this is incorrect, most viewers won't complain! But the error does impact the measured grayscale Delta Es when luminance is included: after calibration, the Vizio's grayscale Delta E peaked at 12 at 70%. But if you ignore luminance errors and consider only how closely the grayscale adheres to the correct white point, the Vizio's maximum post-calibration Delta E reached a high of only 1.8 at 65%.
Vizio recommends using the color management controls (Hue, Saturation, and Brightness) in the Color Tuner as little as possible for HDR. But even without adjustment, the HDR color Delta Es never exceeded 3.3 (in Cyan). The HDR color checker test, which evaluates a set's performance with dozens of different real-world colors, showed an average Delta E of 1.49 with luminance and 1.32 without.
The Vizio's peak luminance measured 800 nits with a 2% white window, 1,500 nits with 5%, 2,000 nits with 10%, 1,600 nits with 25%, and 800 nits with 100% full screen white. BT.2020 color tracking was fair, P3 (within BT.2020) very good, and BT.709 (within BT.2020) also very good. The Vizio reached 78.4 % of BT.2020 color (1976 standard) and 97.6% of P3 (1976 standard).
(Delta E is a figure of merit that indicates how closely a display achieves an ideal, standard result. Given the characteristics of the human eye, Delta E levels below 3-4 in either white balance or color should be visibly indistinguishable from perfect.)